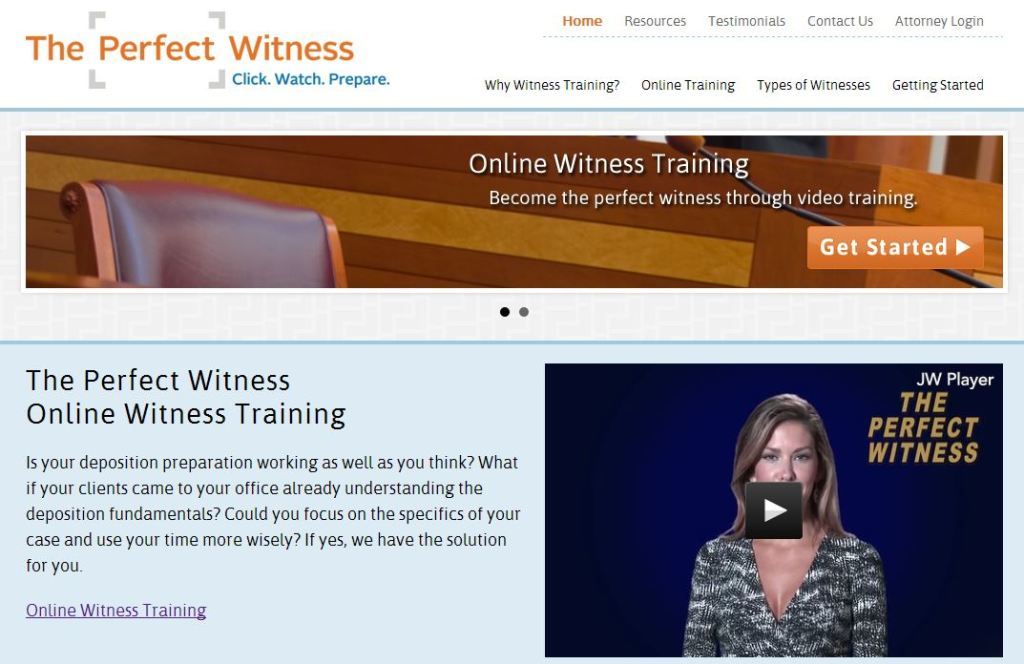 Every trial lawyer hopes to have the perfect witness. Now, a new website offers to help prepare your witnesses to become just that, through a 60-minute training video.
Called (of course) The Perfect Witness, the site aims to make witness training a "simple, effective, and efficient" process. Lawyers pay $119 for each witness they enroll in the training. The witness receives an email with a link and a password. The witness has up to seven days to watch the full video, which is broken into eight segments.
The witness is given a brief quiz after each segment, and these results are given to the lawyer when the training is complete, so that the lawyer can assess the areas where the witness needs further coaching.
The training focuses on deposition preparation, the site says. The video includes various vignettes that illustrate what the witness can expect during the deposition.
The site provides no information about who is behind it and the domain name is registered through a proxy. A "resources" page consists of nine links to Texas lawyer sites, all of which lead to just two different law firms, so they may have something to do with it.
Search "witness preparation" on YouTube and you may be surprised by how many videos there purport to offer this training. I even found a website, Witness Preparation Video, that purports to review these various witness-training videos. But it has only one entry from 2010 reviewing six videos and otherwise appears abandoned.
Online witness preparation is one of those ideas that makes perfect sense, provided it is well executed. I'm not saying lawyers should slough off witness preparation on some website. But it makes sense to pre-prepare the witness through an online training, or even to use it as a refresher just before the witness is to appear.
I have not viewed the video offered by The Perfect Witness so I cannot say whether it is any good. Before you plunk down any money, ask to see it for yourself.