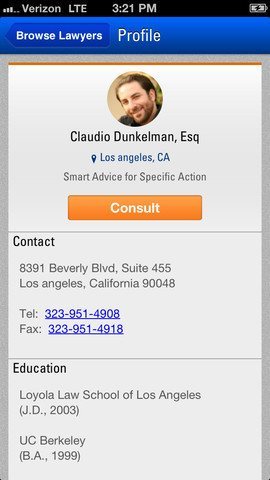 An app introduced this week enables legal consumers to engage in free consultations with lawyers via an iPhone.
The new app, LawZam, was developed by the company of the same name, LawZam. As I wrote about LawZam last June, its website connects consumers with attorneys by facilitating free, face-to-face consultations conducted live via videoconferencing.
Consumers who use the app can either browse the list of all available attorneys or search by zip code, area of law or lawyer name. Search results show the lawyer's contact and biographical information and areas of practice.
A "consult" button on the lawyer's bio brings up a form for the consumer to send the lawyer a message. If the lawyer is online, the consult button initiates a text-messaging or videoconferencing session.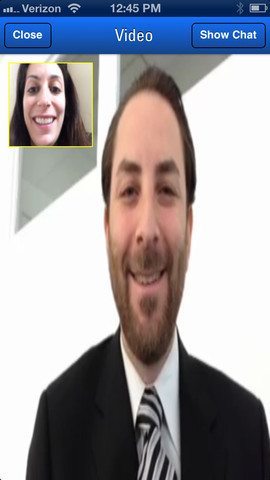 Consumers can also use the app to post legal questions generically, not directed to a specific lawyer but to a specific practice area.
The app is also intended to be used by lawyers. As with the web version, lawyers can opt to stay online using the app and be available for video consultations. They can also use the app to monitor and respond to posted legal questions.
The LawZam service continues to be free to both consumers and attorneys. Lawyers who register with LawZam agree not to charge fees for the initial consultations. Consumers are told that they have no obligation to hire any lawyer they meet through the service.
The app is optimized for iPhone 5 but is compatible with earlier iPhone versions, starting with the iPhone 3GS, and with the iPad and iPod touch.
LawZam was founded by two California lawyers, Claudio Dunkelman and Brendan Ludwick.