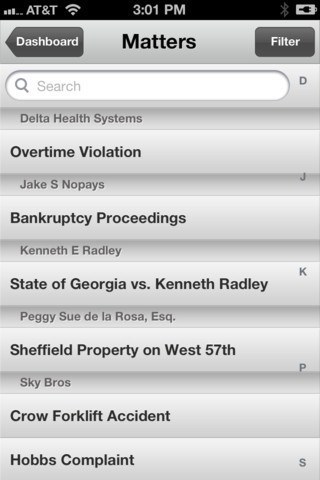 Rocket Matter, a cloud-based legal billing and law practice management application, today launched an iPhone app to facilitate mobile access to the application's core functions. The app runs on all versions of the iPad, the iPhone 3GS and higher, and iPod touch running iOS 5 and above.
The app lets you use your mobile device to:
Capture time and expenses and associate them with a matter. This includes the ability to run a timer on your device.
Access information on all of your matters within Rocket Matter.
View and add contacts and initiate calls and emails.
Manage your calendar and keep it synchronized with your Rocket Matter account.
I have not tested the app. A press release issued by the company this morning says this about it:
The company designed the app after conducting extensive user surveys. Based on the feedback, the iPhone app provides a streamlined version of the essential features of the flagship cloud-based product.

A built-in timer and intuitively designed screens quickly capture billable time and expenses. Contact lists, client-matter information, and calendars with day, month, and list views keep all relevant case information in one convenient place. Information recorded via the Rocket Matter iPhone app appears instantly in the web-based product.

In situations with little or no connectivity, data is automatically stored offline. The app will instantly synchronize with the Rocket Matter database once connectivity is restored.
It also says that the app uses the same authentication and security measures employed by the web application. All data is transmitted to and from the app over an encrypted channel. Users can set a passcode lock to ensure that there is no unauthorized access to their data if the device is lost or stolen.
Rocket Matter has a video that shows features of the app. You can download the app for free from the iTunes store. Of course, you will have to have a Rocket Matter account to use the app's functions.