"Every year, the nation's largest law firms produce thousands of client alerts, briefing papers and memoranda on a range of corporate, regulatory and industry issues. What if someone pulled together the links to all these materials and organized them in a way to make them more useful and more readily accessible?"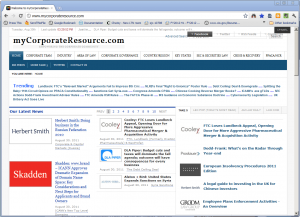 That's what I wrote here two years ago to describe the premise of myCorporateResource.com, a free site that aggregates these law firm alerts and memoranda, summarizes them and then sorts them by industry, corporate role, area of law and geography, making them available through the site as well as through more than 90 separate RSS feeds for each of the separate topics.
Now, the site has been thoroughly revamped and relaunched. You'll see a new look and some new features, even as the site adheres to its original premise of aggregating law firm alerts. But the biggest change to the site is in its focus. The site now has a greater emphasis on current and trending news, giving it more the feel of a legal news magazine.
Nick Montgomery, the lawyer who founded the site, tells me in an email that the newsier focus is in part a reflection of the ever-improving quality of law firm alerts. "Legal alerts have evolved considerably over the last two years and the quality vastly improved," he writes. "Teasers and vanity material are almost entirely gone … and law firms seem increasingly willing to teach clients and prospective clients to fish."
Not only are law firms publishing better-quality material, but they are doing it with new-found speed, Montgomery says. "Whereas two years ago I might have seen two or three alerts on a given subject trickle out over several weeks, I can now count on several times that over 24 hours. … As a result, alerts in the aggregate are now timely enough to be part of the news and not just an echo of it."
When I first wrote about this site two years ago, it provided some 70 separate RSS feeds by which you can keep current with articles related to specific topics, industries and jurisdictions. Now, the number of feeds is over 90. In addition, the site now has 29 separate Twitter feeds for following specific topics.
As I wrote previously about this site, the value it adds is in its aggregation and sorting of materials scattered over hundreds of law firm sites. You wouldn't — and wouldn't want to — track all these separate sites yourself, simply to find the latest alert on whatever topic of law it is that interests you. This sites does that work for you, filtering reams of content to deliver the articles you want to read.