Google this week announced a new visualization tool called the Google Books Ngram Viewer. Using data drawn from the millions of books it has digitized covering the years 1500 to 2008, it lets you see and compare the frequency of words and phrases as they were used in books over a span of years or centuries. As Google puts it: "The Ngram Viewer lets you graph and compare phrases from these datasets over time, showing how their usage has waxed and waned over the years."
That got me wondering about phrases drawn from the legal profession. I graphed certain phrases, grouped together for comparison. Results prior to 1900 were so minimal that I kept my searches to the years 1900-2007. The phrases I searched were:
bankruptcy lawyer, employment lawyer, intellectual property lawyer
law firm partner, law firm associate
intellectual property law, securities law, corporate finance
biglaw, megafirm, megalaw
solo practitioner, sole practitioner, solo lawyer
large law firm, global law firm
corporate counsel, inhouse counsel, general counsel
law firm marketing, lawyer advertising
discrimination law, civil rights law
It was interesting how many of these phrases showed little usage until 1980, when suddenly several of them start to trend upward dramatically. "Megafirm" starts a sharp rise in 1980 and peaks in 2000. "Biglaw," a firm popular among bloggers, isn't even a blip. "Solo practitioner" reaches its peak around 1974. "Global law firm" starts to register only around 2000, while "large law firm" had a major jump in the early 1960s.
The term "corporate counsel" has shown minor usage since around 1960, while the term "general counsel" has been popular throughout the time period, reaching its peak around 1951. The phrase "lawyer advertising" was barely seen before 1970 and reached its highest frequency of usage in 1990. "Discrimination law" and "civil rights law" followed pretty much the same upward trend, both starting to register around 1940 and reaching their peak around 1995.
See the results below. Click on any image to enlarge it. Each graph includes labels matching the phrases to the colored lines.
bankruptcy lawyer, employment lawyer, intellectual property lawyer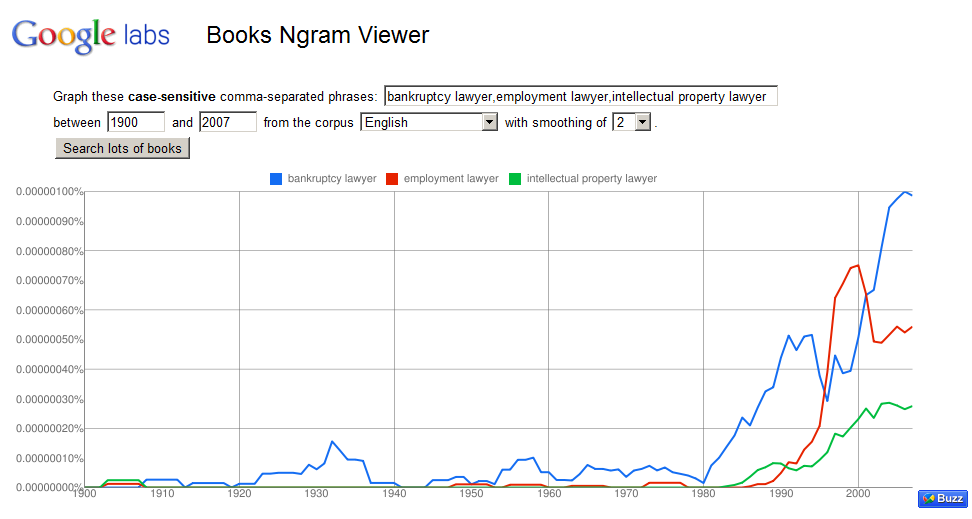 law firm partner, law firm associate
intellectual property law, securities law, corporate finance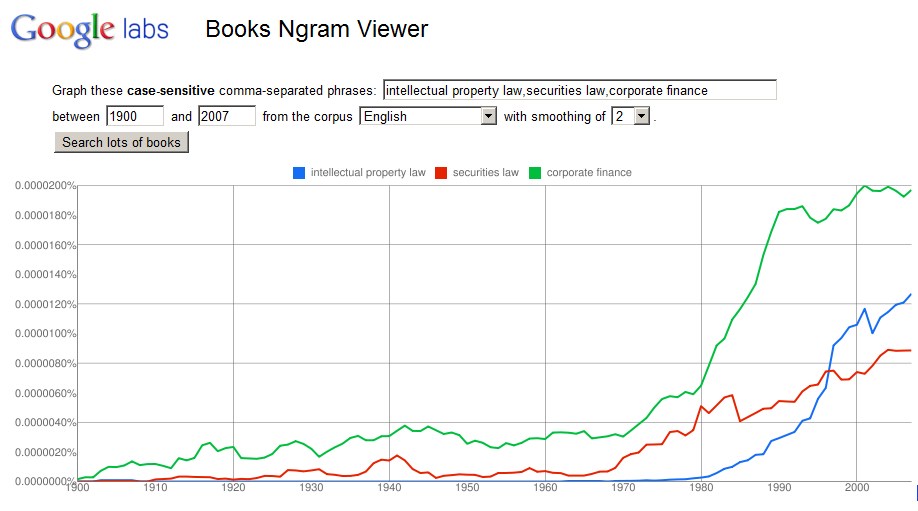 biglaw, megafirm, megalaw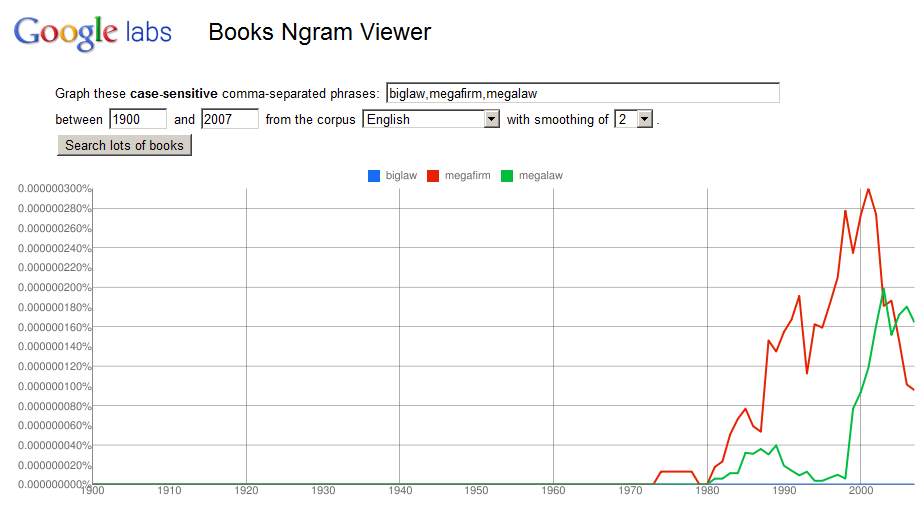 solo practitioner, sole practitioner, solo lawyer
large law firm, global law firm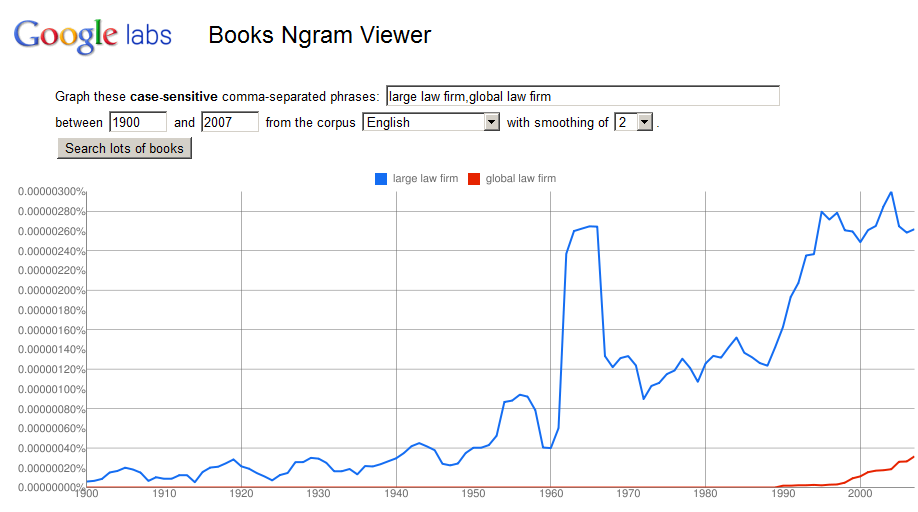 corporate counsel, inhouse counsel, general counsel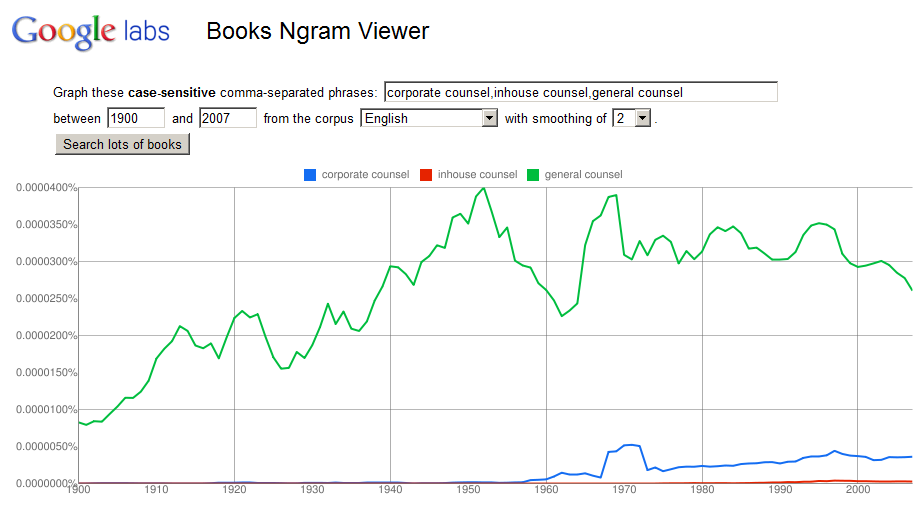 law firm marketing, lawyer advertising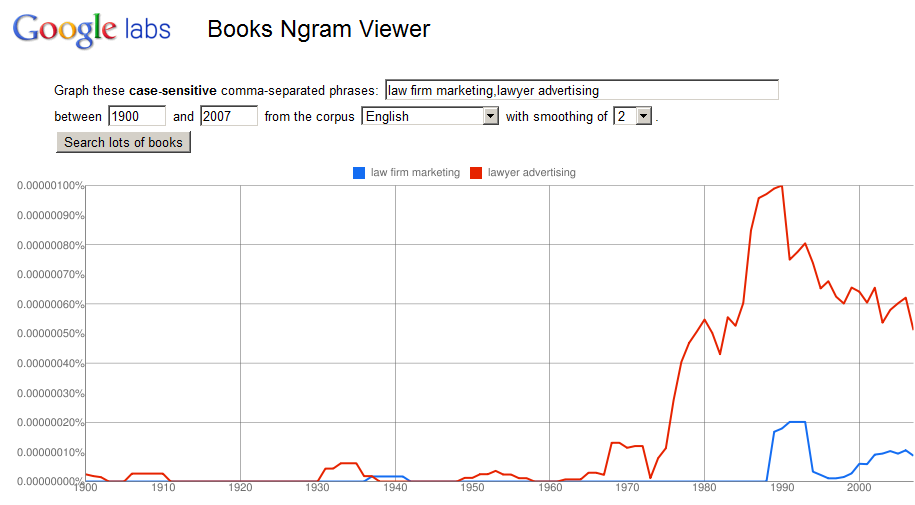 discrimination law, civil rights law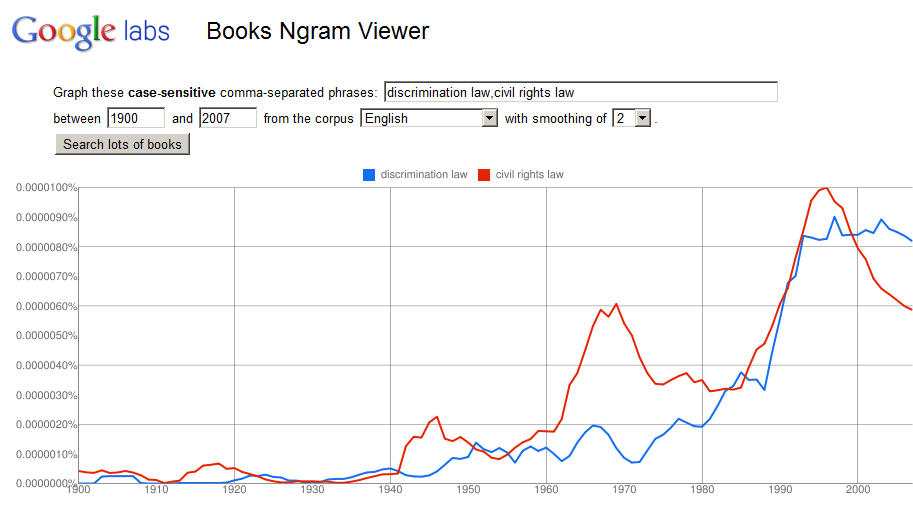 text