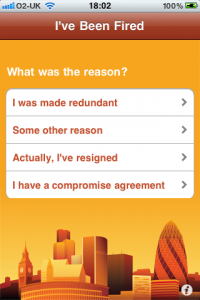 If you find yourself in the unfortunate position of being fired or laid off from your job and in need of legal advice, there is an app for that — but only if you are in the United Kingdom. The iPhone app, I've Been Fired, helps terminated workers understand their legal rights and determine what they are owed in redundancy pay (a legally mandated severance payment).
According to the app's description, it contains over 10,000 words of practical advice, written in plain English by employment lawyer Robert Joy.  "The app guides you through your particular circumstances intuitively," the description says. "It tells you how to assess if you have been treated fairly compared to the acceptable standards of English employment law and good practice. It also gives guidance about how to challenge your employer's decision."
The cost of the app is £2.39.