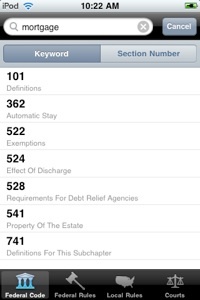 A recently released iPhone and iPad app designed for bankruptcy lawyers, Bankruptcy II, describes itself as a "complete reference for the working bankruptcy attorney." It is an overstatement to call it complete, because it does not have cases. Aside from that, however, it has pretty much everything else a bankruptcy lawyer could ask for — the full U.S. bankruptcy code, full U.S. bankruptcy rules, local rules for almost every bankruptcy court in the United States, and contact information for all bankruptcy courts, appellate courts and trustees — all within an integrated and easy to use application.
The most impressive feature of this app is that it not only provides all this content, but that it makes it searchable, cross-indexed and hyperlinked. I have seen any number of apps for lawyers that simply load a set of legal rules but add little functionality, leaving the user to browse through them. Bankruptcy II offers true search, by key words, section numbers and rule numbers.
When you conduct a top-level search of the full code or regs, a search string can contain no more than two words. For example, you can search for "equity security" but not "equity security holder." When you search the text of a section, there is no search-term limit.
As I said, the code and rules are all hyperlinked as well. Given that the Bankruptcy Code is full of internal cross-references, these hyperlinks are key to this app's usability. As but one illustration, section 523, "Exceptions to Discharge," starts with, "A discharge under section 727, 1141, 1228(a), 1228(b), or 1328(b) of this title does not discharge an individual debtor …" In Bankruptcy II, each of those cross-references is a hyperlink, allowing you to jump to the referenced section.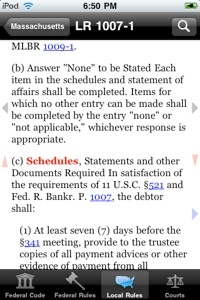 When you follow a hyperlink and jump to a new section, a small arrow on the page lets you jump right back to where you were, without losing your place. Another set of arrows on the page lets you browse section-by-section, backward or forward, from that place in the code or regs. When you arrive at a page by keyword search, keywords are highlighted and arrows let you jump to the next or previous occurrence of the word.
You cannot save or bookmark a search, but when you return to the search query form, your most recent search is retained there so you can easily repeat it. That means that if a search yields 10 results and you click on the first, you cannot then return to the list of results. Instead, you need to go back to the search bar, where your search terms still appear, and re-run the query.
The app has several other useful features. They include:
Integration with Google Maps, for finding the location of a court or trustee.
The ability to call or e-mail a court or trustee with one click.
Links to all bankruptcy court web pages.
Updates to the app as changes are made to any of the information it contains.
The price of the app is $29.99. That makes it the most expensive bankruptcy app for the iPhone, from what I saw. Other apps offer the bankruptcy code and bankruptcy rules, in separate apps, for as little as 99 cents each. But if Bankruptcy II is the most expensive, it is also the most feature-filled. From what I could find, it is the only one with both the code and the regs, the only one that includes the local rules, the only one that includes the court and trustee contact information, and the only one that wraps this all up in a single, integrated app, allowing quick movement from code to regs and back again.
"Why drag pounds of books to court?" asks the app's web page. With this app, a bankruptcy lawyer can have all the essential bankruptcy law available right on his or her iPhone or iPad. And even though, as I mentioned at the outset, it doesn't have cases, all you need is the free Fastcase app to take care of that problem.
The Bankruptcy II app is available through the Apple App Store.