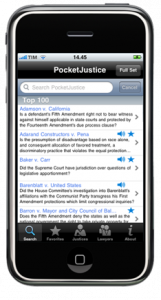 Here is the perfect app for the mobile Supreme Court scholar or for any student of constitutional law: PocketJustice. The app turns your iPhone into a portable repository of Supreme Court jurisprudence, with details about its decisions and its justices and even the audio of oral arguments.
The free version of the app includes the courts 100 most important constitutional law cases. The paid version, which costs $4.99, provides information on more than 600 cases, virtually every constitutional law decision of note.
For each case, the app provides a description of the facts and opinion, a breakdown of how the justices voted, and the names of the advocates. For any cases argued or decided since October 1955, it also provides a link to the audio of the oral argument. (The app does not store all the audio on your phone, but downloads each file as you select it.)
The app also includes biographies of all the justices.
The app was developed by  The Oyez Project in collaboration with Justia and iDIB.