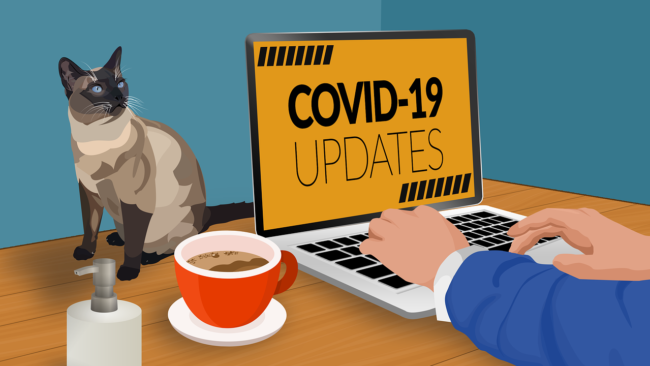 This page lists products and services offered by companies for free to support the work of legal professionals during the coronavirus crisis.
Updates or additions? Send them to me at ambrogi-at-gmail.com or on Twitter @bobambrogi.
Jump to:
(Image by thedarknut from Pixabay.)
---
Practice Management
---
Rocket Matter says that, to help law firms work remote during COVID-19 quarantines, it is offering three free months of its cloud-based "Essentials" practice management and time and billing product by signing up at the following website: http://bit.ly/rme-3mo.
---
CasePacer, case management software for plaintiff law firms, is offering:
Free standard case import up to 250 cases.
No subscription costs and a deferred pricing option for up to two years.
Access to CasePacer materials, including tips and tricks for working from home.
---
Actionstep, a cloud-based practice management software, is offering free access to law firms that are struggling to enable remote working amid the COVID-19 crisis. The offer gives law firms free use of Actionstep's Express product for six months or more and enables their teams to work on client and matter files remotely. Express is Actionstep's "ready-to go" product, meaning there is no customization or implementation time required. Details here: https://try.actionstep.com/express-offer/.
---
Lawcus, the practice management platform, is offering new users a minimum of six months of free service and training to support their law firm to work remotely. Also, they are offering to defer payments for existing customers and new data conversions for up to 180 days on request. Email for information: support@lawcus.com.
---
Clio has made a commitment of $1 million to a disaster relief fund to help the legal community in a number of ways, including free software, assistance with onboarding, and educational materials. Read my blog post for full details.
---
PracticePanther, the cloud practice management platform, is offering free, temporary user licenses to its existing customers who need to bring on emergency staff due to circumstances related to COVID-19. To learn more about this offer, go here. It has also created a COVID-19 Resource Center.
---
PartUs
, a secure, cloud-based platform that allows attorneys, clients, mediators and other divorce professionals to manage their cases, is offering a free 90-day trial for attorneys. More information can be found at:
www.partus.com
.
---
---
Products
---
Legaler is offering free access to its secure online video chat platform to firms of 10 lawyers or fewer. Legaler's platform allows lawyers to schedule, host and archive secure video meetings with multiple participants and screen sharing. Sign up for this special offer here.
---
The contract management company Knowable responded to the COVID-19 pandemic with two new products designed to help companies understand their crisis-related contractual obligations and entitlements, one of which it is offering free through year-end.
The first of these new products, Portfolio Visibility, is a streamlined version of Knowable's contract management platform, intended to enable a company to consolidate its contracts and make them easily searchable. The other, Critical Insights, is a full version of Knowable's platform specifically configured to help companies navigate the multitude of contractual issues presented by the COVID-19 crisis.
See my blog post for a deeper dive into both products: Knowable Responds to Pandemic with New Products, Including Free Contract Management.
---
Bloomberg Law is offering 30 days' complimentary access to its platform to pro bono attorneys who are providing services to those most in need as a result of the novel coronavirus. To take advantage of this offer, please visit http://onb-law.com/aw0u50zcI5o. This complimentary access includes:
Full coverage of key federal and state legislation, regulations, and agency guidance issued as a result of the crisis
Practical Guidance, trackers, and chart builders on various state and federal employment laws and regulations, employee privacy rights, commercial and contractual issues, telemedicine, quarantine, and public health laws.
Litigation and transactional resources, including dockets and drafting tools, and guidance, to assist their clients.
News and analysis covering the impact of the coronavirus on issues such as contracts, privacy, and paid leave laws.
---
NetDocuments is offering new customers their first three months of service free. For existing customers, it is offering three months free for any add-on service (SetBuilder, CollabSpaces, ndThread, and ndMail). More information on these offers is at: www.NetDocuments.com/RocketAid.
---
Proxy is offering extended trials for any inhouse legal departments or law firm lawyers looking for secure cloud-based workflow management and collaboration tools.
---
Filevine is offering:
100 complimentary minutes of legal answering services.
Free, temporary license increases for customers making emergency staff increases.
An open, vendor-agnostic Slack community called LegalWFH.
Details here: A Word to Our Customers on COVID-19.
---
The Senate offers a free Senate for lawyers (and others) to ask and answer questions on coronavirus, such as "Is the coronavirus a Force Majeure event?" It is also offering free pilots. See more at:  covid19.senate2sense.com.
The Senate is a platform aimed primarily at general counsels and other senior risk managers who need to check their position rapidly on complex issues.
---
Donna, a contract-drafting plug-in for Microsoft Word, is offering an extended three-month free trial to help homeworking lawyers without a printer move from paper contract reviews to onscreen. More information here: COVID-19 Response: Helping you go from paper to screen.
---
Leopard Solutions is offering its clients a free four-month subscription to Firmscape basic, the company's market research and reporting tool for law firms and legal recruiters providing a full 360-degree overview of any B2B law firm.
---
SimplyConvert, a client intake and CRM platform, has put together a white paper to explain how it and other legal tech tools can make sure client opportunities are not missed with staff working working remotely.  Lawyers Working Remotely – Don't Panic Over Missed Opportunities. It is also offering a 30-day free trial.
---
SeedLegals is offering free work-from-home policies on it platform: Coronavirus Work From Home Policy: Create Your Custom Policy Now, Free on SeedLegals.
---
Time Miner, an application that goes back through your activity and finds billable time,  is offering a seven-day free trial. (Note: This is its standard offer, not a special one related to coronavirus.)
---
Siskind Susser, the immigration law firm, offers free access to its Travel Ban Advisor, an app that helps people figure out if any of the in-force travel bans affect them. It has been updated to include coronavirus-related travel bans.
Also, the firm has launched Coronavirus Immigration Blog, a blog on coronavirus-related immigration news.
---
Legal.io, the legal talent network, says it has seen a huge influx of legal professionals across the U.S. who suddenly find themselves without a job. It is offering in-house legal departments a 10% discount on any Legal.io secondment/flex counsel arrangement, for the remainder of the year.
---
Community Lawyer is offering special assistance to legal professionals working on COVID-19-related apps.  Here is what they say:
Increased Support: Is there a particular form/document you want to help the public automate to respond to COVID-19-related challenges? Schedule a call and we'll help you build this app.
Free hosting for open source apps: This has always been available, so please just consider this a reminder – If you allow all other legal service professionals to duplicate your app for free, we consider your app "open source" and host it free of charge. Learn more. If you have a special reason for not being able to open source a COVID-related app, please let us know and we may still provide free hosting.
Free Standard subscriptions for LSC grantees: Are you an LSC grantee? You qualify for free Community.lawyer subscription through the Legal Tech for a Change program.
---
Mobile Helix is extending the free trial of its LINK App for Lawyers to 90-days, unlimited users, with a production quality deployment. LINK is an encrypted, containerized mobile app, integrated with iManage, NetDocuments, email, Office 365, and the firm intranet. Lawyers and legal staff can review, annotate, compare, edit, and email documents with LINK.
---
Veritext Legal Solutions, a provider of deposition and litigation support services, is offering five free webinars between March 19 and March 23 to discuss the remote deposition technologies available to keep legal proceedings moving forward in the wake of law firms and businesses across the world closing due to COVID-19. Dates and registration info:
---
Workstorm is an online collaboration platform that can help a firm facilitate remote work. It offers integrated video conferencing, file sharing, and enterprise messaging in a secure platform.
Given the current situation with COVID-19, Workstorm is offering a minimum of two months of free service to support law firms. The company says it will reevaluate for extensions as the crisis unfolds.
---
Gravity Legal, a payment platform for law firms, has two offerings:
A list of loan and grant programs for small businesses that firms can share with their clients (also, law firms are small businesses too and are likely eligible). They will be updating regularly. Covid 19 Financial Resources for Firms and Their Clients.
Through the end of April, they will be providing firms with up to a year of free bank transfer (ACH) acceptance to help reduce the costs of accepting client payments.
---
TrustBooks, a cloud-based service for managing lawyer trust accounts, is offering three months free on new signups, as well as get started now, pay later.
In addition, it is offering free webinars over the next two weeks to answer trust accounting questions and help firms get up and running with TrustBooks:
---
firmTRAK is offering its KPI reporting platform free for at least the next 30 days. You will need Clio, Practice Panther or QuickBooks to sync with it. They just posted a video to show how to use the product to manage a remote workforce: youtu.be/6W8BgKgBRng.
---
Identillect Technologies, which offers easy email encryption and delivery controls, is offering attorneys a $40 discount on its business annual plan. The normal cost is $95, but with this offer, it is $55.
---
TheFormTool, a family of document assembly and automation products, is offering as many free copies of its software as a firm needs to bring all its staff's laptops and home computers up to speed. This is essentially a no-strings offer for as many copies as you need. You must already have purchased at least one copy of the software, but founder R.W. Christensen Jr. tells me a copy could go today and buy one PRO license for $89 and then supply another 2,000 employees for free. "The offer can be stretched pretty darn far," Christensen said. The only other condition is that the versions you download for free must be the same as the version you own. More information on this offer can be found here.
---
Evolve IP, a provider of cloud solutions, is offering its collaboration and workspaces services to businesses for free, enabling employees to work from home during the Novel Coronavirus outbreak. Additionally, for businesses in need of a business continuity solution that includes collaboration with voice services and access to on-premises applications, the company is providing its services on a month-to-month basis. The offer is available to any new business with more than 100 employees and is ideal for organizations that haven't yet moved their communications and workspaces to the cloud. The offer includes a Microsoft Teams collaboration license at no charge.
---
Casetext, the legal research service, is offering temporary free access to attorneys who can't access their usual legal research resources during social distancing. Apply here. The offer currently goes to April 23, but may be extended depending on circumstances.
---
Contractify is offering free access for 45 days to its cloud-based contract management software. Also in order to give companies and legal professionals the possibility to use e-signatures so that they can avoid physical contact with clients and other people, the company is waiving the license fee for its e-signature function. (There is still a pay-per-signature fee.) More information here.
---
CiteRight, a tool that helps lawyers find, organize, cite and use legal research, is offering new customers two free months to help Canadian litigation teams collaborate effectively, paperlessly and remotely. Details here.
---
Discovery Genie, an e-discovery review and production platform for smaller firms, is waiving its yearly $200 subscription fee for the foreseeable future. Firms pay only a small per-document fee and pay nothing until the job is complete. There is no charge for training or support.
---
SimpleLaw, a platform for managing cases and connecting with clients, is offering two months free use of its platform, to both existing and new subscribers. Full details available here.
---
Litera is offering six months of no-cost access to a lite version of its deal-management platform Litera Transact. It provides three core modules:
Templated closing checklists to help manage each stage of a deal.
Signature management and automation via DocuSign.
Closing books, including editing, organization, and creation.
Full information on this offer can be found here. Also read my blog post about it.
---
LegalRFQ, a web-based platform for posting and responding to requests for legal services, is offering its service free for six months to law firms with fewer than 201 attorneys.  The six months runs from the time of registration and the offer is valid through June 30, 2020. This will allow lawyers the ability to quote projects that are posted on the site.
---
Xakia, a matter management platform for corporate legal departments, is offering free access to in-house legal teams in the healthcare sector and others directly responding to COVID-19. The cloud-based software can be accessed remotely by teams and can be up and running in just one hour. Contact covid19@xakiatech.com to get started . There is no cost or obligation.
---
PacerPro, a company that provides automated distribution of federal court filings, is offering three months of free access to its service, as a way of helping legal professionals transition to remote work. I have more details in this post, or see this message from PacerPro on LinkedIn.
---
LawToolBox, a legal calendaring and deadline management company, has an offer designed to help law firms get up and running with working remotely, using LawToolBox integrated with Microsoft Office 365 and Microsoft Teams. The offer includes three months of free access to LawToolBox, plus six months of free access to Office 365 Enterprise 1. It also includes next-day onboarding and free training. More details in this blog post.
---
TimeSolv, a legal time tracking and billing product, is offering an extension of its normal 30-day free trial to 60 days for qualified firms impacted the the coronavirus pandemic. Go here to find out if your firm qualifies.
---
Juro, a contract management and collaboration platform, is making its basic plan free for new users during the COVID-19 crisis. The free plan lasts for one year and allows subscribers to have up to two users. The plans includes contract generation, document collaboration, version control, approval workflow, unlimited esignatures, audit trails, GDrive integration, and Slack integration. Not sure what contract management software does? See Juro's introduction.
---
PandaDoc, document automation software for small and medium-sized businesses, is responding to the crisis with the launch of a free e-signature plan to help businesses keep running. The plan includes:
Unlimited document uploads. Upload and send for e-signature as many documents as you'd like.
Unlimited e-signatures. Collect an unlimited number of legally binding e-signatures.
Payment processing. Accept a credit card, PayPal, or ACH payment the moment your doc is signed.
---
Avokaado, a contract workflow automation platform headquartered in Estonia, is providing companies with free access to its digital workspace until the end of April and is allocating legal engineers to help get the necessary crisis documents automated. The offer includes access to crisis-related templates that you can adapt for your company. More information on the company's COVID-19 page.
---
Outlaw, a platform for creating, tracking and managing contracts, is offering its full contract management platform free for six months to all healthcare organizations responding to the pandemic. Full details are available here.
---
SimplyAgree, a provider of signing and closing technology for transactional attorneys, is offering its full signature and closing management platform free of charge for the next three months for new-customer law firms moving to fully remote environments due to COVID-19. More information on this offer can be found here.
---
Docket Alarm, a tool for tracking, searching and analyzing dockets, is offering free access for the next three months (possibly longer) to all attorneys who are working on pro bono matters.
---
Intelligize, the LexisNexis-owned business information and compliance platform, is offering free access throughout April. Register here.
---
Lexum is waiving the fees of its Qweri product for organizations in need of quickly providing public access to any kind of reference documents. The company is waiving its onboarding fees, as well as its subscription fee, for the next 12 months, so that important public information can be made available online in the best possible manner even if your organization was caught off-guard or is facing financial pressure because of the crisis. You can learn more about Qweri's features on Lexum's website, or contact them to express your interest or ask any question you may have in determining if the product is a good fit for your needs.
---
Techsign Doc, a document signing platform for businesses of all sizes that provides verifiable and legally binding digital signing options and a comprehensive tool set for document management, is offering its platform free during the coronavirus pandemic.
---
---
Services
---
Legal Tech Media Group, a full-service marketing agency dedicated to providing strategic, tactical, and business development services to companies delivering products and services to legal professionals, is donating up to $25,000 in strategic guidance to legal vendors adapting to the current market conditions. Interested companies can schedule a free one-hour strategic consultation with LTMG here.
---
LegalTypist, a virtual assistant service for lawyers, has waived sign up fees for new accounts and founder Andrea Cannavina says she has cleared her schedule after 3 p.m. to help attorneys get digital in all the right places, for free. Sign up for a free consultation here: tinyurl.com/consultAC.
---
Free Range Lawyers, a collective of people who believe in the power of distributed and remote working, is offering free 45-minute consultations on implementing remote working to law firms and professional services businesses over the next two weeks (starting as of March 13). Book here: https://calendly.com/freerangelawyers/remote-virtual-working-advisory-meeting?month=2020-03.
---
WEconnect is offering digital help to people in recovery. They are offering free online support meetings, five times a day. They leverage technology to keep people connected and on their recovery path. The meetings are open to anyone who is dealing with substance use, mental health concerns, disordered eating, or other quality of life concerns. Meetings are led by peer recovery support specialists who have first-hand experience. Video is optional and real names need not be used.
---
LawVu is offering new customers a free, fully configured two-month pilot of its matter management, contract management and spend management legal operations platform: https://lawvu.com/remote-free-pilot/.
---
Aptus Court Reporting is providing complimentary Zoom videoconferencing for depositions conducted remotely through April. Customers would still pay the fee of the court reporter or any videographer. The company is also providing free webinars on conducting depositions remotely. To schedule a free Zoom test with Aptus, go here.
---
At LawVision, a legal business consulting firm, consultant Yvonne Nath is offering firms one free half-hour virtual workshop for up to 10 participants to boost morale. For more information, contact Yvonne at ynath@lawvision.com.
---
---
---
Hotshot Legal, a digital learning platform, is offering free access to its full library for all law students and faculty. It offers over 160 courses across transactional, litigation, tech, and business-acumen topics, and can be used for classes, clinics, to prep for the summer, etc. Sign up at hotshotlegal.com.
Legal Operators, a private community for legal operations professionals, is offering free webinars to those who join the community (which appears to be free).
---
Relativity, the e-discovery company, is offering several resources designed to help the legal community level up their skills while navigating this period of uncertainty. These include:
Free training, both in the form of free training classes through May 10 and offering all regularly scheduled trainings during this periodfree of charge. Check out the full list of offerings and sign up to reserve your spot here.
Free Relativity certification exams. If you sign up for an exam, Relativity will waive the fee for all Pro and Specialty exams taken from April 3 to May 10 (limited to one exam per person). If you have never earned a Relativity certification, you can start with the RelativityOne Certified Pro, Relativity Certified User, or the Relativity Certified Sales Pro exam. If you have previously earned a Relativity certification, you may take any specialty exam — Analytics, Infrastructure, Processing, Project Management, or Certified User — or the RelativityOne Certified Pro or Relativity Certified Sales Pro exams.
Self-guided learning. If you want to grow your knowledge, but aren't able to study for an exam or attend a full training right now, Relativity has a series of self-guided videos at its Training Center. These short videos cover a variety of fundamentals on using Relativity.
For full details on the training programs and materials Relativity offers, visit this page.
---
The American Bar Association offers a variety of CLE webinars and on-demand programs that specifically address issues relating to the coronavirus outbreak. Until April 15, webinars are free to ABA members. Find more information here.
---
Planet Depos, a worldwide court reporting and litigation technology company, is offering both live and on-demand webinars with Managing Partner Billy DiMonte to discuss the videoconference platform Zoom and how it can be used to conduct remote depositions, as well as best practices for remote depositions, sharing and marking exhibits, and working with a remote court reporter. Register below, or contact Planet Depos for more.
---
Empower Legal, a company that offers a series of videos that lawyers can use to prepare their clients for depositions, mediations and trials, is offering a 10-day free trial, without the need to provide a credit card. At a time when everyone is sheltering in place, this is a great way to prepare a client for a deposition. More details here.
---
Elizabeth Gallo Court Reporting is offering free training sessions for using Zoom and WebEx to conduct depositions and hearings, YouTube tutorials on using Zoom and WebEx, and articles on approaching court reporting during COVID. The company is also waiving videoconferencing fees for the duration of the crisis in an effort to continue to provide as close-to-normal deposition experiences as possible. It is also providing extra security with its remote depositions by password-protecting each and locking them down once all participants have joined.
---
---
News and Resources
---
Justia has launched a number of resources to help lawyers, consumers, businesses and the legal community during the pandemic. They include:
---
Thomson Reuters is offering a COVID-19 Resource Center with the latest Reuters reporting about the virus and efforts to slow its spread from around the world. The site also offers resources for legal and tax professionals, free of charge, including a Practical Law Toolkit to guide counsel working across jurisdictions through Practical Law's global coronavirus, COVID-19, pandemics and business interruption content.
---
Wolters Kluwer Legal & Regulatory U.S. offers a comprehensive free resource for tracking state and federal laws, executive orders, and regulations related to the COVID-19 pandemic, built using WK's Smart Chart technology that allows users to easily filter by parameters such as jurisdictions and topics to create custom summaries. You can use its COVID-19 Smart Chart free of charge, on the open web, without even requiring registration. Read more in my post about it here.
---
Skopos Labs has created coronavirus.skoposlabs.com, a free central portal of all updates on COVID19-related policy-making activity. The site aggregates activity on congressional policy-making and regulatory policy-making from all 200+ federal agencies.
---
LexBlog is publishing the Coronavirus Legal Daily, a site that aggregates legal blog coverage of the coronavirus pandemic from all over the world.
---
Law360, a subscription news service owned by LexisNexis, has opened a free coronavirus page with news, in-depth features and expert analysis and commentary related to COVID-19 and the law.
---
LexisNexis also offers the Lexis Practice Advisor Coronavirus Resource Kit, designed for U.S. attorneys and covering a range of topics across multiple practice areas.
---
Litify has created a Remote Work Resource Hub. Litify says the hub "includes a library of tips, tricks and industry-leading advice to help law firms transition to a remote workforce.
---
PracticePanther, the cloud practice management platform, has also created a COVID-19 Resource Center.
---
Bill4Time, the practice management platform, has created a COVID-19 Resource Center.
---
Fastcase has created a COVID-19 resource hub, bringing together free legislative and government updates and COVID-19 content across leading news media sources.
---
Tax Notes, a news, analysis and commentary site for tax professionals run by Tax Analysts, a nonprofit tax publisher, has a free and continuously updated page of coronavirus-related tax coverage.
---
Wolters Kluwer's CT Corporation has launched a COVID-19 resource center to provide businesses and law firms with international, federal and state legislative updates, as well as business continuity planning and other advice for operating a business and maintaining compliance during these unprecedented times. The new resource center is publicly available via the Wolters Kluwer CT Corporation website.
The site provides access to articles, podcasts, and infographics designed to help businesses stay legally compliant. Recently added resources include an overview of states that have approved virtual shareholder meetings and an article outlining how small businesses should be prepared to apply for the payroll protection program stimulus loans. Visitors will have access to critical information on how COVID-19 is affecting Secretary of State operations by jurisdiction, including international locations.
---
---
Outside U.S.
---
LegalForms, a Kenya document automation portal, is offering temporary free trials to its portal. It has also launched a free drafting tool, Dear Landlord, to help Kenyans who may not be able to make rent during this period of uncertainty.
---