The contract lifecycle management company Ironclad has tapped into the power of OpenAI's GPT-3 to introduce AI Assist, a beta feature that instantly redlines contracts based on a company's playbook of approved clauses and language.
The redlines, made using GPT-3's generative artificial intelligence, appear as tracked changes in Microsoft Word, where a user can then scan the recommended changes and either accept or reject them.
"Multiplied across a week's or month's worth of contracts, AI Assist will save countless hours of manual review," Cai GoGwilt, Ironclad's cofounder and chief technology officer, writes in a blog post today announcing the new feature.
---
Learn more about Ironclad in the LawNext Legal Tech Directory.
---
In addition to redlining an entire document, AI Assist allows users to highlight any block of text, give a prompt for editing, and generate several redline options based on the prompt.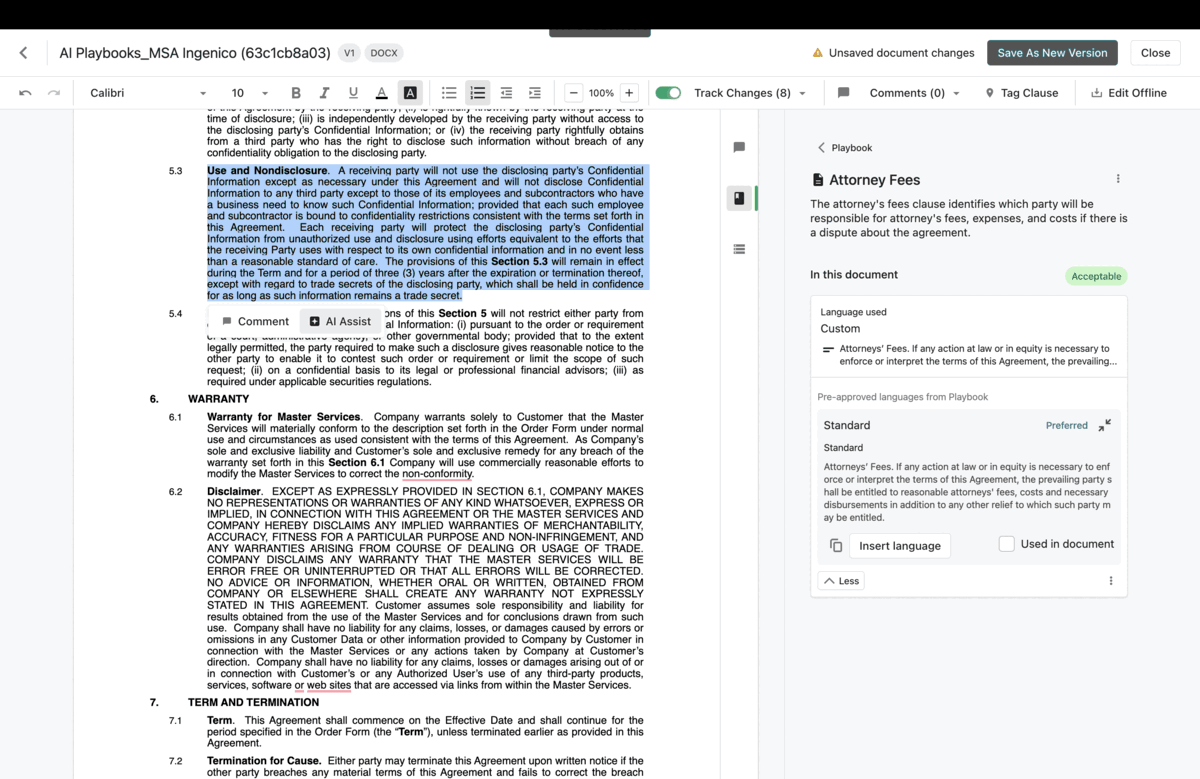 In his post, GoGwilt offers the example of a clause that restricts one party's use of confidential information. By highlighting the post, the user can open a pop-up to provide a prompt to AI Assist. In GoGwilt's example, the user writes the prompt, "make confidentiality mutual." AI Assist then provides several redline options for doing that, from which the user can choose and add to the redlining.
"This allows users to target certain contract areas and get as creative, or as conservative, as their Playbook allows," GoGwilt says.
This feature can be particularly useful in subsequent rounds of negotiating a document, when a party wants to make custom suggestions that have not yet been encoded into its playbook, GoGwilt says.
"As a lawyer on an internal contracts team, you can find yourself reviewing the same type of agreement over and over again, and making the same repetitive changes," GoGwilt says in a video demonstration of AI Assist. "With Ironclad AI, and leveraging the power of generative AI, we can actually help speed up and make this process more consistent."
GoGwilt says AI Assist offers four benefits to Ironclad customers:
They can dramatically speed up the contract review process by instantly identifing and redlining irregularities in contracts and saving time spent on manual review.
They can optimize the ROI of their existing contracts, because AI Assist makes redline suggestions based on a company's preferred clause and language guidelines in its existing playbook.
They can ensure compliance by using a set library of their preferred language and clauses, ensuring that every contract is vetted against company standards, no matter the reviewer.
They can do more with less, because using generative AI to automate redlines frees up time for legal teams to do other work.
Who better to comment on this feature than someone from OpenAI's legal team, and GoGwilt's post includes a quote from Jason Kwon, general counsel at OpenAI.
"Contracting is a notoriously manual and labor intensive process – a perfect example of where AI can help push an industry forward," Kwon said. "As both partners and users of Ironclad, we see their technology and leadership as incredibly impactful for both businesses and the humans driving them."