Relativity, the global e-discovery and compliance technology company, said today that it has acquired Heretik, an AI contract review company whose product was built on the Relativity platform and whose staff is half composed of former Relativity employees. 
Moving forward, Heretik's end-to-end contract review product will be known as Relativity Contracts. It will be integrated into RelativityOne, and available as an add-on in mid-2023.
Founded in 2016, Heretik uses machine learning to transform contracts into structured data and make it easier and more efficient to conduct large document review projects. It can be used for contract reviews, regulatory responses, and corporate transactions.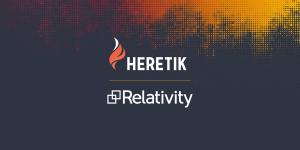 In 2017, the Chicago-based company raised $2.4 million in a seed funding round. In 2020, it participated in the accelerator program run by Moderne Ventures, a Chicago VC fund.
"Efficient contract analysis is critical in meeting regulatory requirements, realizing business value and reducing legal risk; and now RelativityOne users will be able to do so within a singular, secure platform," said Mike Gamson, CEO of Relativity. "We're excited to bring these capabilities to our customers, helping them expand the problems they're able to solve and positioning legal teams to quickly identify relevant insights, risks, rights and obligations within large datasets – reducing days or weeks of work to just minutes."
The Heretik product consists of three main features:
Heretik Viewer, for searching, viewing and editing documents.
Heretik Analysis, for contract classification, section segmentation and classification, data extraction to fields and imaging, and optical character recognition.
Heretik Compare, for comparing entire documents or sections of documents within a data set.
In the future, Relativity said, it plans to build upon and integrate some of Heretik's contract viewer-specific functionality into the RelativityOne viewer so it can be leveraged on other data types.
"Over the last six years, Heretik has gone from solving personal frustrations experienced during a diligence review, to analyzing and reviewing millions of documents," said Charlie Connor, Heretik's CEO and cofounder. "Heretik is used on some of today's largest deals and most complex regulatory challenges. Our growth has been immense, but we believe our potential is much greater. Joining forces with Relativity will provide the resources and support to help Heretik reach its full potential."
"We chose to build on Relativity because of its best-in-class security, scalability and review capabilities, but most importantly, we believe deeply in Relativity's products and people," said Connor. "We're thrilled to be part of the talented team at Relativity and looking forward to further improving upon and tailoring the solution to meet the unique needs of our users."