Last February, legal news and publishing company ALM launched Legal Radar, a free "automated journalism" product that combined the company's editorial expertise with artificial intelligence technology to deliver fast-breaking litigation news personalized to the reader's interests.
Today, ALM is introducing the next iteration of that service, rebranded as Law.com Radar and now including news of corporate transactions as well as litigation.
While the new product retains a trimmed-down free version, the full version requires a subscription. All paid subscribers to Law.com will receive the service at no extra cost. ALM is also offering a standalone subscription to the service for $19.99 a month.
ALM is making the move, it says, in order to bring the service under the Law.com umbrella and deepen its connection to the ALM newsroom.
During a preview briefing last week with Molly Miller, chief content officer at ALM, and Vanessa Blum, director of newsroom innovation, Miller told me that the initial launch of Legal Radar was somewhat of an experiment on ALM's part.
"We wanted to experiment and make sure this hypothesis we had about combining automated journalism with our 40-year-plus expertise would bring a solution that would address unmet needs," she said. "We found that yes, it does."
Having proved the hypothesis, they now wanted to integrate it more tightly with Law.com.
Litigation and Deal News
Law.com Radar is based on what ALM describes as automated journalism. It delivers summaries of breaking news that are generated algorithmically, rather than by human editors. Although editors do not review each summary, they do perform quality checks of the summaries' overall accuracy.
The initial version of the service delivered federal litigation news based on PACER filings. This new version adds coverage of corporate deals including mergers and acquisitions, venture financings, private equity deals, securities offerings, and real estate transactions.
Given that there is no single PACER-like source of all corporate deals, ALM is pulling this information from a variety of sources, including SEC filings and press releases that come into the newsroom. Law.com Radar includes a form for readers to directly submit news of their own deals.
The service also includes summaries of news coming out of the Law.com network (including the recently launched Law.com International, and reported by ALM journalists, as well as news from outside sources.
Custom News Feeds
A key feature of the service is that it allows users to customize their news feeds. Users can choose to receive news tailored to 33 industries, 20 practice areas and global geographic regions, as well as news related to specific companies and law firms.
With the next week or two, ALM will add a filtering feature that will allow users to filter their news feeds by "blip" type. A blip is each individual summary in the news feed, and filtering by blip type will mean a reader could choose to see, for example, only stories tagged as new suits or corporate deals or news from Law.com, or any combination of those.
Another key feature of Legal Radar in the past has been links to source documents, such as the complaint in a new litigation filing. The new version released today retains that feature, plus adds links to source documents for corporate deals, such as SEC filings or press releases.
Free Version Lacks Features
As noted, Law.com Radar will be provided free to Law.com paid subscribers ($124.99 a month when billed annually) and as a standalone subscription for $19.99 a month. ALM is also offering a free version of Law.com Radar, but it lacks some of the features of the premium version.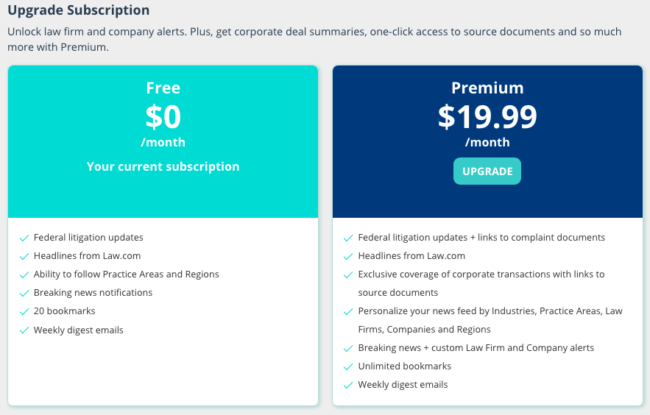 Most notably, the free version will not include the newly added corporate transaction news. Instead, it will have only the federal litigation news.
Also, subscribers to the free version will be limited in their ability to customize their news feeds. They will be able to choose practice areas and regions to follow, but will not have access to other filters, such as industries, company names and law firm names.
Finally, the free version will not include links to source documents.
Of course, users of the free version will be subject to the standard ALM limit on click-throughs to full-text articles, which is capped at three free views a month.
Bottom Line
As I observed when I first wrote about Legal Radar in February, legal professionals face an overabundance of news but have only limited time to sift through it all. That makes it a challenge to track the news that specifically matters to your practice — your practice areas, your jurisdiction, your clients and your competitors.
Law.com Radar addresses that problem by allowing you to filter the news and receive alerts of the stories, cases and deals that matter most to you. It has the added benefit of delivering the news quickly, thanks to its use of automation to quickly summarize litigation filings and deals.