Thomson Reuters yesterday introduced Westlaw Today, a premium legal news service driven by its Reuters news division and available only to subscribers of Westlaw and Westlaw Edge for an additional cost.
But TR introduced the service quietly, without the press releases and marketing campaigns typical of a new TR product, and TR officials remained tight lipped about rumors that the company is planning an even larger news service on a par with Law360 from LexisNexis.
A TR spokesperson described Westlaw Today as the successor to a previous Westlaw news service, Practitioner Insights. The new service offers a better user experience, enhanced mobile access, and new daily alerts, he said.
Since at least May, TR has advertised a number of job openings for legal news editors, reporters and columnists. Several of these job listings indicated that they involved writing or editing for Westlaw's online news platform.
The uptick in hiring drove speculation among some industry insiders that TR was gearing up for a major expansion of its legal news operation. Some who have inquired about these positions have been asked to sign non-disclosure agreements.
The TR spokesperson reached out to me after I had emailed TR executives earlier this week asking about the rumors. When I asked the spokesperson whether the advertised job openings related to the new Westlaw Today, he said that he would not currently comment on the journalists and their roles.
When I asked him if Westlaw Today is the first stage of a broader roll-out or if TR is planning to compete more directly with Law360, he said that if TR has more news to share about that in the future, he would let me know at the time.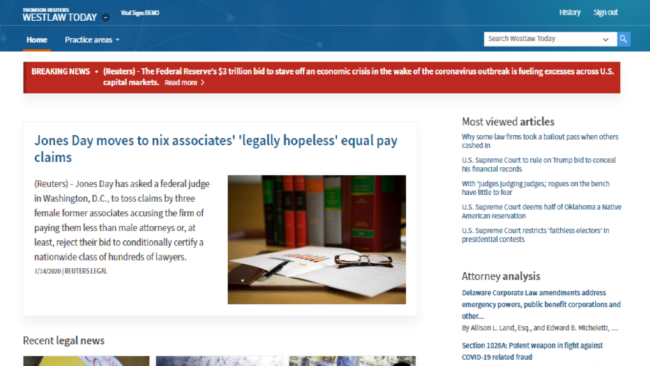 A web page for Westlaw Today, published yesterday, describes the service as helping legal professionals stay informed on legal developments.
"Westlaw Today, powered by Reuters, provides timely and comprehensive news and exclusive analysis so you can know what happened and why it matters. By bringing together best-in-class legal content and award-winning journalism, you can confidently keep up with the latest developments and reinforce your value to clients."
The page says that its articles will come not just from Reuters, but also from non-TR sources such as CCH, CQ Roll Call, Wolters Kluwer, and The Hill.
The service will also include practice-area updates from Practical Law, daily briefings written by Westlaw attorneys and subject matter experts, and commentary by columnists Alison Frankel and Jenna Greene, the page says.
Westlaw Today offers a daily email update that users can customize by the practice areas and companies they wish to follow.