Wolters Kluwer Legal & Regulatory U.S. is out today with its second-annual Future Ready Lawyer Survey Report, and its findings underscore the increasing importance of technology in the legal industry, with 76% of legal professionals in the U.S. and Europe saying that is the top trend.
At the same time, however, only 28% of legal professionals indicated that their firm or organization is very prepared for it.
The survey also reveals a disconnect around technology between law firms and their corporate clients. When corporate legal departments were asked their top criteria for evaluating law firms, the most important was a law firm's ability to use technology to improve productivity and efficiency.
But when law firms were asked what they believe their clients' top criteria to be, they rated price as most important, and listed technology as fourth.

Wolters Kluwer conducted the survey during January of 700 legal professionals in the U.S. and nine European countries. It focused on trends affecting the future of law and how well prepared legal organizations are to drive and deliver better performance.
Although the survey preceded the pandemic, Dean Sonderegger, senior vice president and general manager, told me yesterday that he does not believe intervening events invalidate its findings. The pandemic has not brought a new set of trends into the industry, he said, but rather is likely to cause the pre-existing trends to accelerate.
"Supercharge," Sonderegger said, is the word he likes to use to describe the pandemic's likely impact on disruption in law.
In addition to a disconnect between lawyers and clients, the survey also revealed a wide gap between what clients want and what they get. When legal departments were asked to assess the law firm attributes most important to them and how well their current firm delivers:
80% said it was important that the firm specializes in the types of services they need, yet only 34% said that describes their current firm very well.
79% said it was important that the firm demonstrate efficiency and productivity, yet just 28% said that describes their current firm very well.
76% said it was important that the firm equips staff with the right tools to perform the client's work, but only 30% said that describes their current firm very well.
76% said it was important that the firm offer the best pricing and value, yet only 32% said it describes their current firm very well.
76% said it was important that they trust the firm to meet their needs, yet only 37% said it describes their firm very well.
The unifying and overarching theme throughout this report is the importance of technology in driving change. Across all respondents, they cited technology as the key driver of change, with 82% predicting that their greater use of technology will change how they deliver service and 63% expecting big data and predictive analytics to have a significant impact on the industry over the next three years.
In both law firms and legal departments, the top change they expect to make in the next three years is the greater use of technology to improve productivity. Both legal departments and law firms also expect to see greater emphasis on innovation over the next three years.
Yet there is still resistance to change and to adopting new technologies at many organizations, especially law firms, the report says. That resistance comes right from the top, with leadership resistant to change, firms lacking a technology strategy, and firms lacking change-management processes.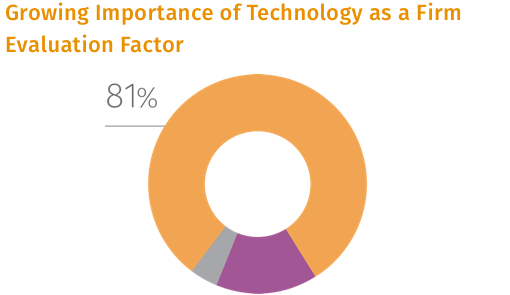 Even so, pressure continues to come from clients for firms to make better use of technology. The survey found that 82% of corporate lawyers say it's important that the law firms they work with leverage technology, and 81% of corporate lawyers say that, within three years, they will ask the firms they plan to work with to describe the technology they use to be more productive. In fact, 41% already do this.
Those firms that do use technology effectively are rewarded, the survey suggests. That finding is consistent with last year's initial Future Ready Lawyer Survey, which found that law firms and legal departments that already leverage technology are better prepared to keep pace with an evolving legal market than those that are just beginning or are not doing it at all.
Last year's survey categorized firms as Leading, for those already effectively leveraging technology, Transitioning, for those starting down the path, and Trailing, for those not using technology.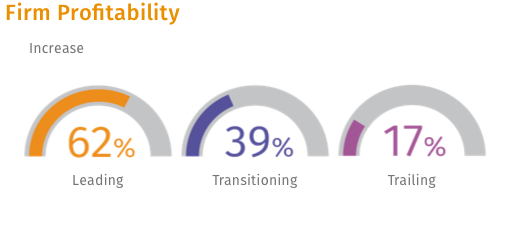 Using those categories again this year, the survey found that among technology leading firms, 62% said their profitability increased over the prior year, compared to 39% of transitioning firms and 17% of trailing firms.
"The overarching takeaway of this survey," said Ken Crutchfield, vice president and general manager of legal markets, "is that organizations have a general understanding of what needs to be there in terms of technology, but there is a gap in their being able to deliver or feeling ready to deliver."
The 2020 Future Ready Lawyer Survey: Performance Drivers included quantitative interviews with 700 lawyers in law firms, legal departments and business services firms across the U.S. and nine European countries – the United Kingdom, Germany, The Netherlands, Italy, France, Spain, Poland, Belgium and Hungary.
It examined how client expectations, technology and other factors are affecting the future of law across core areas and how legal organizations are prepared to address these. The survey was conducted online for Wolters Kluwer by an international research organization from January 10 to 30, 2020.
Insights from Luminaries
The survey report concludes with a section of "insights from luminaries" within the legal industry. I was honored to be among those asked to contribute to this section, where you will also find the thoughts of Markus Hartung, director of the Bucerius Center of the Legal Profession at Bucerius Law School, Hamburg; the aforementioned Dean Sonderegger; and Jeroen Zweers, owner of NOUN.legal, a legal innovation agency, cofounder of Dutch Legal Tech, and a board member of the European Legal Technology Association.
LawNext Episode 49: Dean Sonderegger of Wolters Kluwer on the 'Future-Ready Lawyer'