Three years ago, Wolters Kluwer's ELM Solutions introduced LegalVIEW BillAnalyzer, a service for in-house legal-bill review teams that combines machine learning and other advanced technologies with human expertise to help review law firm invoices and ensure that they accurately and consistently adhere to billing guidelines.
Today, ELM Solutions is introducing a variation on that product, the LegalVIEW BillAnalyzer Data Service, a managed service designed to provide bill review teams with AI and data analytics technology to improve their efficiency and reduce legal spend.
Jeffrey Solomon, senior director of data analytics and artificial intelligence products at ELM Solutions, told me during a briefing last week that the key difference between the two products is in whether the customer uses ELM's expertise or its own internal expertise.
The original BillAnalyzer is a fully managed expert service in which AI technologies and legal experts are used together to help customers optimize their legal bill review process.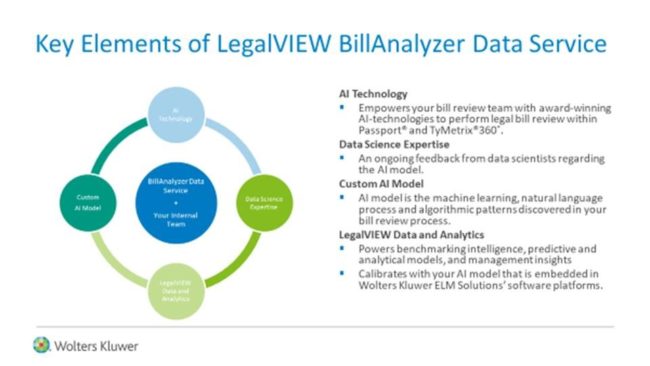 The new BillAnalyzer Data Service provides the AI and analytics technologies to support customers' internal review teams, with the same goal of helping them optimize their bill review process.
Since introducing the original product, Solomon explained, ELM heard from a number of customers with well-established in-house review teams that they wanted to take advantage of the BillAnalyzer technology but while maintaining their existing operational structure.
Jonah Paransky, executive vice president and general manager of ELM Solutions, said that the amount of legal spend going through the expert service has increased by six times since 2018, and has provided legal cost savings of up to 10% and improvement in billing guideline compliance of up to 20%.
"Now, we are thrilled to harness the largest repository of legal spend data in the world with AI and advanced technology to help an additional group of customers solve real problems," Paransky said.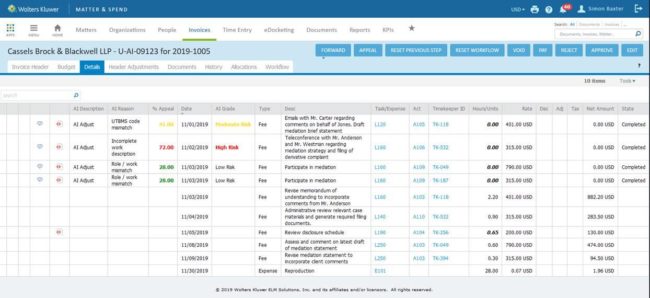 Among the insights the data service can provide are:
Timekeeper Performance Index. Historic adjustments of a timekeeper by role, to capture billing behaviors.
Out of Pattern Billing. Identifies invoice lines with unusually higher dollar amount for set of combinations of Task, Activity, Role, Rate and Units compared to timekeeper benchmarks.
Natural Language Processing. Eliminates uncertainty and inaccuracy around task codes by reading the narrative to interpret the work performed.
Semantic Search. Similar keywords that historically resulted in adjustments are used to determine possibility of future adjustment.
UTBMS Description Score. Uses line-level expense descriptions to deduce numbers of words written. Lines with detailed description have a lower likelihood of adjustment.
Line Item Duration. Time between invoice submission and task completion subject to LSA.
Probabilistic Stacking. Feature optimization process that brings all the important features only considering line item description and its importance to potential adjustments.
Topic Based Adjustment. Segmentation of line item descriptions responsible for potential adjustments.
Law Firm Risk Index. Performance indicator for a Law firm based on historical adjustment rate.
If you are attending Legalweek, ELM Solutions is exhibiting in Booth 2117.