The International Legal Technology Association has released an executive summary of its annual technology survey of law firms that underscores firms' continuing adoption of cloud-based technologies while finding that only about 20% of firms are currently using or testing artificial intelligence and machine learning.
ILTA will release the full 2019 technology survey later this month, which will provide in-depth reporting on survey results compiled from 537 firms representing more than 116,000 attorneys and 240,000 total users. About two-thirds of respondents were from firms with 150 lawyers or fewer.
The executive summary, prepared by Jim McCue, director of information systems at the Rodey Law Firm, showed a clear trend of firms moving more of their functions to the cloud. Seventy-two percent of firms said that their adoption of cloud-based technologies will increase over the next year, capping a four-year trend of firms each year saying their use of the cloud will increase.
When asked which firm functions are already in the cloud or will be migrated there within the next year, the top category was payroll, with 70% of firms saying their payroll functions are already in the cloud and another 7% saying their payroll migration is planned.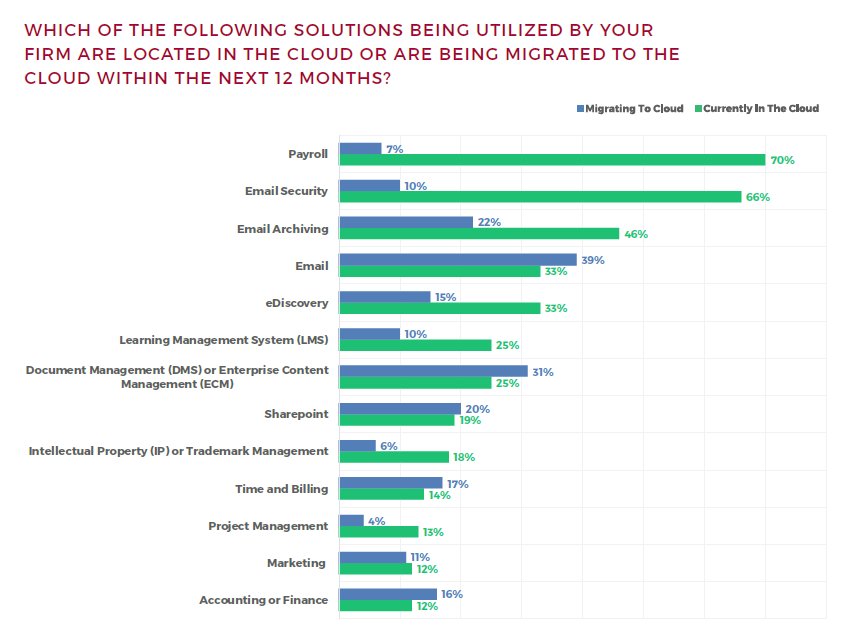 Other functions with significant percentages already in the the cloud or being migrated there were:
Email security.
Email archiving.
Email.
E-discovery.
Just 12% say their accounting and finance are in the cloud, but another 16% say they are migrating those functions there. Notably, 23% of firms have plans to migrate to a new accounting system over the next year, of which 64% plan to stay with a firm-hosted system.
In contrast, of the 15% of firms that plan to move to a new document management system this year, 82% say the DMS will be in the cloud.
To the extent firms are not moving to the cloud, what do they see as the biggest barrier? Top of the list are cost (50%) and security (33%), followed by performance (30%), reliability concerns (26%) and client restrictions (25%).
As report author McCue points out, cost, security, performance and reliability are typical concerns for any application change, while firms' concerns about issues such as ownership, regulatory compliance and client restrictions appear to be declining.
AI Adoption Slow
For all the talk in the legal industry about artificial intelligence and machine learning, ILTA's survey found that just 7% of firms say they have an active AI project in place. Another 4% say they have a group that is testing AI tools, and another 10% say they have one or more AI tools in production. That adds up to just over 20% of firms that are using, testing, or preparing to us AI.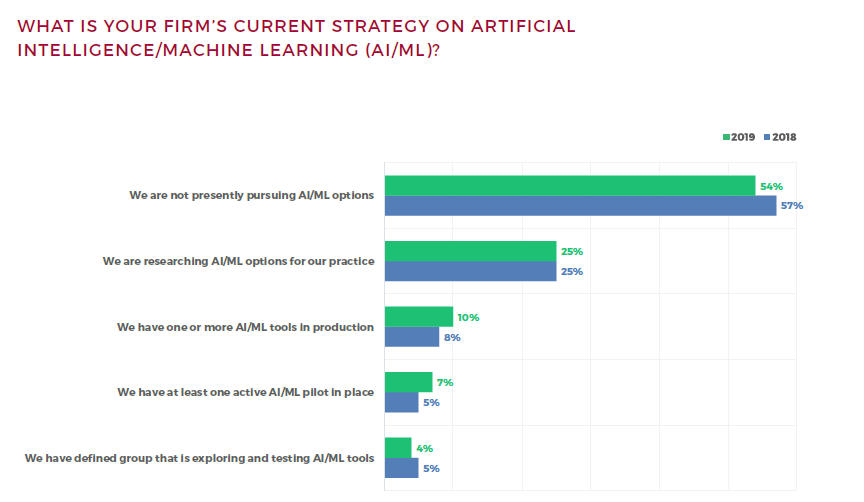 By contrast, 54% of firms say they are not presently pursuing AI options (down three points from 2018) and another 25% say they are researching AI options.
Given this pace of adoption, it is interesting that, when asked what technology will create significant change in the legal profession over the next three-to-five years, AI was the second most-common response, at 37%, behind only cloud at 39%. Analytics were listed by just 4% of respondents.
Other Topics
Other topics covered in the survey include server operating systems (with use of Windows Server 2012 still outpacing Windows Server 2016 and a healthy 11% still on Windows Server 2008), desktop operating systems (with Windows 7 still the primary O/S for 31% of firms), and word processing software, where most firms use either the 32-bit or 64-bit versions of Microsoft Word.
With regard to word processing, it's all about Word. The summary shows all firms using some version of Word. When the full results come out, I will be curious to see if any firms listed Google's G Suite as their primary office application.
McCue wraps up the executive summary with predictions that the coming year will see firms moving more of their applications to the cloud. He also predicts more practical uses of AI, especially in security and case analysis.
You can download the executive summary from ILTA's website. The full analysis, when it becomes available in late October, will be available for purchase for $500 for ILTA members.