A survey of earnings of solo and small-firm attorneys in the United States finds that the average attorney's compensation dropped last year, while a wide gender gap persists.
Conducted for the second year, the Martindale-Avvo Attorney Compensation Report said that the average compensation for a solo or small-firm attorney in 2018 was $194,000, down $4,000 from 2017.
Even so, most attorneys reported that their year-over-year compensation rose or remained the same in 2018, with 49% saying it rose and 31% saying it remained the same.
But the survey — which is based on responses from 7,814 attorneys across two-dozen practice areas — found a disturbing disparity in pay between men and women, with women attorneys earning 36% less than their male counterparts.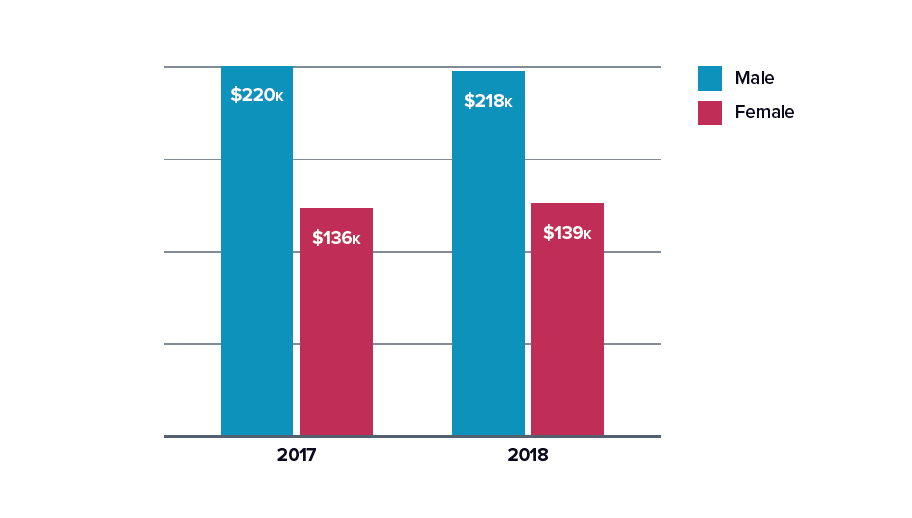 In part, the survey says, this disparity may be attributed to the number of years in practice. Women in the survey had practiced an average of 16.3 years, compared to 22.7 years for men. In addition, a higher proportion of women represent consumers, which is less lucrative than representing businesses.
Solos earn less than attorneys in small firms, the survey found. Average earnings for a solo in 2018 were $159,000, while the average for a small-firm attorney were $213,000. Attorneys who represent businesses earn more than those who represent consumers.
The most lucrative practice area is medical malpractice, followed by personal injury, workers' compensation, intellectual property, business, employment, real estate, estate planning, criminal defense, family, bankruptcy, probate and immigration. While the average compensation for a medical malpractice lawyer was $267,000, for an immigration lawyer, it was $134,000.
One finding of this survey is at odds with the widely cited Legal Trends Report conducted each year since 2016 by the practice management company Clio. Clio's report found that lawyers spend only 2.3 hours a day on billable tasks (29% of an eight-hour day).
But this survey found that attorneys spend less than 10 hours a week on non-billable tasks. Based on a 40-hour week, that would mean that attorneys are spending 75% of their time on billable tasks.
Why this discrepancy? It is probably due to the fact that this survey is based on lawyers' self-reporting their time, whereas the Clio survey is based on data drawn from their actual time-and-billing records. Lawyers have a tendency to think they bill more than they actually do, I believe.
Another point of comparison is what solo and small firm attorneys see as the top challenges of their job. Earlier this year, I wrote about the 2019 State of U.S. Small Law Firms survey conducted by Thomson Reuters. A key question in that survey asked what small firms identified as their most significant challenges. The top challenges they identified were acquiring new clients, time spent on administrative tasks, and the increasing complexity of technology.
In the Martindale-Avvo survey, the top challenges attorneys listed were similar, with business development, long hours, and administrative tasks among the top four. Interestingly, however, the number one challenge attorneys identified in this survey as dealing with difficult clients.
Couple of other quick takes from the survey:
Only 55% do pro bono work — a percentage I find surprisingly low — while 60% say they give back to their communities through financial donations.
Hourly billing remains the primary form of billing, while 44% say they use some fixed fees.
The most rewarding part of their work is client relationships, attorneys say.
Given a do-over, 71% would still choose law as a career and 74% would choose the same practice area.
Possibly the biggest takeaway is that, overall, attorneys believe they are fairly compensation for their work, with 67% saying they are fairly compensation. However, once again gender factors in, with men more likely to say they are fairly compensation than women.