Thomson Reuters, the dominant provider of research and information services for the legal profession, last week announced plans to reduce its workforce by 3,200 and close 30 percent of its offices by the end of 2020. What is going on and what does it mean for the company's customers?
The timing of the news, announced at a meeting of investors, seemed befuddling. Just two months ago, TR closed a major deal to sell 55 percent of its Financial & Risk unit to private equity firm Blackstone Group, in a deal that valued the F&R business (now rebranded as Refinitiv) at about $20 billion and that returned some $10 billion to TR's shareholders.
On top of that, just three weeks ago, TR was touting what it characterized as "overwhelming" sales — 1,500 legal organizations in 15 weeks — of its new Westlaw Edge research platform, which it launched in July.
At the Dec. 4 investors' meeting, TR presented details on why it is making these reductions in staff and offices and what they mean for the company and its customers. The overall goal, the company said, is to create a leaner, more agile organization that will allow it to better serve its customers and shift its orientation from a content company to a software company.
"As the velocity of technology change increases and the iteration cycles become ever shorter, the new Thomson Reuters needs to run leaner, be faster and more effective," Neil T. Masterson, co-COO, told the investors. TR plans to accomplish that through three "levers" which will result in a headcount reduction of 12 percent by 2020:
Lever 1 is aimed at improving the speed and nimbleness of the organization by reducing management layers.
Lever 2 focuses on consolidating staff into 30 percent fewer locations.
Lever 3 is an acceleration of product convergence (reducing the number of products) and a shift to public cloud, to simplify product offerings and increase the number that are SaaS based.
"So by 2020, we are targeting a 12 percent reduction in headcount, an 11 percent reduction in the number of products, a 30 percent reduction in the number of locations, a reduction in management layers to an average of six and a reduction in CapEx as a percentage of revenue from 10 percent to between 7 percent and 8 percent," Masterson said.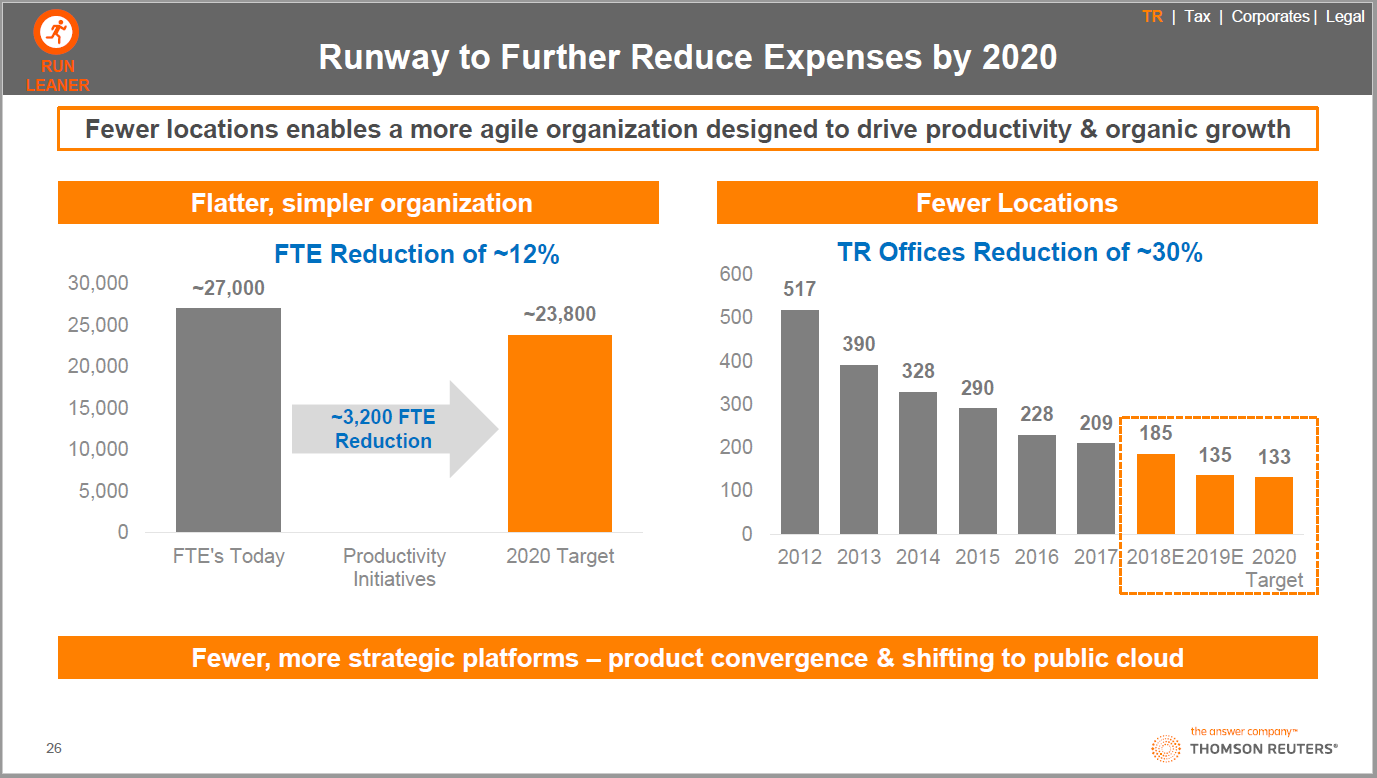 The majority of the headcount reduction "has been communicated" already and 90 percent of the site consolidation is already underway, he said.
None of these reductions, he told investors, will impact TR's "go-to-market capacity."
TR's New Organizational Structure
At the outset of the investors' meeting, James C. Smith, TR's president and CEO, outlined the company's new five-part organizational structure following the sale of its F&R business. The company now has five units, with most of its revenues coming from the three that focus on law and tax:
Legal professionals, with $2.3 billion in revenue in 2017.
Corporates, with $1.2 billion in revenue.
Tax professionals, with $800 million in revenue.
Reuters News, with $300 million in revenue.
Global Print, with $800 million in revenue.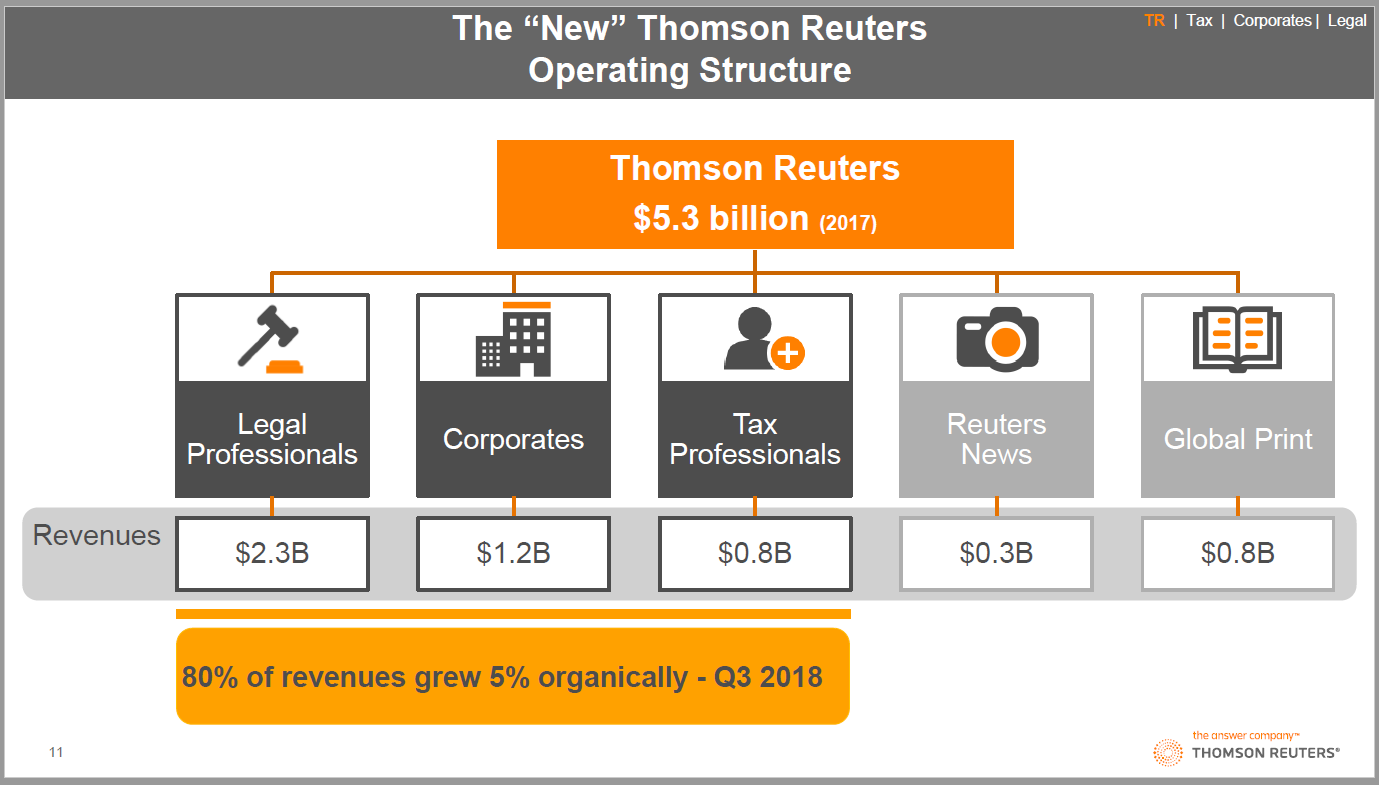 TR enjoys "a highly attractive business model," Smith told investors. Seventy-five percent of its revenues are recurring in nature and "produce very consistent free cash flow." It has some 460,000 customers and a customer-retention rate of 90 percent overall. In the markets in which it competes, TR generally holds the number one or two position. The company has $2 billion in cash available for future acquisitions, and expects to spend most of that over the next 12-24 months.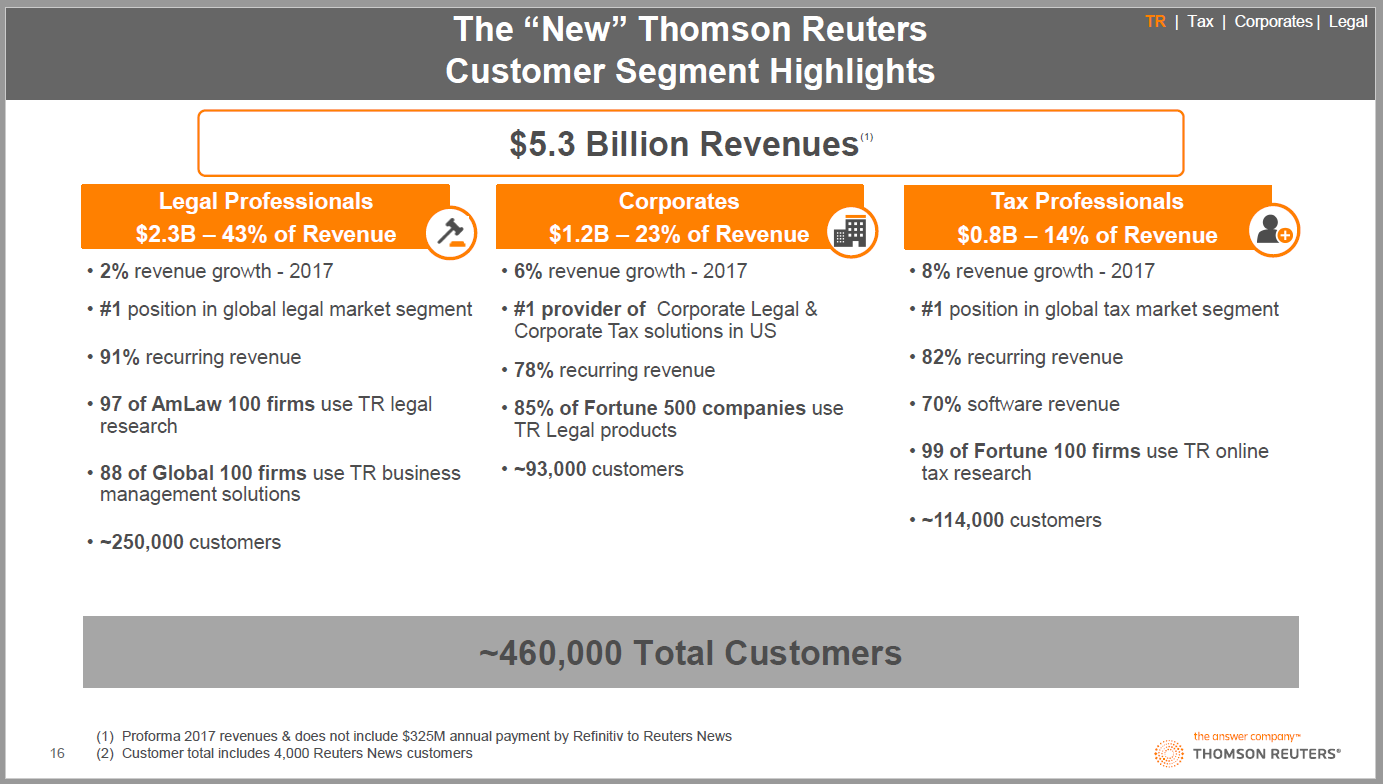 But TR sees opportunities to grow its revenue even more, by pushing into new market segments, increasing cross-selling of its products (the average customer uses just one or two TR products), optimizing its pricing, improving retention, and better serving its customers through a "customer-first approach."
"What do we mean by that?" Smith said. "We mean providing unmatched customer experience from the front end to the back end. It means taking a programmatic approach to increasing things like cross-selling, optimizing our offerings and getting the pricing right in ways that improve retention. And by serving customers in a way they want to be served, that means supporting the deep relationships that we have with efficient and effective digital channels and improving the customer experience."
No More Silos
Co-COO Brian Peccarelli told investors that TR's restructuring is aimed at eliminating product silos in order to better serve customers.
"The new structure … puts a laser focus on the customer," Peccarelli said. "It allows us to view the world through the eyes of the customer in order to better align ourselves to do business with them the way they want to do business with us, a customer-centric approach."
TR believes this new structure will drive growth in four ways:
Enable it to sell more to existing customers through cross-selling and up-selling of products.
Acquire more customers in the lower end of its market segments. Among smaller law firms, there are over 100,000 that buy nothing from TR, Peccarelli said. The plan to reach them is to "optimize and price our products in a way that'll be compelling for them."
Improve retention through a better customer experience, including better digital experience, removing friction from renewals and simplifying commercial policies.
Further tailor products and pricing to the unique needs and financial constraints of different customer segments.
Legal is Largest
The Legal Professionals segment makes up TR's largest market. (Of course, many customers of its tax and corporate segments are also legal professionals, including corporate counsel, who fall under its corporate segment.) The Legal Professionals division grew 2 percent in 2017 and growth accelerated to 4 percent for the first nine months of 2018. TR divides this segment into five subsegments, as show here: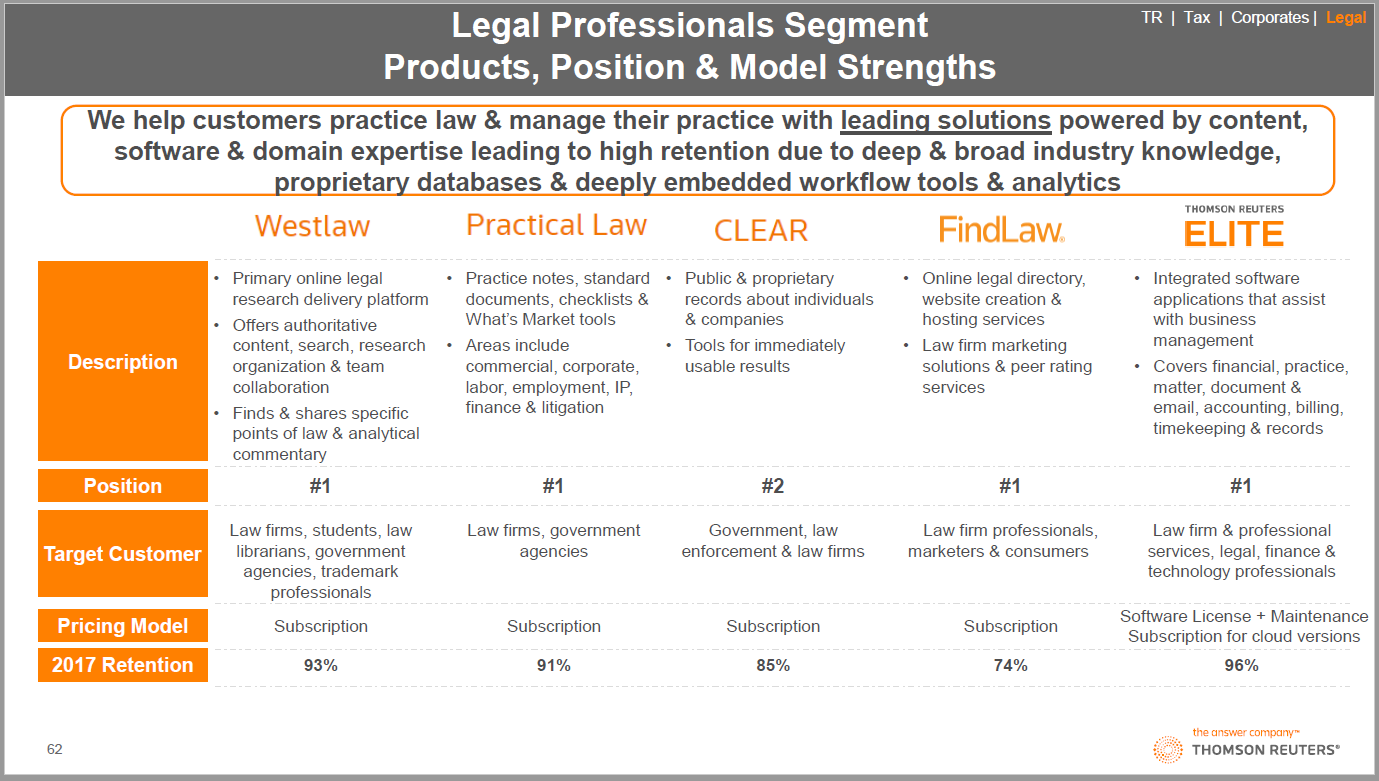 Peccarelli said that TR expects to continue to grow in this segment, and to do so from various sources:
Continue to invest organically, including building AI-enhanced software products such as Westlaw Edge. That is expected to help drive growth over the next few years.
Invest inorganically to supplement product offerings and seek to further distribute non-jurisdictional software products, including Elite and Contract Express, outside of the U.S. core market.
Reimagine and streamline legal workflow products.
The changing legal market presents new opportunities for growth, Peccarelli told investors. Opportunities come from customers' interest in adopting more advanced technology such as AI, analytics, cloud and blockchain. Opportunities also come from potential changes in regulation of the legal profession and new business models for delivering legal services, such as alternative legal services providers and non-traditional law firms.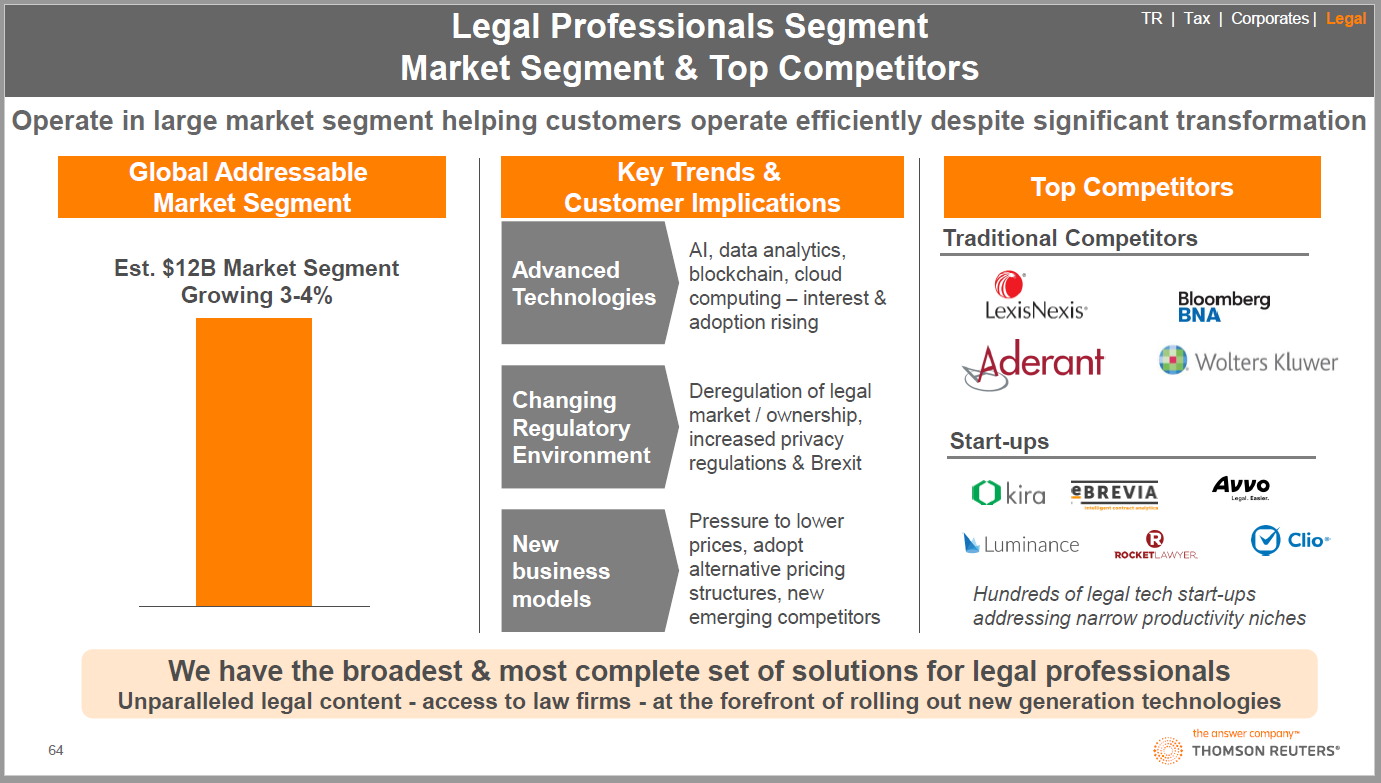 Peccarelli also sees opportunities in the growing numbers of startups active in the legal space. "This environment actually plays to our advantage, as our clients value a partner they trust that can provide more integrated solutions and that can provide the quality of service that they need and they demand."
Part of improving the customer experience, Peccarelli said, will be to reduce the numbers of sales people approaching them and centralize around a single point of contact.
"One recurring theme is we have had multiple salespeople reaching out to customers, each selling specific products in an uncoordinated fashion," he said. "A big priority in our customer-centric realignment is to make sure we coordinate internally and have a holistic view of our customer without losing the product-specific knowledge and relationships that customers value most."
Moderation on Westlaw Edge
Despite the press release I mentioned at the outset in which TR touts the overwhelming success of its newly launched Westlaw Edge, CEO Smith was more moderate when asked by an investor how Westlaw Edge's higher subscription price would contribute to revenue growth.
"I'm not prepared to share projections for Westlaw Edge simply because it's real early in the exercise," Smith said. "It's really encouraging. But we are deliberately being patient as we roll that out and we're looking at different ways to maximize the value we can get out of that product while delivering real value for our end customers. So we'll see how those price points hold up."
Another investor asked about how Westlaw Edge's AI and machine-learning capabilities compare to those of LexisNexis and whether Westlaw Edge has a "secret sauce" that TR can maintain.
Andy Martens, global head of legal product and editorial, answered that he believes Westlaw Edge has a very defensible market position. "I do think that we do have some defensible positions based largely on the differences between our collection of editorial assets and Lexis's. I think you'd find that ours are significantly richer. And we're also in the process of tweaking our editorial processes to make our data even more optimized for machine learning than it is today."
The Bottom Line
So should customers be concerned about TR's reductions in staff, offices and products?
If you accept the information its executives provided to its investors, then the answer is no — at least not for the immediate future. With the sale of the F&R business and the resulting restructuring of its remaining business units, some office closings and even layoffs should not be cause for customer concern.
In fact, if the company is able to become leaner and more agile, as it says it will do, customers could benefit from more responsive product development and more targeted product pricing, not to mention a more streamlined sales process.
And there's no ignoring the fact that this is, as I said at the outset, the dominant provider of research and information services for the legal profession, with the number one market position in several product areas and healthy recurring revenue.
But I strongly agree with Jean O'Grady that TR "needs to manage this message." It needs to manage the message not only for its investors, as it did in this recent meeting, but also for its customers. The biggest question, as Jean points out, is: What products will be cut?
I first asked TR about layoffs in mid-October, when some TR employees in Eagan had already been told of their layoffs. A top TR communications executive responded that he was "unaware" and passed my inquiry to a colleague. That colleague sent me the same boilerplate response every other journalist has received:
Thomson Reuters is routinely looking at ways to run our global business operations more efficiently and effectively. This disciplined approach sometimes includes the need to make personnel, or other, changes which allow us to balance our internal resources with the needs of our customers in a highly competitive environment.
Throughout the investors' presentation, TR executives repeatedly emphasized the importance of its relationships with its customers. "Our customers know they can count on us," said CEO Smith, "and that is an enormous competitive advantage."
Customers have lots of questions. TR should be out front in explaining these changes to them and answering the questions they raise. Boilerplate doesn't do that.
[Image of Thomson Reuters building by ProducerMatthew – Own work, CC BY-SA 3.0, Link.]