The international legal research platform vLex today introduced the beta version of Vincent, an AI-powered legal research assistant that analyzes legal documents you upload and finds relevant research results.
Vincent is in the same vein as CARA from Casetext, Clerk from Judicata, and EVA from ROSS Intelligence in that you upload a brief, legal document or court opinion, and it finds and it analyzes the document and uses the document's language and citations to find related cases, statutes, books, journal articles, contract models, and more.
For now, this beta version of Vincent is available by invitation only. You can request an invitation here. I have received a log-in, but, due to travel, have not yet had the chance to try it for myself.
Although I have not yet tried Vincent, yesterday I was given a demonstration and briefing by Lluis Faus, cofounder and CEO of vLex, and Colin Lachance, CEO of vLex Canada.
Each of these document-analysis tools differs in the kinds of information they deliver. With Vincent, it finds similar cases, identifies main topics, and recognizes citations to produce a list of results that it determines to be relevant to the document.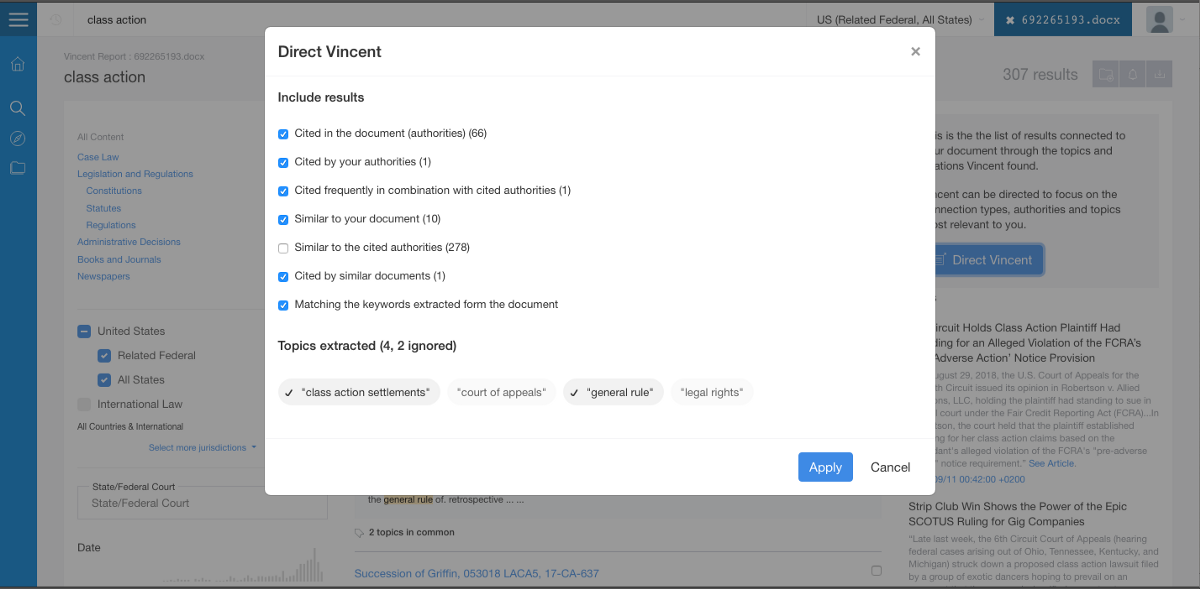 Vincent differs from the others in three notable ways:
It is bilingual, so you can upload documents in either English or Spanish.
It delivers results from nine countries, including the United States, Canada, Spain, Mexico, Chile and Colombia.
It can incorporate search results not only from its collection of legal materials, but also from an organization's internal collections, public sources and other licensed databases.
In the United States, the launch of Vincent is significant for another reason. It represents the first stage of vLex's launch of a full-scale legal research platform targeted at the U.S. market. Beta testers of Vincent will get a preview of that platform, and when Vincent comes out of beta in a month or two, it will be rolled out together with the new U.S.-focused platform.
vLex is a Barcelona and Miami-based publisher that claims to have one of the world's largest collections of legal information. As I reported in 2017, it was a partner in the launch of a major Canadian legal research suite.
In the U.S., vLex has largely been perceived as a foreign-law resources and its customers have principally been universities and libraries. But with the new platform, it will be seeking to compete against legal research services such as Casemaker, Fastcase and Casetext.
The vLex U.S. collection has some 20 million documents, including 12 million cases and some 700,000 books and journals.
Vincent is powered by Iceberg, the vLex artificial intelligence platform. As I wrote in a previous post, vLex initially developed Iceberg to speed the classification of Canadian legal documents. It subsequently rolled out a commercial version that it licenses to law firms, corporations and governments.
As with its cousins CARA, Clerk and EVA, one reason to use Vincent is to validate the thoroughness of your research. Upload and brief and see cases you may have missed. But it can also be a good way to start or expand research. For example, if you find a case that is spot-on to your research, you can load that case into Vincent to find related precedents.
I plan to try Vincent for myself sometime soon and write a hands-on review. As mentioned above, you can sign up for the beta and try it yourself.