The website G2 Crowd, which collects user reviews to evaluate business-to-business software, recently released its first grid ranking of the best legal practice management software, and it places only one company, Clio, into the upper-right "Leaders" quadrant — the quadrant that represents the highest rankings in both customer satisfaction and market presence.
The grid — similar to the Magic Quadrant popularized by technology research firm Gartner — provides a graphical ranking of companies in four quadrants: Leaders, High Performers, Contenders and Niche. G2 Crowd will begin publishing these rankings quarterly, it says.
Placement on the grid is based on two scores:
Market presence, which G2 Crowd says is based on a combination of more than 15 data points drawn from user reviews, publicly available information, and third-party sources.
Satisfaction, based on customer satisfaction data from actual users' reviews.
Clio is the only practice management company placed in the Leaders quadrant. Four companies are in the lower-right High Performers quadrant: MyCase, Practice Panther, Zola Suite and Practice Pipeline.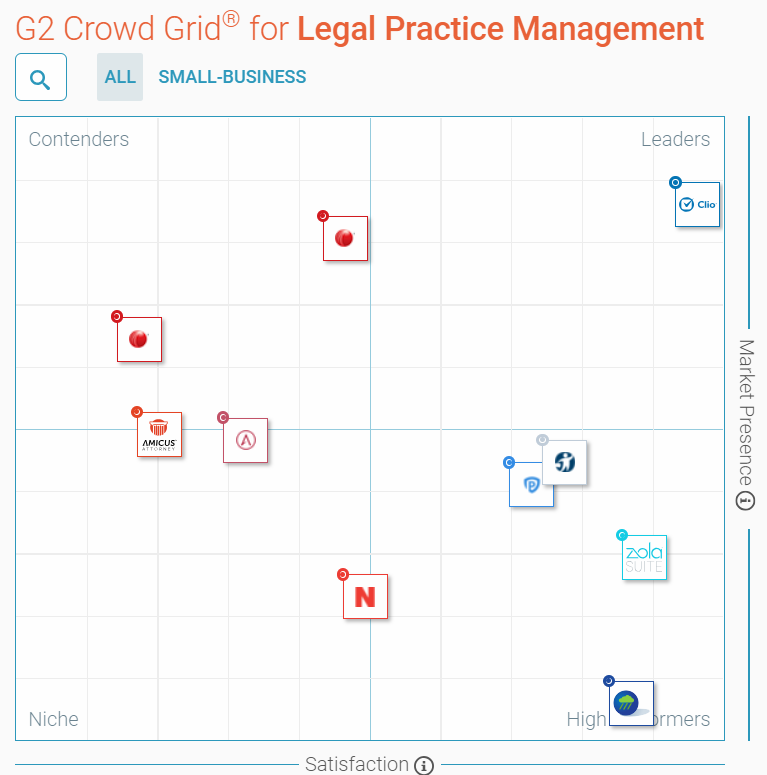 In the upper-left Contenders category, four companies are listed:  PCLaw, InterAction, Amicus Attorney and Aderant. Only one company is in the Niche category: Needles.
A second "small-business" version of the grid keeps Clio in the Leaders quadrant; keeps MyCase, Practice Panther and Zola Suite from the High Performers quadrant, but not Practice Pipeline; has only PCLaw in the Contenders category; and moves Amicus Attorney by itself in the Niche category.
Minimal Usefulness
G2Crowd says that products in the Leaders quadrant are rated highly by users and have substantial market presence scores. Those in the High Performers quadrant are highly rated by users, but have not yet achieved the market presence of the Leaders, it says. Contenders have significant market Presence and resources, but either have received below-average user ratings or an insufficient number of reviews. Those in the Niche quadrant lack market presence and have not received enough reviews to validate them.
Accompanying the grid are reviews and ratings of 91 practice management platforms, including summaries of G2 Crowd's highest-rated and easiest-to-use platforms. It is not clear why the grid omits the majority of these platforms.
While the grid is interesting, its usefulness as a consumer-comparison tool is minimal, in my opinion. The primary problem with it is that it lumps together apples and oranges and cabbages as if they were the same thing. It makes no sense, for example, to compare LexisNexis InterAction, a CRM tool designed for larger firms, with MyCase, a practice management platform for small firms.
It would make much more sense to put CRM in its own category and then, for the practice management tools, separate them by the sizes of firms they are designed to serve.
On top of that, the grid omits some products that, by all accounts, rank among the leaders in the market, such as CosmoLex, Rocket Matter and Thomson Reuters Firm Central. In fact, Firm Central is not even among the 91 platforms listed for legal practice management, while there are others on the list that, frankly, I've never heard of.
Bottom line: If you're shopping for practice management software, you might get some benefit out of browsing the listings here and reading the user reviews (for the few that have reviews). But the grid, at least in this first incarnation, is all but useless.