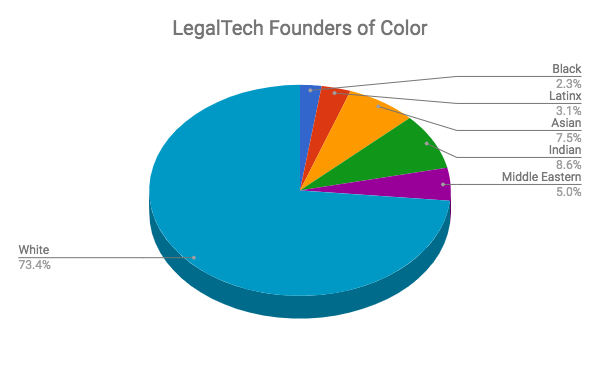 A first-of-its kind study of legaltech companies and their founders finds that women and people of color are significantly underrepresented among legaltech founders, accounting for just 13.6 percent and 26.5 percent respectively. Black and Latinx founders account for a staggeringly low proportion of legaltech entrepreneurs, at just 2.3 percent and 3.1 percent respectively, the study says.
The study was conducted by Kristen Sonday, cofounder and COO of legaltech startup Paladin, a pro bono management platform. She undertook it because she was curious about a paradox that exists in law: There is far more technology being built than ever before, yet somehow, the access-to-justice gap in America keeps widening.
Sonday analyzed the backgrounds of 478 founders across 269 legaltech companies and found:
Only a small fraction (8%) of legaltech companies are actually working to improve access to justice directly.
Legaltech founders have surprisingly low diversity (as noted, only 5% are black/Latinx), which is especially problematic given that the justice gap disproportionately affects women, immigrants, and minorities.
Low Numbers of Women
In her report, Sonday notes my December blog post describing 2017 as the year of women in legal tech. But the data paints a different picture, she says.
Women make up just 13.8 percent of legaltech founders — less even than the average across industries of 17 percent women founders. Male founders outnumber female founders in legaltech 6:1, even though women now outnumber men in law school.
"While much as been written about law firms' struggles to reach gender parity and equity among their ranks, there has been scant recognition of the general disparity in legaltech," writes Sonday, who was herself recognized among the 2017 Women of Legal Tech by the ABA's Legal Technology Resource Center.
Even Lower Numbers of Blacks and Latinx
Of the 478 founders Sonday studied, only 26 are Black or Latinx. In percentages, 2.3 percent of founders in legaltech are Black and 3.1 percent are Latinx. Even when accounting for Asian, Indian and Middle Eastern founders, the total number of founders of color is still just 26.5 percent.
This is in contrast to the last U.S. census, Sonday notes, which reported that 13.6 percent of the population self-identified as Black and 16.3 percent as Latinos.
Lack of Focus on A2J
When Sonday examined legaltech companies to determine which are focused on access to justice, she found that they make up just 4.5 percent of legaltech companies overall. Adding in companies that focus on immigration, the number is still just 10 percent.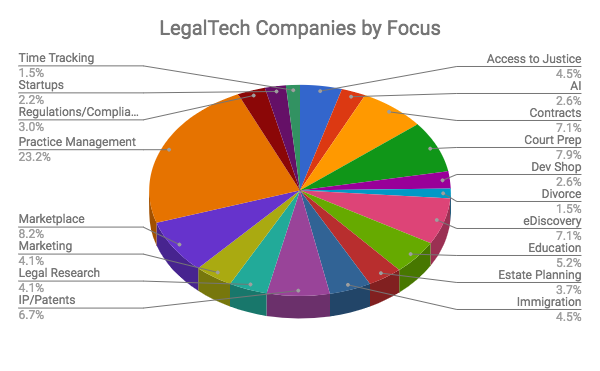 Notably, founders of legaltech companies focused on A2J are more likely to be women or minorities. Women and minorities make up 44 percent of A2J founders, with 24 percent Black or Latinx, 14 percent other minorities, and 12 percent women.
Sonday finds a number of reasons for the lack of focus on A2J. One is simply that entrepreneurs are more likely to solve problems they've personally experienced. Another is that they tend to focus on serving markets with a paying customer base.
For those who do want to tackle ATJ issues, there are a myriad of obstacles faced by emerging ATJ companies and their founders: lack of available initial funding, even less available ongoing funding, challenges to creating sustainable business models, lack of education in the legal industry around social enterprises, a shortage of early adopters and clients, and a 'charity' mentality that makes these ventures viewed as unsustainable or not worth paying for.
Sonday says that she plans to continue to research and analyze the reasons for the lack of diversity within legaltech and the challenges of building an impact-specific company, and she hopes to provide recommendations for improvement.
Until then, kudos to her for undertaking this important research.