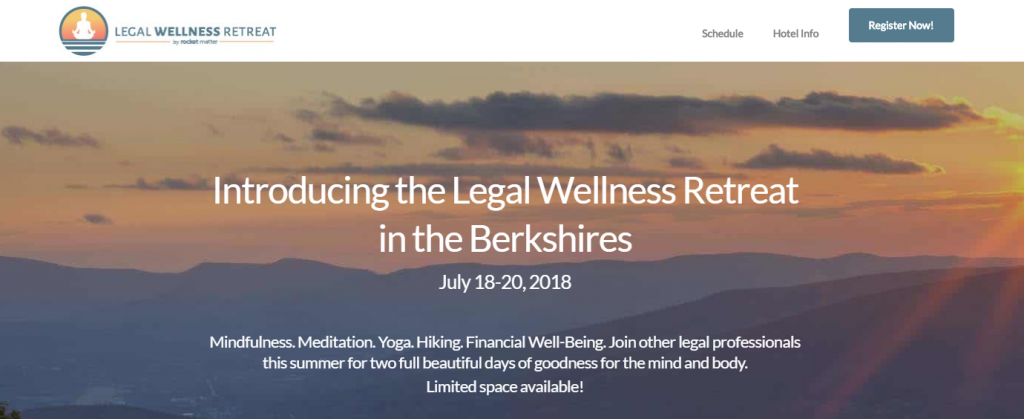 Leave it to me to cover something on the afternoon of the last day of early-bird registration. So register fast if you're interested.
This summer, July 18-20, in the bucolic Berkshire Mountains of Massachusetts, the practice management company Rocket Matter is hosting its first Legal Wellness Retreat, which they are describing as "two full beautiful days of goodness for the mind and body," combined with eight hours of CLE and a variety of outdoor activities such as hiking, canoeing, yoga and ropes courses.
(My advice: Combine it with an evening at Tanglewood, where you can catch some Bach or Mozart.)
Each morning of the conference will start off with optional yoga and 12-step programs. Then, each day will cover four hours of wellness programming, including:
Secrets to a Successful and Happy Legal Career.
Better Lawyering Through Mindfulness.
How Time and Stress Management Can Ease the "Weight of the Law."
Transforming Personal Adversity into Professional Assets
After lunch, attendees will have their choice of an afternoon activity, including hiking the Appalachian Trail, yoga, canoeing on the Housatonic River, or a ropes course. At night, participants can enjoy the cuisine and culture of the Berkshires.
Speakers include Brian Cuban, author of the book, The Addicted Lawyer, Tales of the Bar, Booze, Blow, and Redemption; Jeena Cho, co-author of the book, The Anxious Lawyer: An 8-Week Guide to a Joyful and Satisfying Law Practice Through Mindfulness and Meditation; and Heidi S. Alexander, deputy director of Lawyers Concerned for Lawyers in Boston and director of the Massachusetts Law Office Management Assistance Program (LOMAP).
If you register by the end of today, early-bird tickets are $1,000. Starting tomorrow, they go up to $1,200. Beginning June 1, they will cost $1,500.