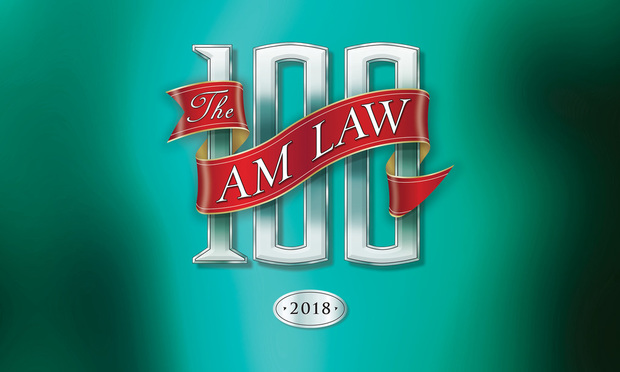 The American Lawyer today released its 31st annual ranking of the 100 highest-grossing U.S. law firms, and the results show that biglaw had its best year in nearly a decade, with key financial metrics showing their highest growth since 2010.
The 2018 Am Law 100, which looks at numbers from 2017, reports that gross revenue grew 5.5 percent on average, net income increased by 6.1 percent, profit per equity partner grew by 6.3 percent, revenue per lawyer moved up 3.2 percent, and headcount rose 2.2 percent.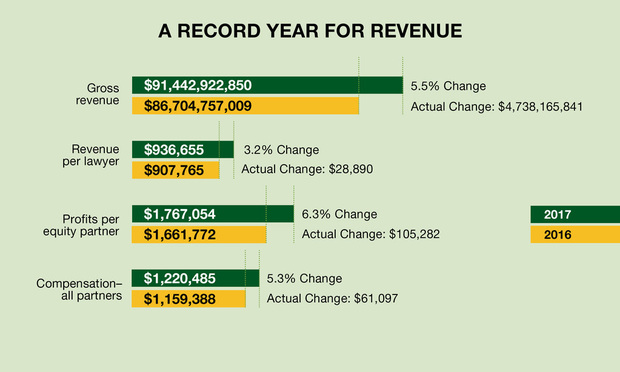 Gina Passarella, editor-in-chief of The American Lawyer, says this year's results paint a picture of prosperity.
Despite increasing pressures on price and demand, more firms saw growth in revenue and profits in 2017 than they did in the prior year. A closer look at the data shows the firms toward the top of the 100 are growing at faster rates than the bottom half of the list, continuing a trend of stratification we have seen building over years. But all in all, most firms figured out a way to show increasing returns in 2017.
In one of the articles that accompanies the report, Nicholas Bruch, senior analyst at ALM Legal Intelligence, which assisted in compiling the results, and Hugh A. Simons, an industry analyst and former COO at Ropes & Gray in Boston, write that 78 percent of the firms in this year's Am Law 100 surpassed their pre-recession levels of profits per equity partner — and did so in large part through management.
[R]esponding to the market's new normal, many firms have managed their way to higher profits rather than simply letting the rising tide lift them. Only 20 of the 78 firms that raised PPP also grew revenue, lawyer head count and their partnership faster than the economy; the other 58 worked their way to higher PPP by combining equity partner reductions, higher leverage and lowered cost-per-lawyer.
The 2018 Am Law 100, along with several articles analyzing the results, was posted today to The American Lawyer's website and will also appear in the May 2018 print issue of the magazine. The complete set of information is available for purchase for $820.
In June, The American Lawyer will publish its rankings of the second-hundred largest firms.