The Tax Cut and Jobs Act that took effect Jan. 1 made major changes to U.S. tax laws, including with regard to estate and gift taxes. Needless to say, attorneys who practice in this area need to be well versed in the changes and their implications. A new tool launching this week from Wolters Kluwer Legal & Regulatory U.S. is designed to help them do that.
Over the past year, Wolters Kluwer introduced several products that use "point-in-time" capability, a navigation and redlining tool that allows a lawyer to see how a law or regulation has changed over time and see its exact text at a certain point in time. Now the company is bringing that capability to estate and gift tax laws with the launch of Estate & Gift Tax Plus.
This new tool allows tax attorneys to view estate and gift tax laws dating back to 1954 and tax regulations and commentary dating back to 2016. Using point-in-time navigation, the tool allows attorneys to see the text of a law or regulation as it stood at any specific point in time. This is useful for lawyers who are involved in an audit or litigation where they have to go back in time.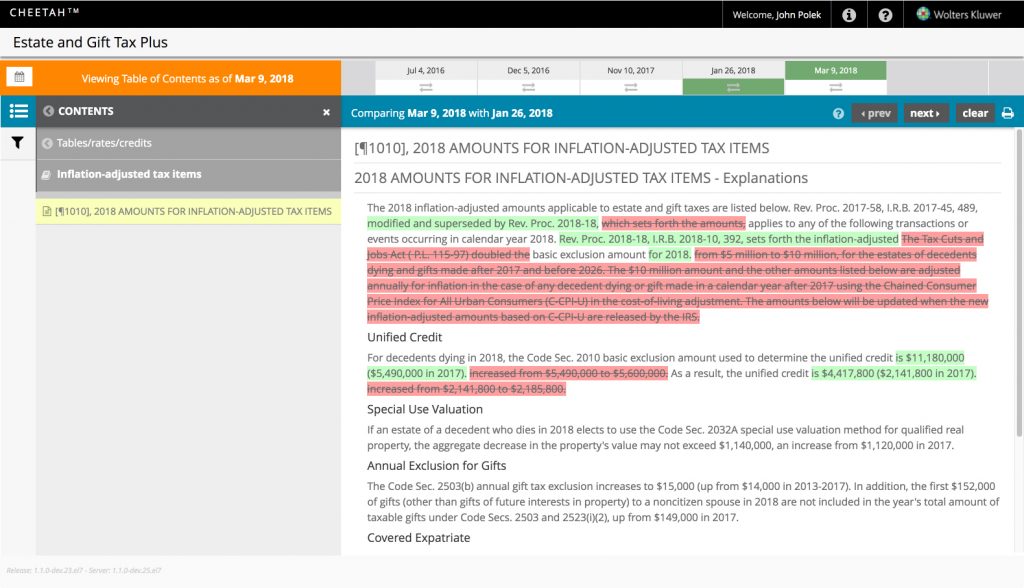 A redlining comparison tool allows attorneys to see how the text changed over time, showing all versions of changes across a timeline. Additions to text are shown in green and deletions are shown in red. These redline views can be printed and will retain their color coding.
EGT Plus is based on content from Wolters Kluwer's Federal Estate and Gift Tax Reporter. The point-in-time technology is licensed from Propylon, a company that develops software to enhance legislative and legal research.
During a demonstration this week, Anand Daga, senior product manager for tax in legal markets at Wolters Kluwer, told me that this tool uses natural language processing and machine learning technologies to decipher changes to laws and regulations.
"The technology that powers this is reading the text and leveraging natural language algorithms to understand the differences between any two documents," Daga said. "As we add additional data, machine learning technologies will start understanding the context to better understand the data over time."
See also: