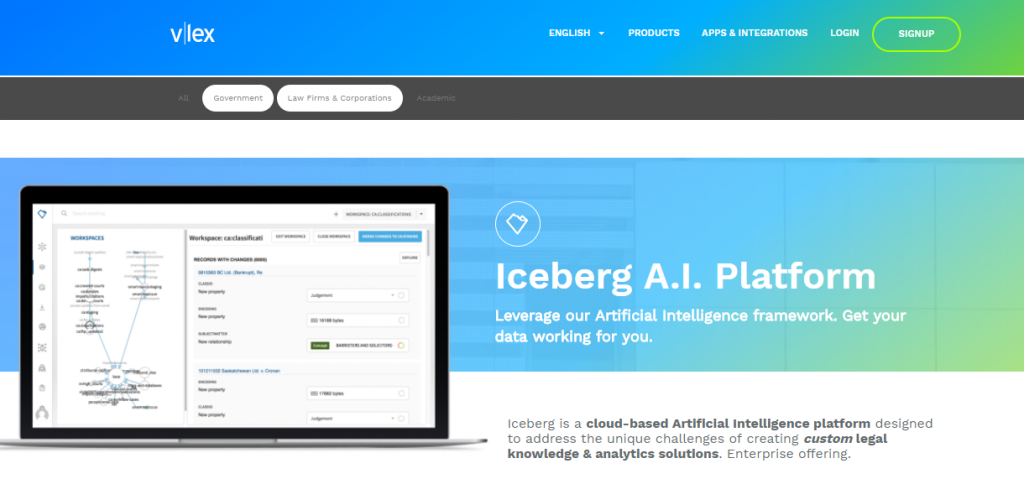 The global legal publisher vLex, LLC and its Canadian partner Compass/vLex Canada are announcing today that they will support the Feb. 23-25 Global Legal Hackathon by offering up to 100 participants the use of Iceberg, an artificial intelligence platform for massive content projects that vLex initially developed to facilitate its own publishing of legal materials and then began offering commercially in 2017.
As I wrote last month, organizers of the hackathon say it will be the largest legal hackathon ever, "an intense 51-hour, six-continent sprint of legal tech education, creativity, and invention." Organizers have solicited law firms, legal departments and law schools to participate as participants or hosts and they have invited software companies and developers to offer free access to their technology to hackathon teams.
Compass/vLex Canada is hosting the hackathon in Ottawa, CEO Colin Lachance told me, and is offering a version of Iceberg to event participants.
Iceberg was initially developed after it was announced last May that the Barcelona and Miami-based legal publisher vLex and California-based legal information company Justia would partner with and invest in Compass to launch a major Canadian legal research suite.
Iceberg was used to expedite the ingestion and normalization of the broad corpus of Canadian law and allow the launch of vLex Canada just a month later.
"In the months that followed," Lachance said, "vLex established a machine-driven classification of Canadian legal topics, applied deep learning methodologies to create a process for dynamic recommendations of highly similar cases, developed a world-first personal research history visualization model and created an algorithmically-driven predictor for Canadian common law wrongful dismissal damages. All using Iceberg."
vLex subsequently began licensing a commercial version of Iceberg to law firms, corporations and governments.
Iceberg is uniquely suited to projects that involve creating custom legal knowledge and analytics, Lachance said. Among its features:
Graph-oriented data representation that can fit any data model from document databases to analytic profiles, classification taxonomies or temporal events.
It can import/export structured data, connect to current databases using built-in connectors, work with imported data from crawled or public sources and from vLex's own legal information resources.
It allows enterprise users to apply advanced natural language processing, machine learning and other cognitive computing techniques to extract insights and rapidly prototype applications related to internal or client information.
A modified version of Iceberg will be provided to up to 100 hackathon participants. Within the coming weeks, Lachance said, he will provide more details on the scope of functionality that will be provided, the pre-loaded content that will be included, the third-party integrations that will be available, and how event participants can register to gain access.
At a minimum, he said, functionality will include the capacity to upload a substantial amount of the user's own data, the ability to link into vLex case law citations, certain legal-domain machine learning capabilities and well-documented Iceberg GraphQL APIs to enable users to build amazing.