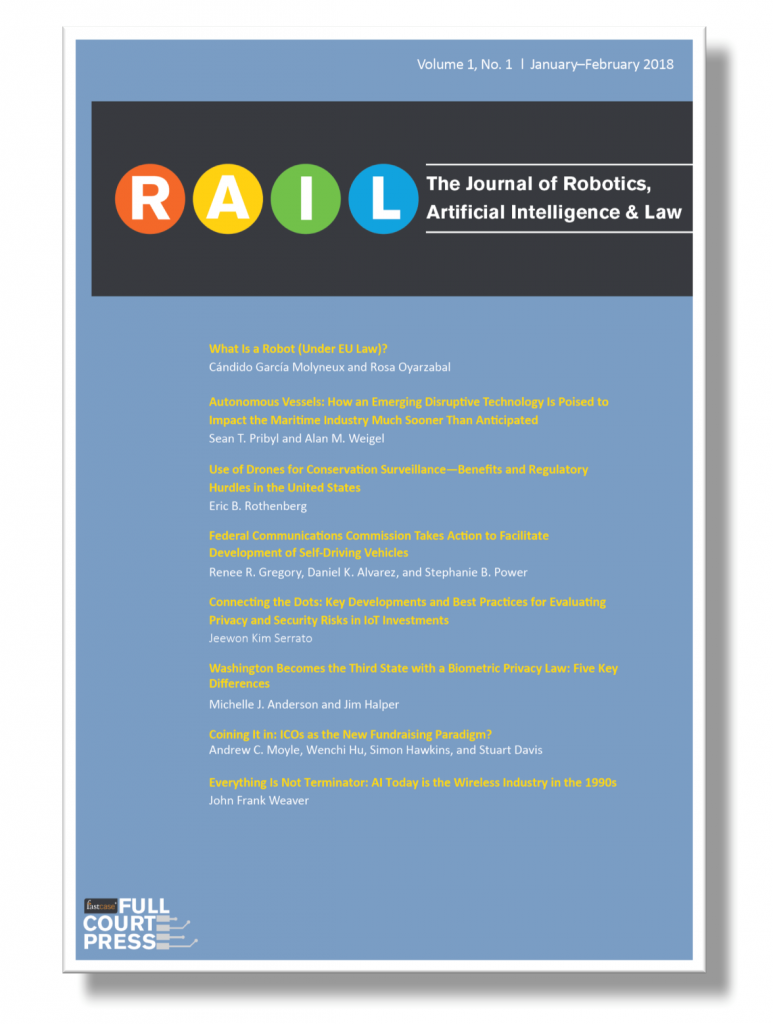 A few weeks ago, in a post here about Fastcase's addition of blog commentary from the LexBlog Network, I wrote that for any legal research company aiming to compete in the big leagues against the likes of Westlaw and LexisNexis, "secondary content is the Holy Grail."
Well, in its own quest for the Holy Grail, Fastcase is today launching a major initiative, a publishing arm called Full Court Press that will produce law journals, legal treatises, deskbooks, forms, checklists and workflow tools.
Also today, Fastcase is announcing the imprint's first publication, RAIL: The Journal of Robotics, Artificial Intelligence & Law, a multimedia offering that will be available later this month in print, as an ebook, in audio, and within the Fastcase research application. (The journal will be sold via the Fastcase website.)
Fastcase CEO Ed Walters told me yesterday that, in conversations with subscribers, he often hears how much they value access to treatises such as Nimmer on Copyright and Collier on Bankruptcy. Fastcase has tried to license treatises from Westlaw and LexisNexis, but has been rebuffed. So the company decided to build them itself.
A key step towards launching its own publishing arm occurred last June, when Fastcase hired Steve Errick, former LexisNexis vice president, as chief operating officer. Errick is a legal publishing veteran who oversaw the Legal Research Information Product Division at LexisNexis. Earlier, he was vice president and general manager of Wolters Kluwer's CCH Publishing division, publisher of Thomson Reuters' Foundation Press division, and director of acquisitions of Thomson's Clark Boardman Callaghan division.
Walters described the launch as a "Netflix-like move" for Fastcase, explaining that Netflix started by building its platform, then needed to begin creating original content to fill it out.
"We have a similar strategic move here," he said. "We've built this very big platform. Subscribers are doing 1 million searches a week on our platform. All these lawyers on our platform, when they need expert commentary, they need to stop and go somewhere else. We will have our own Nimmers."
Fastcase has a number of treatises and types of publications already in the works, Walters said. Some will be available exclusively on Fastcase, others will be offered in a variety of formats, including print, ebooks and audio.
One feature of the new publishing arm will be its agility and ability to respond to trends in legal research, Walters said. By seeing in the aggregate what topics subscribers are researching, Fastcase can see which topics are hot and make data-driven decisions about what to publish, he explained. "We can be very responsive to what people are looking for."
"My hope is that we can build a body of scholarship that is more current, more exhaustive, and more customer focused. We like to zig where others zag. We can have an attacker's advantage starting now, and have a very nimble publishing operation that is faster, more focused and, I hope, more profitable."
The next year's roadmap for Full Court Press includes co-developing digests, journals, books, and blogs with an array of partners, including state and specialty bar associations, law schools and law firms, and franchise authors who have worked with Errick.
With regard to the new journal, RAIL, the publisher is Morgan Morrissette Wright, an attorney with Fastcase. Its editor-in-chief is Steven A. Meyerowitz, president, Meyerowitz Communications, and its edito is Victoria Prussen Spears, senior vice president at Meyerowitz.
The journal's board of editors consists of Miranda Cole, partner, Covington & Burling; Kathryn DeBord, partner and chief innovation officer, Bryan Cave; Melody Drummond Hansen, partner, O'Melveny & Myers; Paul Keller, partner, Norton Rose Fulbright US; Garry G. Mathiason, shareholder, Littler Mendelson; Elaine D. Solomon, partner, Blank Rome; Linda J. Thayer, partner, Finnegan, Henderson, Farabow, Garrett & Dunner; Mercedes K. Tunstall, partner, Pillsbury Winthrop Shaw Pittman; Ed Walters; and John Frank Weaver, attorney, McLane Middleton.