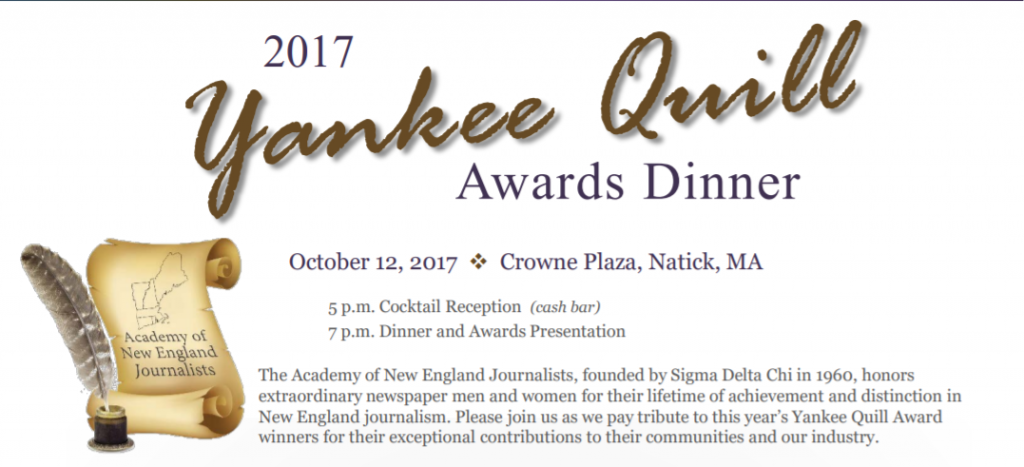 I am extremely honored to report that I have been selected to receive the Yankee Quill Award, presented by the Academy of New England Journalists "to honor extraordinary newspaper men and women for their lifetime of achievement and distinction in New England journalism."
The award will be presented at a dinner on Oct. 12, 2017, held in conjunction with the 2017 New England Newspaper Conference at the Crowne Plaza in Natick, Mass. (Anyone interested in attending can purchase a ticket for $85.)
The letter I received notifying me of the award said:
Selection for the award was not based on any single achievement but rather on the broad influence for good you've had on New England journalism over the years. That includes serving as the founding editor of Lawyers USA and editor-in-chief of Massachusetts Lawyers Weekly. The selection committee was also impressed with your relentless commitment to the public's right to know through your various columns, blog posts and consulting, and your successful efforts in overhauling the open meeting and public records laws in Massachusetts as executive director of the Massachusetts Newspaper Publishers Association.
The award has been given annually since 1960. Others who have received it over the years are a who's who of New England print and broadcast journalism. I am sincerely humbled to be considered anywhere near their league.
On the night that I receive the award, two others will also be honored. Robin Young, the host of the NPR/WBUR news show Here & Now, is being recognized as a major contributor to the advancement of television and radio journalism and for her rich involvement in community outreach. James Franklin, older brother of Benjamin Franklin, is being honored posthumously for launching one of the first newspapers in America, the New England Courant.