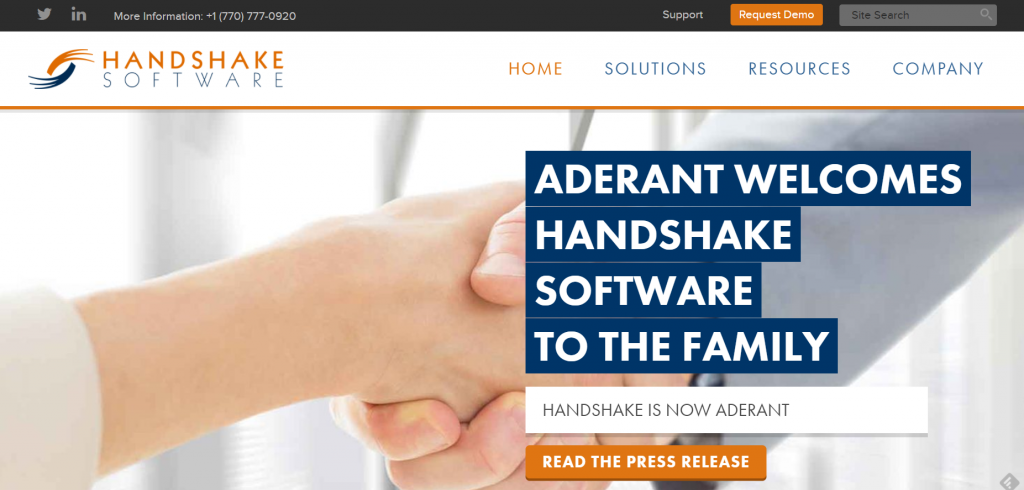 Aderant, a provider of business management software for law firms, has acquired Handshake Software, a company that sells SharePoint-based software to law firms for portals, knowledge management, enterprise search and mobility.
Law firms use Handshake's products to create intranet and extranet portals built using Microsoft SharePoint. It offers pre-defined integrations for many enterprise-level applications commonly used in larger law firms. These integrations make it easy for firms to set up intranets that integrate all of their financial, practice, content management and client management records within a single framework.
Additionally, all that data is then universally searchable through Handshake's Universal Search.
Handshake has integration partnerships with products such as Westkm and ProView from Thomson Reuters, Lexis Search Advantage and Digital Library from LexisNexis, Ravel Law, Manzama, The Firm Directory, iManage and NetDocuments.
These integrations will continue and Handshake will continue to be vendor neutral, Aderant's executive vice president Chris Cartrett told Legal IT Insider.
Handshake was founded in 2000. According to its website, its clients include more than half of the Am Law 100 and more than 45 percent of the Am Law 200, and it has more than 100,000 users across 10 countries.
"Aderant's mission is to help firms run a better and more profitable business through technology," said Aderant President Deane S. Price. "We have long been an industry leader in areas such as docketing, practice, and matter management solutions. Acquiring an industry leader in knowledge management expands our offerings and helps us better serve our clients, so they can better serve their clients."