Every year since 2011, the legal research company Fastcase has honored the "Fastcase 50," a selection of individuals it considers to be the "smartest, most courageous innovators, techies, visionaries, and leaders in the law." This week, it announced its 2017 honorees, and they include a diverse array of lawyers, technologists, law librarians, policymakers, bar association executives, and business people.
[Disclosure: I was an honoree in the inaugural 2011 Fastcase 50.]
This year's honorees will be celebrated during next week's annual conference of the American Association of Law Libraries. They are: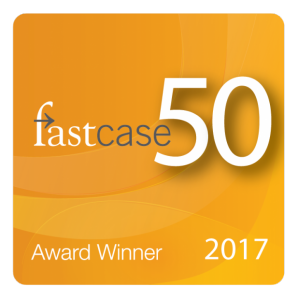 Jonathan Askin, founder and director, Brooklyn Law Incubator & Policy Clinic.
Joseph Bahgat, managing attorney, Bahgat & Bahgat.
Sheila Baldwin, member benefits coordinator, State Bar of Georgia.
Marie Bernard, Europe director of innovation, Dentons; strategic advisor, Nextlaw Labs.
Joyce Brafford, interim director of the Center for Practice Management and practice management advisor, North Carolina Bar Association.
Joshua Browder, founder, DoNotPay.
George Brown, executive director (retired), State Bar of Wisconsin.
Abhijeet Chavan, chief technology officer, Urban Insight, Inc.; cofounder, Planetizen.
Laurence Colletti, executive producer, Legal Talk Network.
Felicity Conrad, cofounder and CEO, Paladin.
Jim Cook, executive Director, Idaho Legal Aid Services.
Robyn K. Crawford, assistant state attorney, Florida's Fifth Judicial Circuit.
Kathryn DeBord, chief innovation officer, Bryan Cave.
Stephanie Everett, executive director, Lawyers for Equal Justice.
Rian Gauvreau, cofounder and COO, Clio.
Chris Geidner, legal editor and Supreme Court correspondent, Buzzfeed.
Haben Girma, accessibility advocate and diversity consultant, HabenGirma.com.
Tom Gordon, executive director, Responsive Law.
Monica Goyal, founder, My Legal Briefcase and Aluvion Law; adjunct professor of law, Osgoode Hall Law School at York University.
Maura R. Grossman, author; research professor, David R. Cheriton School of Computer Science at the University of Waterloo, Ontario; principal, Maura Grossman Law.
Deepak Gupta, founding principal, Gupta Wessler PLLC.
Misha Guttentag, cofounder and co-president, Yale's Law and Technology Society.
Sam Harden, founder, Courtdatesearch.com, Mycourtcase.org, and Legaloptics.com.
Carla Hayden, 14th librarian, Library of Congress.
Cisselon Nichols Hurd, senior counsel, Shell Oil; cofounder, UT Center for Women in Law.
Belinda Johnson, chief of business affairs and legal officer, Airbnb.
Sun Kim, special counsel for technology initiatives, New York State Courts Access to Justice Program.
Kevin Lee, law professor, Campbell Law School; chair, North Carolina Bar Association Committee on the Future of Law.
Thomas G. Martin, founder, LawDroid; cofounder, Vancouver Legal Hackers.
Anna McGrane, COO, PacerPro.
Brooke Moore, founder, MyVirtual.Lawyer.
Mary Shen O'Carroll, head of legal operations, technology, and strategy, Google.
Rohan Pavuluri, founder, Upsolve.
Lawton Penn, partner, Davis Wright Tremaine; head of DWT De Novo.
Jonathan Petts, cofounder, Upsolve.
Allan Ramsaur, executive director emeritus, Tennessee Bar Association.
Allen Rodriguez, founder, ONE400.
Antonia Roybal-Mack, founder, DivorceNM.com.
Jeff Sharer, co-chair, Akerman Data Law Center; author.
Michelle Silverthorn, diversity and education director, Illinois Supreme Court Commission on Professionalism.
Gordon Smith, dean, BYU Law.
Jason Smith, senior director and legal counsel, Apttus.
Kristen Sonday, cofounder and COO, Paladin.
Billie Tarascio, founder, Modern Law PLLC.
Kelvin Tran, founder, Litimetrics.
Cameron Vann, senior staff attorney, Texas Lawyers' Assistance Program of the State Bar of Texas.
Darth Vaughn, director of legal service delivery, Haight Brown & Bonestee.
Rochelle Washington, practice management advisor, D.C. Bar.
Janet Welch, executive director, State Bar of Michigan.
Adam Ziegler, managing director, Harvard Law School Library Innovation Lab.
Biographies of the winners can be found at the Fastcase 50 website.
Congratulations to all!