Ask a roomful of small-firm lawyers about KPIs, and I'd be willing to bet a good number of them would have no idea what you are talking about. Kitchen patrol in the infantry, maybe? Another group would know about KPIs, but consider them relevant only to large firms or other types of businesses. And then there would be those who actually use KPIs in their firms. Odd are good that the lawyers in that last group are among the most successful in the room.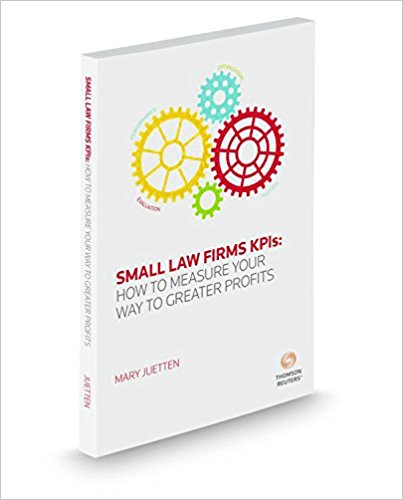 In her new book, Small Law Firm KPIs: How to Measure Your Way to Greater Profits, Mary Juetten makes the case for why all small firms should use key performance indicators. KPIs equip you with the knowledge you need to make informed business decisions for your practice and deliver the best value for your clients, she argues.
"Without clients, you wouldn't have a practice," Juetten writes. "And yet, plenty of law firms — and businesses in general –fail even when they have an abundance of clients. Why? They fail to measure, track, and act on KPIs."
Juetten is the founder and CEO of Traklight, a platform that helps businesses protect intangible assets, and co-founder of Evolve Law, a company that promotes innovation in legal technology. Before attending law school, she was an accountant, consultant and business executive.
Her book provides a basic and practical introduction to using KPIs in a small firm. She covers seven areas of measurement:
Client development.
Client acquisition cost.
Productivity.
Profitability.
Performance.
Client experience.
Firm culture.
In separate chapters, Juetten covers each of these areas in depth, illustrating each using examples of different types of law firms, such as a solo family law attorney, a two-lawyer personal injury firm and a 20-attorney business and commercial litigation firm.
For each area, she discusses just a few key "starter" KPIs to track, providing more detailed lists in appendices at the end of the book. She explains why each of these areas of measurement is important, describes the data to measure and potential sources of that data, and then walks through a detailed example of a firm's use of these KPIs and how they led to improvements in the firm's business.
Each chapter also includes recommendations of specific technology law firms can use to assist with gathering and measuring KPI data.
You need no advance familiarity with KPIs to get benefit out of this book. Juetten explains their use in clear language and she provides a glossary defining key terms. She also starts the book with a brief overview of basic accounting and budgeting concepts.
Juetten advises starting small with KPIs, but starting nevertheless. "Do not wait until you have the perfect system or all the data, just get started and start small," she writes. "I recommend doing at least two KPIs from each of the seven areas."
Her ultimate message is for firms to be open to making changes based on what they learn through KPIs. "Be open to change; there is no point in gathering data and tracking KPIs if you are not willing to evaluate your processes and change."
Small Law Firm KPIs is published in paperback by Thomson Reuters. It can be purchased for $85 from Thomson Reuters or from Amazon.