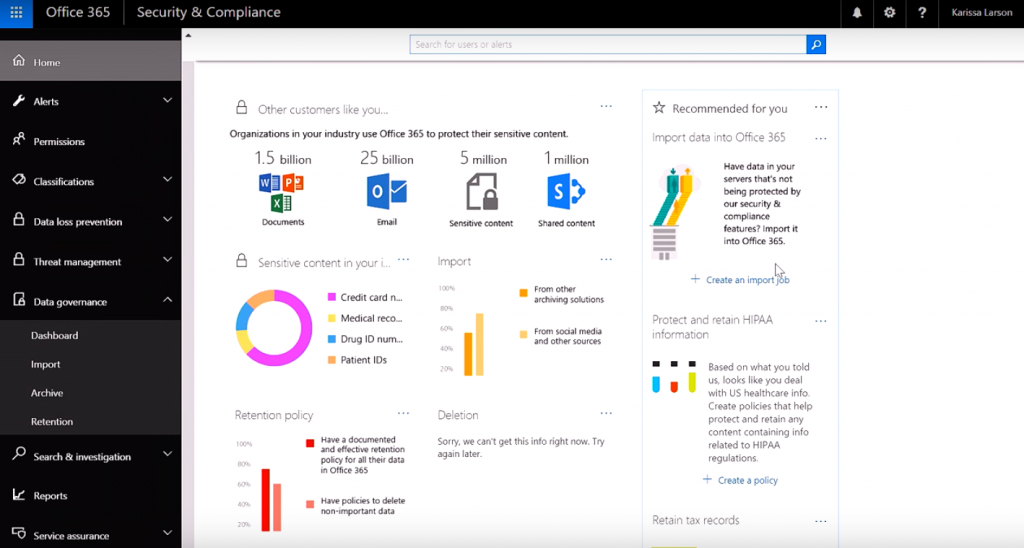 With increasing numbers of organizations adopting its Office 365 cloud platform, Microsoft has been hard at work on enhancing security and compliance features. Last September, it announced that it would be developing an advanced data governance tool for Office 365, and on Friday, it released that tool in a limited public preview, with general availability expected by the end of March.
"Office 365 Advanced Data Governance helps you find and retain the data that is most important to you while eliminating redundant, obsolete and trivial data that could cause risk if compromised," Friday's announcement said. "Office 365 Advanced Data Governance applies machine learning to intelligently deliver proactive policy recommendations; classify data based on automatic analysis of factors like the type of data, its age and the users who have interacted with it; and take action, such as preservation or deletion."
Part of the Security and Compliance Center in Office 365, Advanced Data Governance provides organizations with four types of capabilities:
Data import. Import data from on-premises and third-party archives using classifications such as age, data type, user or groups, sensitivity or importance.
Automatic classification. Classify data based on automatic analysis of factors such as age, user, type, sensitive data and user-provided fingerprints.
Intelligent policies. Assisted by machine learning and cloud intelligence, the tool provides policy recommendations, such as delete, move, encrypt or share.
Take action. The tool helps you take action to preserve high value data and purge data that is redundant, trivial or obsolete. Retention can be triggered based upon events, such as creation of a human resources record.
The tool makes data-retention recommendations based on factors such as industry and document type. Policies can be created from scratch or based upon recommendations using pre-configured templates. Policies can be customized with regard to where and how they are applied, how long data is to be retained, and other advanced options.
Advanced Data Governance will be included in the Office 365 Enterprise E5 plan, as well as in the Secure Productive Enterprise E5 offering.
The video below provides a five-minute overview and demonstration of Advanced Data Governance. Those wishing to sign up for the limited public preview may do so here.