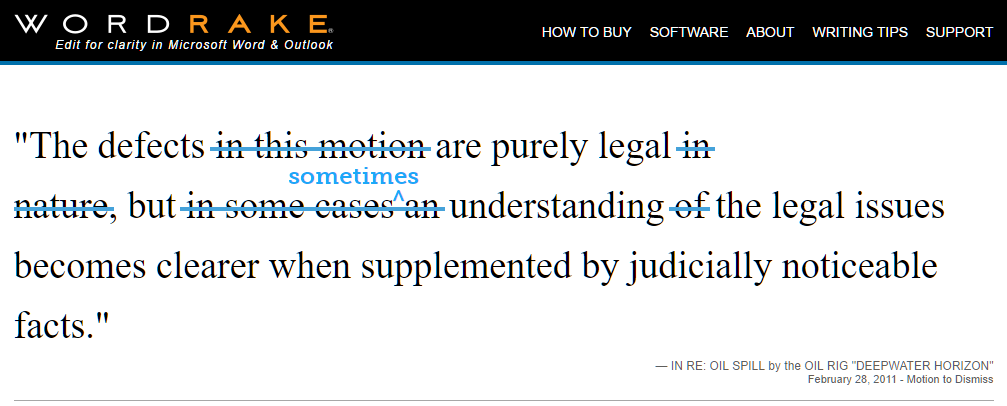 WordRake, the editing and proofreading add-in for Microsoft Word and Outlook that is designed for lawyers and other professionals, released its version 3 yesterday.
With more than 600 new editing algorithms and 900 enhancements to existing algorithms, WordRake 3 offers 25 percent more edits and even greater accuracy, according to a company announcement.
Version 3 also simplifies the interface to allow users to see all editing suggestions for an entire document with just one click of the Rake button. In previous versions, you would first select the portion of the text to rake. (You can still do this, if you want to check only specific text.)
I've tested previous versions of WordRake against some of the best opinion writers on the Supreme Court. To read those previous reviews, see:
I have not had a chance to do that with this latest version but I plan to in the near future.
WordRake was originally created specifically for lawyers by Gary Kinder, a lawyer and writer whose 1998 book, Ship Of Gold In The Deep Blue Sea, went to number seven on The New York Times bestseller list. WordRake "rakes" your documents in search of unnecessary and obtuse words, suggesting edits to improve clarity and concision.
According to yesterday's press release:
WordRake 3 converts hundreds of dull nominalizations to lively verbs ("make a recommendation" becomes "recommend"), turns negative statements into positive statements ("the auditor didn't find any discrepancies" becomes "the auditor found no discrepancies"), and removes windy "windups" ("It should be stated that" and "Please note that").
I always urge that WordRake be used with a critical eye, reviewing each suggestion and considering whether it helps or hurts. The problem with any automated editor is that it has no brain. As I wrote in my initial 2012 review:
It is unable to discern meaning, context or color. In its mechanical application of rules, it risks changing the meaning of a sentence or phrase.
Still, I think it can be a useful tool for improving and tightening one's writing. If nothing else, it forces you to think about your structure and phrasing. That alone can improve any written work.
The WordRake add-ins for Word and Outlook each cost $129 for a one-year license. Both can be purchased together for $199 for one year. A seven-day free trial is available through the WordRake website.