Just 38 percent of lawyers use cloud computing for law-related tasks, according to the just-released 2016 Legal Technology Survey Report by the American Bar Association's Legal Technology Resource Center.
That is only slightly more lawyers using the cloud than in the three prior years, when the percentage stayed at about 31 percent.
Fifty-three percent of lawyers say they have not used cloud computing and 10 percent do not know whether they have or not, according to the survey, which the LTRC conducts annually.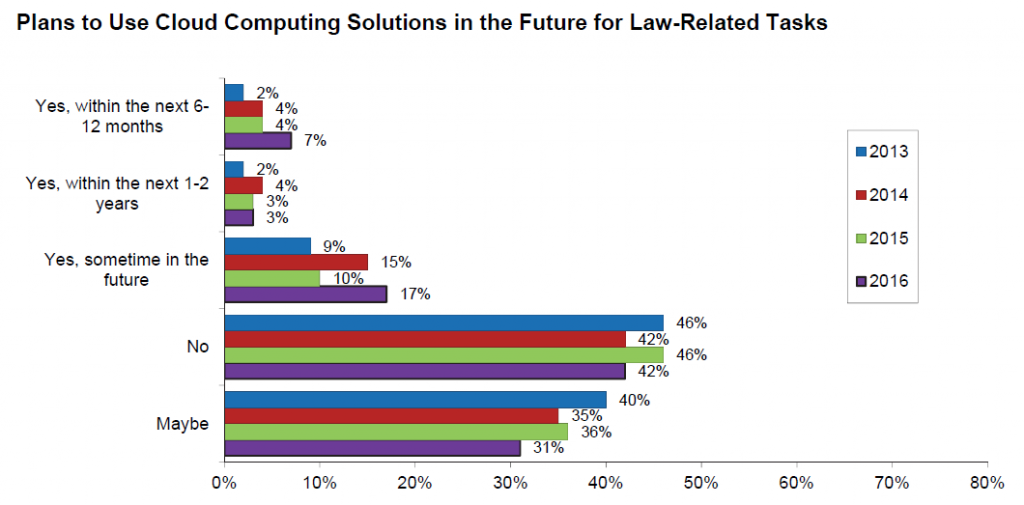 Of the lawyers who say they do not use cloud computing, 7 percent say they plan to use the cloud within the next 12 months, 3 percent say they plan to within the next two years, 17 percent say they will use it "sometime in future," and 42 percent say they do not plan ever to use it.
When lawyers who do not use the cloud were asked why, the top 10 reasons they gave were:
Confidentiality/security concerns, 63%.
Concerns of having less control of your data because it's
hosted by the provider, not on your own server/computer, 54%.
Unfamiliarity with the technology, 50%.
Concerns of losing access to and ownership of your data, 39%.
Cost/effort of switching from your current solution, 31%.
Cost of services, 28%.
Preference for owning software rather than paying a
monthly subscription, 25%.
Non-web-based software programs you use are sufficient
for current needs, 24%.
Lack of professional responsibility/ethics guidance, 24%.
Uncertainty over longevity of vendor, 20%.
On the flip side, the lawyers who are using cloud computing for law-related tasks were asked what they see as the most important benefits. Their answers:
Easy browser access from anywhere, 68%.
24 x 7 availability, 67%.
Low cost of entry and predictable monthly
expense, 59%.
Quick to get up and running, 49%.
Robust data back-up and recovery, 47%.
Eliminates IT & software management
requirements, 40%.
Better security than I can provide in-office, 32%.
Although the security of using the cloud continues to be a top concern among lawyers, it appears that the majority of lawyers are doing little to address cloud security. Of the lawyers who say they use the cloud, 12 percent said they use no precautions or security measures of any kind.
With regard to other cloud security measures, the percentages doing them are generally low:
Reviewed privacy policy, 38%.
Make regular local data backups, 36%.
Use only web-based software which features
SSL/encryption, 36%.
Use the software for non-confidential purposes
only, 30%.
Reviewed Terms of Service, 29%.
Reviewed ethics rules/opinions, 29%.
Sought peer advice/experiences, 26%.
Evaluated vendor company history, 25%.
Use vendor-drafted service level agreement, 13%.
Negotiated confidentiality agreement, 8%.
Used security add-on (e.g. Boxcryptor), 8%.
Negotiated service level agreement, 2%.
Data escrow, 1%.
Some of those numbers are alarming. Most strikingly, of lawyers who are using cloud software in their law practices, only 29 percent bothered to read the terms of service. It's one thing not to read the TOS for software you use in your personal lives, but when you're using the cloud for your clients, at least read the TOS.
Which cloud services are most popular among lawyers? The survey asked which technology providers lawyers use for law-related tasks:
Dropbox, 57.6%.
Google Docs, 49.4%.
iCloud, 27.7%.
Evernote, 24.7%.
Clio, 16.0%.
Box, 12.6%.
MyCase, 6.9%.
RocketMatter, 3.9%.
NetDocuments, 3.5%.
Bill4Time, 2.2%.
SpiderOak, 1.7%.
Nextpoint, 1.3%.
Others, 16.5%.
Don't know, 5.6%.
Note that the survey included the list of vendors' names, so vendors not named in the survey would presumably fall under the "others" category.
The annual six-volume survey covers:
Vol. I: Technology Basics & Security.
Vol. II: Law Office Technology.
Vol. III: Litigation Technology & E-Discovery.
Vol. IV: Web and Communication Technology.
Vol. V: Online Research.
Vol. VI: Mobile Lawyers.
The survey can be purchased from the ABA. The full survey costs $1,995 and separate volumes cost $350 each.