In his keynote speech kicking off the Clio Cloud Conference in Chicago this morning, Clio co-founder and CEO Jack Newton unveiled the practice management platform's new mobile app for iOS and Android devices — a completely redesigned and re-engineered replacement for Clio's prior app.
"What we're releasing today is a completely re-imagined vision of what the Clio mobile app experience should be," Newton said.
[Click images above for larger views.]
The goal in redesigning the app, product manager Mark Hazlett told me during a pre-release demonstration last week, was to make it feel more like a personal assistant than simply a way to retrieve information. "How can we push the information you care about rather than make you pull it out?"
Clio gave me an opportunity to test the app in advance of today's release. I found that one way the app achieves the goal Hazlett described is through a new home screen that presents the user with essential information at a glance:
Your next five upcoming events.
Your next five upcoming tasks.
The five matters you've worked on most recently.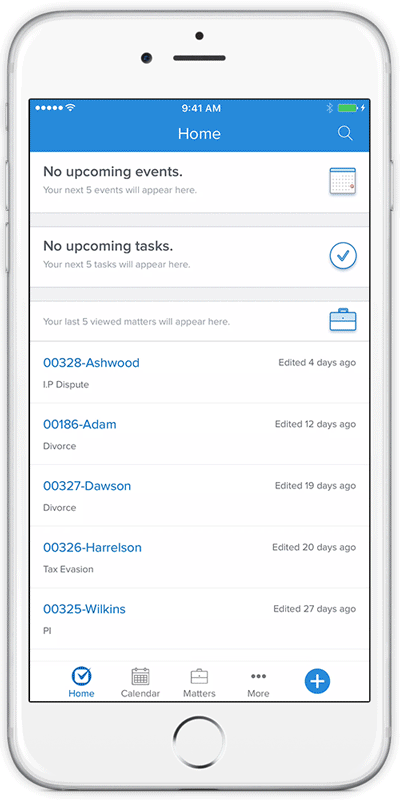 Another feature of the app is tab bar navigation. In Clio's former app, you clicked on the "hamburger" icon in the upper left of the screen to open a navigation menu. Now, navigation has been moved to a bar along the bottom of the screen, where you can just tap to get to the home page, your calendar and your matters, or tap "more" to get to all other functions. This makes it much easier to get to where you want to be.
Included on this tab bar is a new Global Create button (see image to right). From anywhere in the app, tap this button to quickly create matters, contacts, documents, secure messages, time entries, tasks, calendar events, expenses and notes.
A nice feature of Global Create is that when you finish creating the new item, you are returned to where you were last working within the app, so you don't ever have to retrace your steps.
Other features of the new app include:
New iPad layout. I did not test this, but Clio says it provides a better user experience.
Global search. Search globally within Clio from anywhere in the app.
New task overview. This lets you prioritize your tasks with pre-filtered task categories, such as priority, status and matter.
Through interviews with its users and monitoring usage of its prior app, Clio determined that most lawyers use the app in one-to-three-minute blocks of time.
"We wanted to give you quick ways to work in the app," Hazlett said last week. "Want to schedule a meeting? Just tap 'event,' add it and then it goes back to what you were working on last."
The Bottom Line
Clio's intelligently engineered new app works with you to manage your practice rather than against you (as some apps do). It presents must-know information at a glance, provides all key functions within a tap or two, and remembers where you left off, so you're never retracing your steps. Thanks to its intuitive design, there is no learning curve – install it and get to work.