In a major update scheduled to  be released today, the cloud practice management platform CosmoLex is rolling out a number of new features and enhancements, including a client portal with secure messaging, internal firm messaging, native document storage, a global launch location for commonly used functions, and more.
On Friday, Rick Kabra, CosmoLex CEO, gave me a preview of the updates. Here is what I saw.
The first set of changes are enhancements to the user interface, and the first of these is a new global launch location for commonly used activities. With today's release, a new menu box appears globally throughout the platform from which all commonly used functions can be launched. This enables users to add time, expenses, events, tasks and more from anywhere within the platform, without having to first navigate to a specific task page.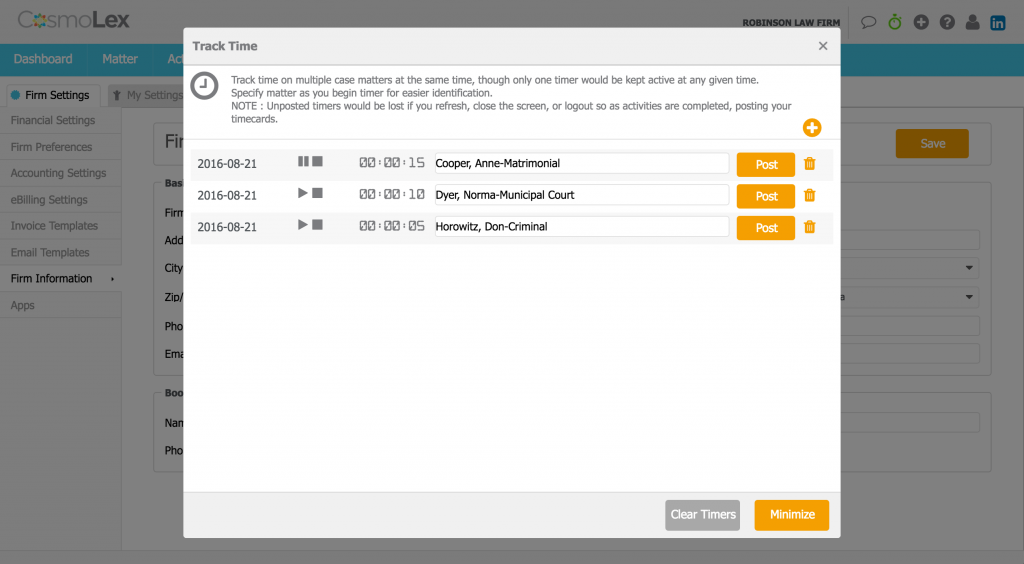 In conjunction with this, CosmoLex now allows users to launch multiple timers from wherever they are in the platform. When you are working on a memorandum and a client call comes in, simply click to launch a new timer and the one that was running is paused. Need to dash off a quick email. Click again to open another timer. There is no limit to the number of timers you can open (although only one will run at a time).
With another click, any of these timers can be easily converted into timecards for billing, where you can add in a billing code and description.
In addition to these user-interface enhancements, CosmoLex is adding several new features:
Client portal with secure messaging system. This new feature enables lawyers to create portals for their clients through which they can share invoices, documents, events and tasks. The portal includes secure, two-way messaging so that clients and lawyers can communicate with each other without using email.
The feature has several levels of controls to determine what gets shared and what does not. At a system-wide level, the firm administrator can set firm-wide policies for what can be shared through the client portals. Perhaps a firm wants to allow sharing only of invoices and documents, but not notes and calendar items.
At the individual-lawyer level, the lawyer can decide whether to create a portal for any given client. For each portal, the lawyer can further limit what can be shared with that client. These controls help ensure nothing is shared with a client that should not be. Matters that have a client portal enabled will display a distinct icon in the matter landing page.
Once an invoice, document or any other item has been shared with a client, an icon appears next to it to highlight the fact that it is shared. Access can be revoked at any time by unsharing an item.
Clients can use the portal to view and print invoices and they can also pay invoices directly through the portal, provided the firm has enabled LawPay within its account.
The portal has a built-in messaging system so that the firm can send messages to clients and vice versa. The portal can be set up so that client messages go to multiple people in the firm.
Internal CosmoLex user messaging system. Members of a firm can now send messages among themselves from within the system. Message one or multiple people. A flag in the navigation bar notifies users of new messages. All communications get logged within the system.
Native document storage. CosmoLex users no longer need Box or Dropbox to store their documents within CosmoLex (although they can still do so if they wish). CosmoLex now natively provides secure storage for documents within the platform. Documents are organized in a folder structure based on the user's matters.
The system includes a document viewer, but so far it works only with PDF documents. A later release will allow the document system to work with Office 365.
Also new is that users can now assign various properties to documents, such as document type or description. This applies whether the document is in the platform's native storage or in Box or Dropbox.
New matter dashboard. When you go to a matter within CosmoLex, you now come to a new matter dashboard that displays key details and data at a glance.
Email reminders for tasks. You can now set email reminders for various tasks to help ensure nothing is overlooked.
Adding comments to activities. You can now add comments directly to various activities such as events, tasks, notes and documents. If the associated item is shared with your client through the portal, your internal comments will not be visible to the client.
If a user adds a comment that requires action from someone else in the firm (or follow-up by the user), the user can mark it as "Open" and notify the other person. Once the person completes the action, it can be marked as "Closed."
Mark invoices "Final" to prevent accidental edits. Once invoices are approved and issued, they can be marked as Final to prevent further editing. Invoices can be changed back to "Open" status for revisions, but only by authorized users.
In addition to what I have described here, today's release includes several smaller changes and fixes.