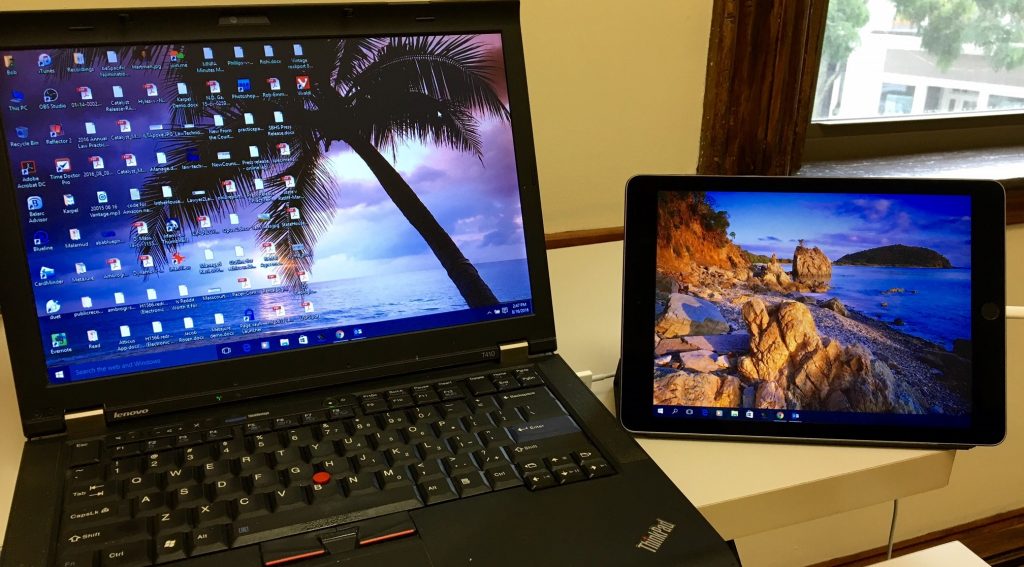 I am so dependent on a second monitor that I no longer feel productive without one. That can be a problem when I am away from my office. It is especially a problem when I travel and am hunkered down in a hotel room with important work to get done.
Then I discovered Duet Display, the app that turns your iPad into a monitor.
I must give credit for my discovery to the TL Serendipity newsletter, in with TechnoLawyer readers offer their personal technology and productivity tips. A lawyer named Paul Harte wrote in to relate how he uses Duet with an iPad Pro to serve as a second monitor when he is on the road.
I had never heard of it but it did not take me long to remedy that. Within a few moments, I'd purchased the app and tried it out. I was happy to find that it delivers as promised.
The app costs $18.99 — a bit expensive by app standards but worth every penny and more for the productivity boost it offers. It works with all models of iPad and also with all iPhones (although that would be a tiny second screen).
To use it, you also have to download and install a free app on your computer. Versions are available for both Mac and PC.
Once you have installed the apps on your iPad and your computer, you are ready to go. Start the app on your iPad, connect your iPad's USB cable to your computer, and the connection is automatic and nearly instantaneous. You get a 60 frames per second display on your iPad with no lag.
Plus, Duet offers several "bonus" benefits. You can:
Use the touch-screen capabilities of your iPad, even if your computer does not have a touch screen. It even has its own touch gestures — tap the iPad screen to left click and tap it with two fingers to right click.
Turn the orientation from landscape to portrait, which makes it an ideal second screen for reading documents.
Use it to add an additional screen to an existing multi-monitor setup. As long as your computer supports more than two monitors, you can use Duet as a third or fourth display.
Still use the Split View feature on your iPad — at least partially. I could open the one-third screen split, but not the half-screen split.
Still run other apps on your iPad in the background. Use your iPad to listen to Spotify while you work? No problem.
If you do experience any performance issues, you can adjust Duet's settings to reduce the frame rate or power usage.
For road warriors, the best thing about Duet is that it doesn't require any hardware beyond what you're already carrying — your laptop and your iPad. Wherever you are, you always have a second monitor.