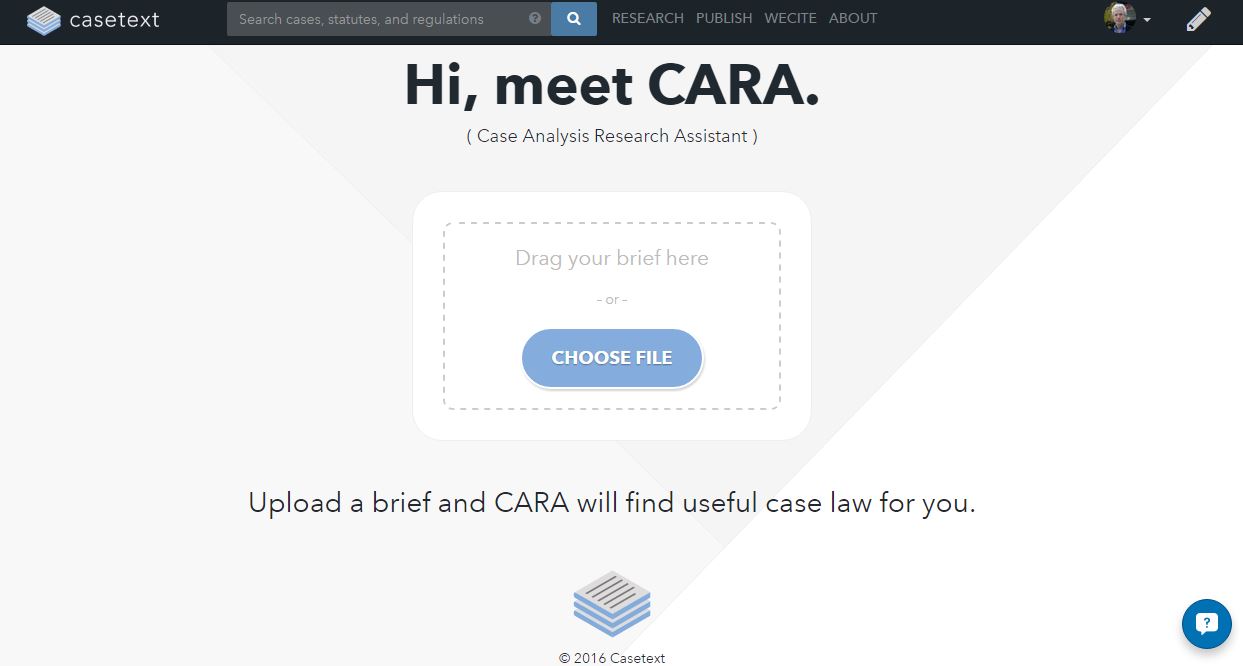 The legal research service Casetext is unveiling a new service today that automatically finds cases that are relevant to legal memoranda and briefs. With this unveiling, Casetext, which has been free to use ever since its 2013 launch, is also preparing to roll out its first paid subscription tiers for premium services, while keeping basic access free.
The new research tool being unveiled in a limited rollout today is called CARA, short for Case Analysis Research Assistant. What it does is find cases that are relevant to a legal document but not cited in the document. Upload a brief, memorandum or any other document that contains legal text, and CARA analyzes it and generates a list of relevant cases that are not mentioned in the document.
Say, for example, you have just received your opponent's memorandum in support of a motion to dismiss. Feed it to CARA, and in just a few seconds it will spit out a list of cases that are relevant to the issue but that your opponent has left out. That could be a powerful way to shortcut your research as you begin to draft your reply and find weak spots in your opponent's arguments.
Another use of this would be as a check and balance on your own research. Take a rough draft of a brief you've written, or even the final product, and load it into CARA to see what other cases it finds — and you missed.
What CARA is actually doing is comparing the cases in the uploaded document to the cases and articles in its database. For every case in the document, it is looking for other cases that are usually cited together with that case. It uses various indicators to weigh relevance, including how often two cases are cited together and how often they are discussed together in third-party articles contributed by Casetext users.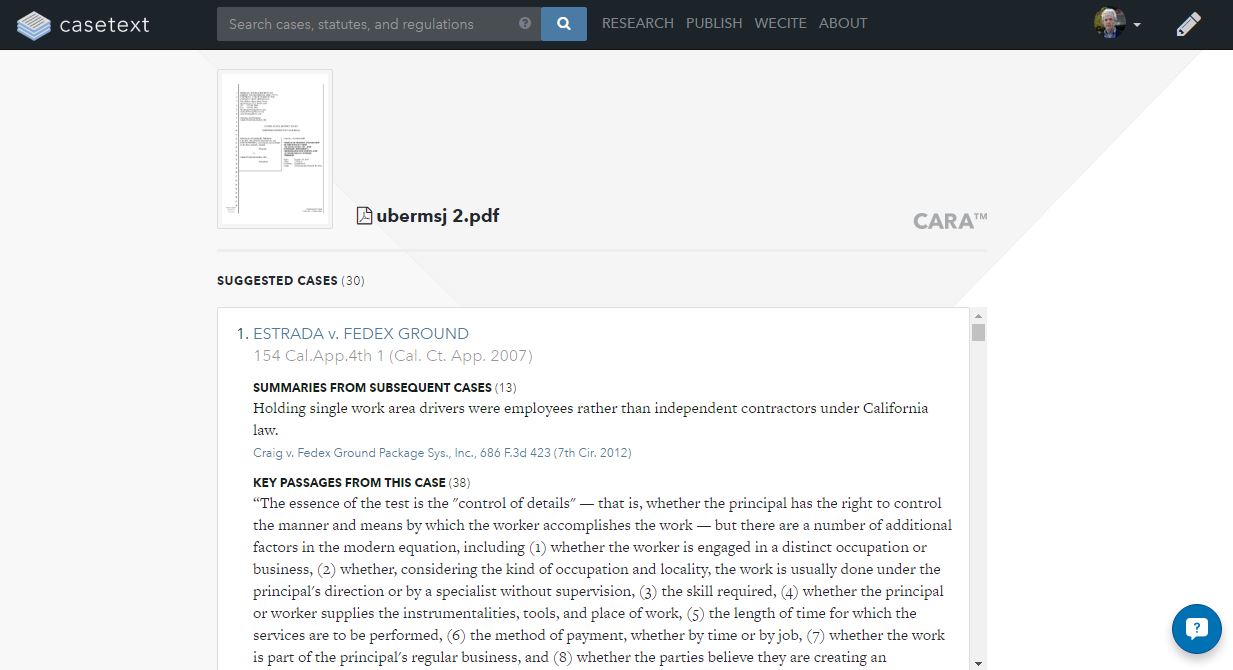 Casetext CEO Jake Heller told me that because CARA looks for correlations between cases, it is less effective for cases less than a year old. If a document contains only new cases, it will not work as well. If you are citing cases at least a year old, you should be OK, and if you are citing cases more than two years old, you should definitely be OK, he said.
Another shortcoming of CARA so far is that the results cannot be filtered. Results are ranked by relevance, but cannot be filtered by court, date range or any other facet. "But we're working on that," Heller says.
The new service is being shown starting today at the American Association of Law Libraries annual conference in Chicago. Casetext has not yet rolled it out across all its members.
Some other notes about CARA:
For now, it only works with PDFs with selectable text and Microsoft Word documents. This means that if you have a scanned version of a brief or document, you need to OCR it before uploading it to CARA.
Some older Word documents and heavily formatted briefs can trip-up CARA. If a document isn't working, try printing it to PDF.
Heller says that Casetext is extremely committed to security and the confidentiality of anything uploaded to CARA. The uploaded document is encrypted, and as soon as it is processed, it is immediately deleted from Casetext's servers, he says.
You can try it for yourself at this link: https://casetext.com/cara. If you are not already registered with Casetext, you will have to sign up for a free trial.
Paid Subscriptions
Although Casetext has always been free to use, its founders always planned to add premium features at some point, as Heller told me the first time I interviewed him in 2013. Now, with the roll-out of CARA, which Heller considers a marquee feature, Casetext is also preparing to introduce new paid subscriptions.
When last I discussed this with Heller, he had not yet set specific prices or subscription options.
Two weeks ago, Casetext briefly posted to its site, but then removed, a page showing three tiers of subscriptions:
Free forever, which would include research of state and federal law and the ability to read articles and analysis contributed to the site by lawyers, law firms and legal academics.
Pro, a paid tier that would include full access to all Casetext features, including CARA as well as sentence-level case annotations, heatmap analytics, advanced case summaries, and more.
Group, a rate that would provide advanced support and special publishing opportunties for law firms and other organization.
At the time, the web page showed the Pro rate to be $149 per user a month, but Heller told me that was not a final number.