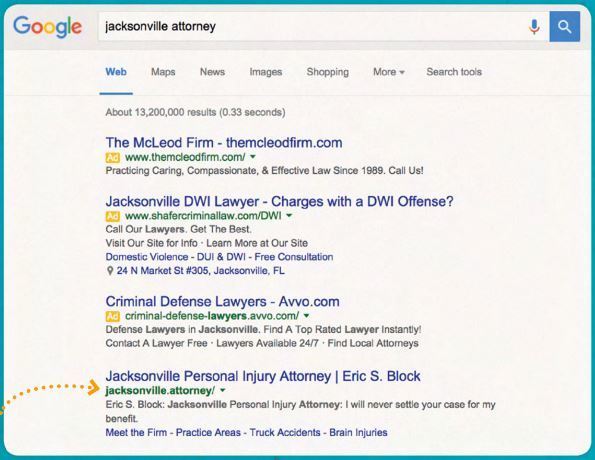 Are lawyers relying on a false premise to be lured into buying the new .law, .lawyer and .attorney domains? That is the conclusion reached in a blog post published today by Conrad Saam, principal of Mockingbird Marketing.
Some domain resellers are heavily marketing the new domains, the latest of which, .law, went on sale last October. One of the claims some are making is that having one of these domains will improve search-engine rankings.
To back up this claim, several resellers and blogs have cited the example of the Florida lawyer who has the name jacksonville.attorney. Sure enough, search "jacksonville attorney" on Google and that firm is the very first result.
Saam's article lists example after example of domain resellers who cite the Jacksonville result to promote the idea that having one of these top-level domains will improve SEO rankings.
The problem with that, Saam says, is that it is not true. In fact, Google expressly says that top-level domains "do not give any advantage or disadvantage in search" and provide "no magical SEO bonus."
So why is the Jacksonville firm appearing first in search listings? Saam does some SEO detective work and sets out a detailed analysis of how the firm achieved its ranking. Bottom line: It had nothing to do with its domain name.
On top of that, he analyzed thousands of personal injury queries across 20 large U.S. cities and looked for instances of the new domain names on page one results. He found only one.
Lawyers have been duped into buying things for their alleged magical SEO benefits for years. Press releases, social media consultants and virtual offices have all been sold to unsuspecting lawyers with the tease of a little Google Juice. This is just another example of lawyers being duped into ponying up money with empty promises of SEO success. Its a sophisticated, slickly produced, marketing and PR campaign supported by widespread "case studies" of a single erroneous example. And those case studies ignored the most foundational components of website success: content, platform and backlinks, in their analysis.
None of this means you should not buy one of these domains. But if your only reason for considering one is SEO, then you should first read Saam's full post.