Here is a round-up of some of the news from recent weeks:
It's Bashman's birthday. Happy birthday to Howard Bashman's How Appealing blog, which turns 14 today. Here it began. On Wednesday, Bashman teased an announcement he'd be making today, so be sure to check his blog. UPDATE: Here's his announcement.
New Legal Rebels podcast. The Legal Talk Network and the ABA Journal have joined forces to launch the Legal Rebels podcast. "The Legal Rebels podcast will feature men and women who are remaking the legal profession," said the announcement. "It will highlight pioneers who are changing the way law is practiced and setting standards that will guide the profession in the future. Four episodes are up already, available at the Legal Talk Network.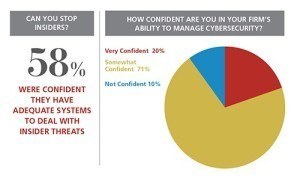 Cybersecurity insecurity. In the wake of the Panama Papers release, the folks at Attorney at Work conducted a survey of law firms' confidence in their own cybersecurity. Interestingly, 91 percent said they were very or somewhat confident of their ability to manage cybersecurity, while only a third had a plan for dealing with data breaches. For Attorney at Work contributor Simon Chester, the bottom line is that the results "show clearly the vulnerability of law firms."
Lawyer headcount. How many lawyers does it take to screw in a lightbulb? Well, I can't tell you that. But I can tell you how many lawyers you can find in America Samoa — 98. Or in Iowa — 7,560. The American Bar Association recently published 2016 lawyer demographics. showing numbers of lawyers by state for the last 10 years as well as the national lawyer population back to 1878. Spoiler alert: We've grown from 64,000 to 1.3 million.
So long THOMAS. Four years ago, the Library of Congress beta-launched Congress.gov to eventually replace the aging THOMAS, the pioneering site launched 21 years ago to make legislative information available on the Internet. Now the Library of Congress says that the transition to its new site is complete and that it will retire THOMAS July 5. At Medium, Daniel Schuman, policy director at Demand Progress, provides an interesting perspective on the passing of THOMAS of what it signifies for public access to legislative data. See also Time to Turn off THOMAS: July 5, 2016.
Online appointment scheduler. This is kind of cool. The State Bar of Michigan now offers its members free online appointment scheduling through the bar's member directory. Clients or potential clients can request an in-person or phone appointment. The attorney gets notified by email and can accept, reject or reschedule the appointment. The service is run through Zeekbeek, a company that builds lawyer directories in partnership with bar associations. It currently operates in Michigan and Ohio and will also be in Illinois and Indiana later this year.
Avvo and ethics. In this month's ABA Journal, I have an article looking at whether the recently launched Avvo Legal Services raises ethical concerns. Read: Is Avvo's Fixed-Cost Service a Fee-Sharing Violation?
Nominate a visionary. Nominations are open for the 2016 Fastcase 50, the annual award that recognizes "the law's smartest, most courageous innovators, techies, visionaries & leaders." Nominations are due by Friday, June 10, at 6 p.m. EDT. (I was very honored to be in the inaugural class.)
New product of the year. Every year, the American Association of Law Libraries hands out awards to recognize the achievements of law librarians for their service to the profession and contributions to legal literature. One lucky vendor also gets honored with the AALL's New Product Award. This year's winner: Ravel Law for its Judge Analytics.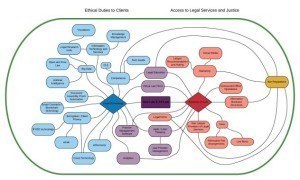 Finding your way around new law. Confused about the lingo of new law and alt law? Sarah Glassmeyer was too, so she decided to "map out the various forms and shapes of meaning for when someone is talking about New Law or Alt Law." In fact, this is now her third mapping attempt. It's an interesting exercise, but there seem to be a whole lot of dead ends.
Copyright-free images. Looking for unusual images to illustrate a blog post or web page? The British Library has published over one million copyright-free images on Flickr, all take from books published prior to 1900. That is where I found the image at the top of this post, from the book Ballads of the Bench and Bar; or, Idle Lays of the Parliament House, published in Edinburgh in 1882.