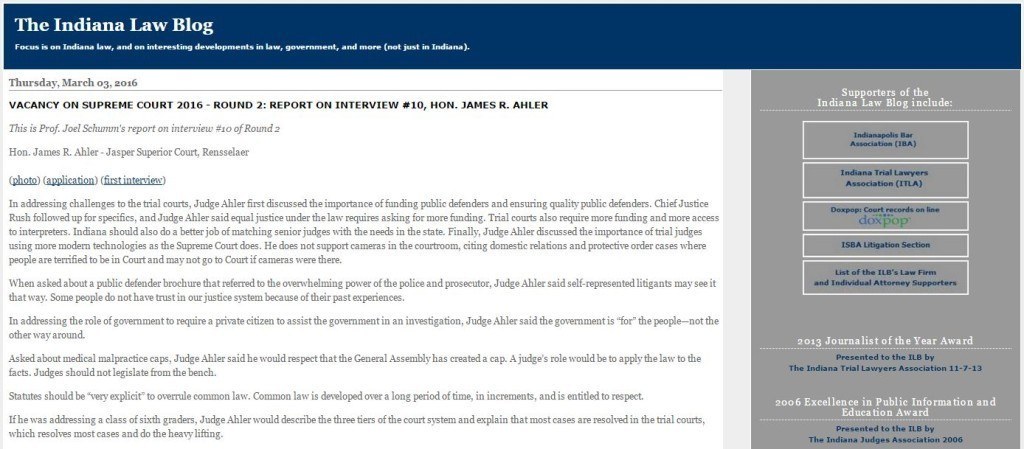 Here are some of the legal technology developments making the news on this Friday:
Venerable law blog to shut down. Marcia J. Oddi, a lawyer in Indianapolis, is shutting down The Indiana Law Blog on March 31, she announced this week. She launched the blog in 2003 and quickly became a go-to source for Indiana lawyers on developments in law and government. In 2013, the Indiana Trial Lawyers Association recognized her work with its Journalist of the Year Award, and in 2006, the Indiana Judges Association honored her with its Excellence in Public Information and Education Award. "I have enjoyed producing the ILB and would continue, except that the essential financial support simply isn't there," Oddi wrote. "During the past year I have spent much time exploring options, with no result, so I must move on."
Lawtendr rebrands as LawPitch. On Monday, March 7, the lawyer-bidding site Lawtendr will change its name to LawPitch. The service will operate at the new domain, lawpitch.com, and the lawtendr.com website will shut down soon after. I wrote about Lawtendr last year in this post: Shpoonkle's Gone Kershplunk, But Here's a New Lawyer Bidding Site. In an email, company founder Jonathan Burshtein said that other changes to the site will follow the rebranding.
Avvo announces Lawyernomics speakers. Avvo this week announced the line-up of speakers for its Lawyernomics 2016 conference April 7-9 in Las Vegas. Having spoken at this conference last year and at an earlier incarnation of it called Avvocating, I can recommend it for any lawyer looking to learn the latest thinking about how best to grow and manage a firm. The theme of this year's conference is "Great Expectations: Meet the New Legal Consumer," and the full roster of speakers can be found here.
The top 10 legal podcasts. One Legal has published a list of the 10 legal podcasts that will improve your commute. I am very honored to say that our Lawyer 2 Lawyer podcast was named first on the list.
Cadwalader Cabinet. Ron Friedmann at Prism Legal has an interesting review of Cadwalader Cabinet, an online legal service covering financial regulations that he says "is not only well-stocked and well-organized, it is lovely to look at."
New mediation app. At iPhone J.D., Jeff Richardson reviews ADR Mediation Tool, an app to assist both plaintiffs and defendants in computing, forecasting and strategizing offers and demands in mediation. Jeff's bottom line: "If you are a litigator, I think you'll find it worthwhile to give this iPhone app a try the next time that you are involved in a mediation or settlement negotiation." Sounds like it has something in common with another ADR app, Picture it Settled.
But tell us what you really think about PACER. Greg Churilov, a content editor at American LegalNet, published a post this week, Everything Wrong with PACER, that hammers the federal courts' electronic records system for its high cost, lack of accountability, violations of user privacy, flawed user interface, and lack of infrastructure investment. Can PACER be fixed, he asks, or "should it be scrapped altogether?" The only shortcoming in an otherwise well-done article is that he gives short shrift to PACER alternatives, not even mentioning, for example, PacerPro. (H/T to Constance Ard, editor of PinHawk Librarian News Digest.)