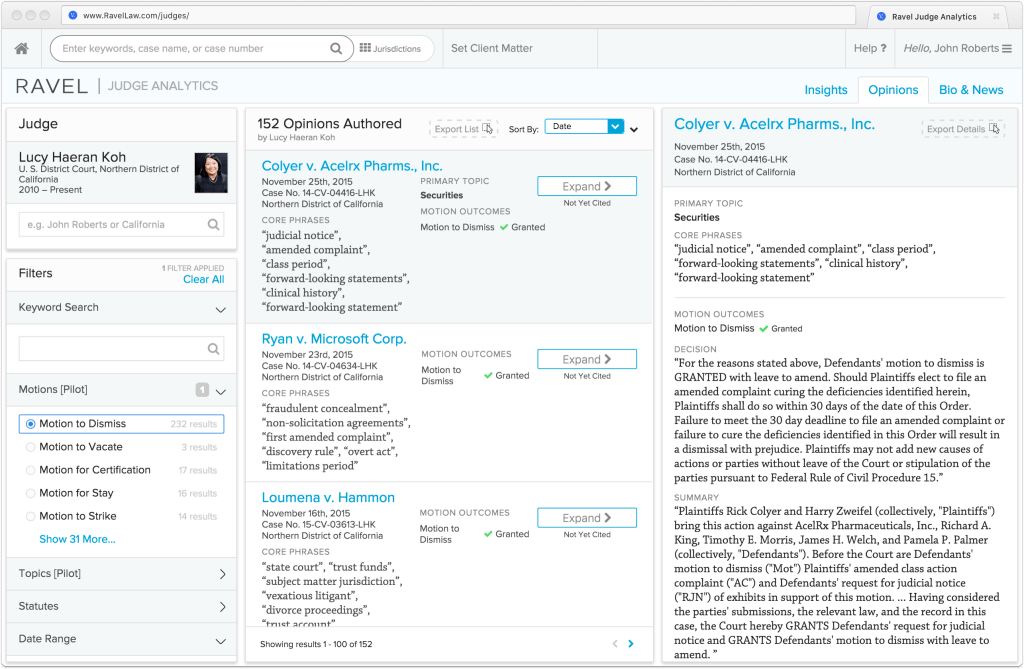 Judge analytics is the new black. Or at least that's what I wrote in a post last summer that discussed several products that could do things such as help you predict how a particular judge might rule on an issue or which cases that judge was likely to find most persuasive.
One of the products I covered in that post was Ravel Law's Judge Analytics, which promised to provide "never-before-available information and analysis about how individual federal court judges make decisions."
Today, Ravel Law introduced an update to its Judge Analytics product that adds both new content and new functionality. The update adds:
More judges. In addition to all federal judges, Judge Analytics now includes appellate judges from New York, California, Florida, Illinois and Delaware. These additions were enabled as a result of new content added to Ravel through the Harvard-Ravel digitization project. (See my posts here and here.) More states will be added in the coming months, according to Ravel CEO Daniel Lewis.
Greater functionality. The tool now provides the ability to dive even deeper into a judge's history, Lewis says, exploring how they have ruled on motions and specific topics, with detail about what they grant and deny.
New design and faster speed. "We took a fresh look at Judge Analytics and created a clean, new design, along with a major speed increase," Lewis says.
A key value of the service is its ability to identify rules, cases and specific language that a judge commonly cites. It also shows you the cases a judge has authored together with analyses of other judges who have influenced them.
Although basic access to Ravel Law is free, Judge Analytics is available only with Ravel's Elite-level subscription plan. Pricing for that plan is not listed on Ravel's website.