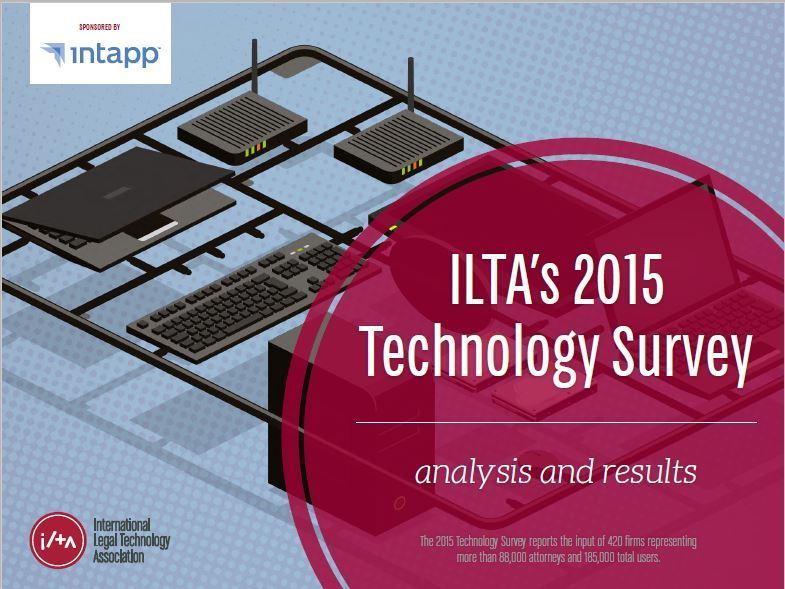 The International Legal Technology Association (ILTA) has just published its 2015 technology survey. The 269-page report is based on input from 420 law firms representing more than 88,000 attorneys and 185,000 total users. Law firms with fewer than 150 attorneys represent 66 percent (277 firms) of total responses.
Copies of the survey are available free for ILTA members and for $500 for others.
I just received a copy this morning and have not had time to read it. I'll post more about it when I do.
Meanwhile, however, Jobst Elster has a post at InsideLegal's blog summarizing some of the survey's key findings. Not surprisingly, he says that security is the prevalent theme, with 23 percent of the survey questions pertaining to security-related topics. Some of the survey's standout points on security, he reports, are:
Encryption of laptop hard drives, email, removable media and smartphones is in high demand.
Mobile Device Management (MDM) is now mainstream, with 52 percent of respondents using it.
Respondents said the three biggest security challenges they face are balancing security with usability (31%), user acceptance and behavior (24%), and a tie for user education and awareness (22%) and firm culture (22%).
Security issues ranking lower than expected were client security requirements (14%), BYOD/mobile devices (12%), and cloud apps/data security.
Security awareness training programs continue to gain momentum with 49 percent of firms now having them in place.
Elster's post also recaps some of the survey's highlights outside the area of security. I'll mention a few but urge you to read his post for more:
The number of firms using Windows 2012 Server as their primary service has gone up to 31 percent from 18 percent in 2014 while the number running Windows 2008 has gone down to 68 percent from 80 percent last year.
Nearly three quarters (73 percent) use Windows 7 (64-bit) is their primary desktop OS.
52 percent of firms have BYOD smartphone policies in place, up 5 percent from 2014.
41 percent use a mobile time entry/recording product and 25 percent use a "passive, automated" time capture tool for billable activity.
51 percent use business intelligence (BI)/financial analysis software compared to 53 percent in 2014.
And here were some points Elster highlighted that surprised me:
More than three-quarters of firms do not have any specific knowledge management system. I would have thought the number of firms with KM systems of some sort would be much higher.
A quarter of firms (27 percent) are evaluating or testing the Microsoft Surface Pro. I know that many lawyers love this device and that Blank Rome recently deployed Surface Pros to its entire legal staff, but still I was surprised to see this number of firms testing it.
46 percent use enterprise social networking tools (e.g., IM, chat) for internal or client communications. This should not surprise me, because firms should be doing this, but still it does.
Elster's post at InsideLegal has more information about the survey. Once I get a chance to go through it, I'll report more here. Meanwhile, the complete survey is available from ILTA, where it is free to ILTA members and $500 for all others.