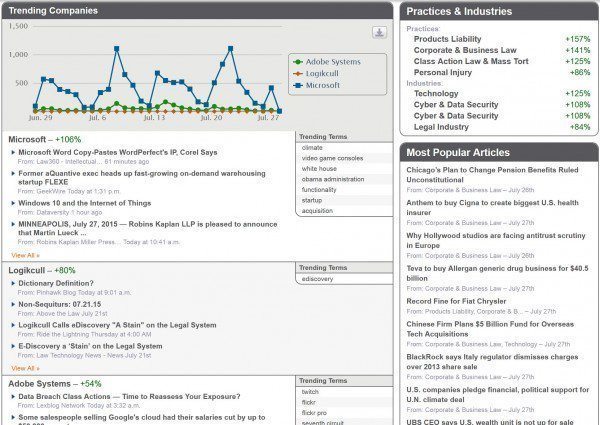 Announced recently was the launch of Zama, a news and social-media monitoring service for solo and small law firms. It offers flat-fee monitoring of more than 70,000 news, information and social media sources. You receive one daily email notifying you of the latest developments in your topics of interest.
Zama is the younger sibling of Manzama, a news and intelligence service sold to large firms and used for intelligence, marketing and business development.
Why would you want a service such as this? First off, if you are like me have set up various Google alerts for various topics, this could enable you to get rid of them all in favor of a single daily email. Beyond that, some of the ways you could use this include:
Monitor news about your practice area.
Monitor news about your clients or prospective clients.
Monitor news about your competitors or your clients' competitors.
Get ideas for your blog or newsletter.
I have not yet tried Zama, except for having walked through the registration process. The site is currently offering a 30-day free trial, so you can try it for yourself.
During the registration process, it walks you through the process of setting up your initial monitoring. It first asks you to pick up to three companies (including law firms) and two competitors you'd like to track. As you begin to type, company names appear in a drop-down list. If a name you want is not listed, you can type it as free text. It next asks you to pick the practices, industries and topics you would like to follow. Finally, you are asked to pick your content preferences. They include:
Domestic news. News focused on your region, as opposed to global coverage.
Major news outlets. Developments from major and international sources.
Litigation. Litigation developments around your companies and industries of interest.
Deal activity. Mergers, acquisitions, partnerships, takeovers, and deals around your companies and topics of interest.
Besides the daily email, Zama gives you a dashboard where you can add and refine searches and dive deeper into the topics you have selected.  A timeline on the dashboard shows trends and spikes in your news and topics.
Zama has mobile apps for iOS and Android.
The service is sold on a subscription basis. A monthly subscription costs $59.99. An annual subscription is $599.88 ($49.99 a month).