The legal research service Fastcase is today unveiling a complete overhaul of its platform, its first entirely new version since 2003. The new version, called Fastcase 7, promises greater speed, expanded search, more intuitive functionality, and a more readable interface.
"We want to balance having powerful tools that give power users a lot of options with straightforward simplicity that makes it easy to use for everyone," CEO Ed Walters told me. "That's the balance we've tried to strike here."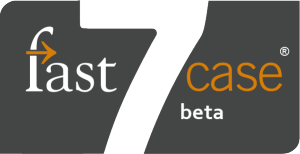 The new version is being released in beta today and will be available by invitation only. Invitations will be distributed through bar associations that have affinity relationships with Fastcase and to law firms with enterprise-level subscriptions.
Those who receive an invitation will be able to toggle a switch in the current Fastcase 6 to turn on Fastcase 7 and just as easily turn it off and return to Fastcase 6.
Fastcase will continue running its current version for at least a year, probably longer, to allow itself time to work out any kinks and to allow users time to make the transition to the new version. Over the next few months, Fastcase will continue to refine the new version based on user feedback.
(If you are a Fastcase subscriber and would like to try Fastcase 7, you can request an invitation by sending an email to support@fastcase.com. Invitations will be sent out on a rolling basis.)
'Search Without Borders'
Earlier this week, Walters gave me a tour of the new platform and provided me with login credentials so that I could try it for myself. I found it to be a major step up over Fastcase 6, thanks to improvements in speed, search and usability.
The first change you encounter is to the start page. It has been redesigned to display information in colorful tiles similar to the look of Windows 10. (See image above.) The information available on the start page has not changed significantly from Fastcase 6. You can still start a quick search here or switch to advanced search. You still see your recent searches, find links to help and support, and read a post from the Fastcase blog. Added to the page are alerts and your print queue. Gone are options for starting a search of a specific type of material, such as cases or statutes.
But those options are not really gone. Rather, they are waiting in the background — in a new and improved form — that appears when you click Advanced Search. Here is where you encounter the first of the platform's major enhancements. For the first time in Fastcase, you can now search across different types of materials at the same time. You can search universally across all jurisdictions and all types of materials — cases, statutes, constitutions, regulations, etc — or select any combination of categories. Fastcase describes this as "search without borders."
Similarly, you can search simultaneously across all materials for a specific state. You no longer need to separately search cases and then statutes and then whatever else.
In fact, you can mix and match to search virtually any combination of resources. Maybe you want to search all materials from Massachusetts, cases from Maine, statutes from Vermont, and the U.S. District Court for the Middle District of Alabama. You can do that. Everything you select to search is shown at the top of the page. If you did not mean to add the Alabama federal court, you do not need to modify your search — just click the X next to its name to remove it from the search.
This is a major advance over Fastcase 6, where you had to search each different type of material separately. If you wanted to search cases and statutes, you'd have to first search cases and then conduct a second search of statutes.
Anytime you want to close out of the advanced search page, click the X in the upper right corner and you return instantly to the start page.
Single-Page Results
The next dramatic change is to the results screen. I had a preview of this last year at the American Association of Law Libraries annual meeting on the condition that I keep the details private. I had previously published some details in a piece I wrote for the ABA Journal about visual law:
Fastcase is preparing to release a new version of its platform that will give visual search even greater prominence. In the new version, the Interactive Timeline will appear on the same page as the search results rather than on a separate page. The results page will also display a tag cloud, showing the words and concepts that are most prominent in the cases within the search results.
That much remains true. But the more impressive aspect of the new results page is that everything now loads onto a single page. Different tools and different types of information all load at the same time in a single-page experience. By clicking orange arrows in different parts of the screen, you can expand, contract and customize what you see.
Now, for example, Fastcase's Interactive Timeline appears on the same page as the search results. In Fastcase 6, you had to switch to a separate tab to view the Timeline, meaning you could not see the results and the Timeline together. (The Timeline shows a visualization of when the cases in your search results were decided, how they relate to each other, and their relative importance.) If you want to maximize the view of the Timeline, click the orange arrow and it fills the page. To minimize it, click the arrow again.
Other features of the new results page include:
A tag cloud showing the key terms that frequently appear in your search results. Click on any tag to see only results that use that term. Fastcase says it is the first legal research platform to include a tag cloud.
Filters (or facets) on the left panel that you can apply or clear to refine search results.
Suggested results appear in the right panel. This feature suggests results that may be relevant to your search but that may not match your specific query. For example, if you searched only Massachusetts cases but there is also a Supreme Court case or law review article on point, this feature will offer those suggestions. Although Fastcase 6 had already included suggested results from the HeinOnline library, this has been expanded in Fastcase 7 to include results from Fastcase's Forecite (a feature that identifies important cases that can be missed in ordinary keyword searches), journals and other materials.
Bottomless results, meaning that all results load in the same page allowing you to continually scroll down through the results and back up again without ever having to click to the "next page" of results. Here again, Fastcase says it is the first legal research platform to have bottomless search results.
"Without reloading the page, you've got the full dashboard of applications to filter or sort or visualize results," Walters said. "This is the most powerful suite of legal research tools in the world to find what's most important."
Viewing Documents
Also changed is how specific cases and other documents are displayed. Here again, everything is displayed in a single page. The default view shows the case on the right with the list of search results and the Interactive Timeline on the left.
Click on the diagonal arrows in the case to expand it to a full-screen view, then click the "X" to exit full-screen view. Click an arrow on the left of your screen to reveal the panel containing the filters and tag cloud. Click the arrow on the right to reveal the panel containing suggested results. Click the arrow in the results panel to hide the document altogether.
Besides convenience, the advantage of this single-page view is speed. Everything is preloaded in your browser. There is no need to open new tabs or pages and wait for them to load. These different panels and options appear and disappear instantly.
Fastcase has also changed the typeface its uses in documents to enhance their readability. It now uses the Kepler font with larger point sizes and increased spacing between lines. The effect is to produce cases and documents that look much more like they would in print. You can see the difference in the examples below, the first showing the new typeface and the second the previous.
"A lot of the legal research applications pay very little attention to things like readability," said Walters. "Fastcase 7 has a much more modern sensibility but more importantly is meant to be very readable and very understandable."
The New Authority Check
Consistent with the single-page organization I've described above, Fastcase 7's Authority Check (its version of a Shepard's or KeyCite) is also now displayed on a page that shows multiple pieces of information.
When viewing a case, click the flag icon that appears above it to open Authority Check. In Fastcase 6, Authority Check opened in a new window. Now, the Authority Check report opens on the same page to the left of the case and includes the Interactive Timeline. Here again, you can maximize or minimize the report by clicking the orange arrows.
Working the Bugs Out
As noted at the outset, Fastcase 7 is still in a beta version. It is currently running on an in-house development server rather than in the cloud. That means it runs slower than it will when it comes out of development. In a few weeks, Walters said, it will move to cloud-based servers and should be much faster.
Even so, I encountered only minimal speed issues. I saw no lag of any kind when viewing the search results page. As I said, all the elements of this page load as a single page and you can toggle the views of them almost instantly.
I did encounter minor lags when loading full documents. For example, when I clicked on a case name in the search results to view the full document, I regularly experienced a lag of about five seconds before the case appeared. Five seconds is still pretty quick and I expect the lag will be even less when the platform moves to cloud servers.
Also, I sometimes experienced lag times of several seconds in loading all elements of the search results page. This happened most typically when I did a universal search across all libraries in Fastcase. The actual results listing would load quickly, but the Suggested Results and Interactive Timeline panels would take a few seconds longer to load.
Not Google By Design
It has become a mantra for legal-research services to describe their search interface as "Google-like." That is not their aspiration at Fastcase, Walters said.
"When you're searching the web and looking for one thing, Google is the best thing in the world," he explained. "When you're doing legal research, you may be looking for 21 things or or 11 things or six things. You need tools that will separate the wheat from the chaff, to drill down, to filter and visualize.
"We want to build better tools that empower people to do better research. We're going in the other direction – more controls than Google, more interaction, more visualization. We want to empower people with smarter tools."
The Bottom Line
Back in 2009, I wrote a head-to-head comparison of Fastcase and Casemaker, its chief competitor for bar association affinity relationships. My conclusion then was that both were worthwhile services that were comparable in many ways, particularly in their coverage of federal and state libraries and the relative strengths of their search tools. However, I gave Fastcase the edge over Casemaker, primarily because of its intuitiveness and ease of use.
When a company already has a winning platform, it is a big gamble to jettison it and replace it with something that is entirely new. But for Fastcase, it was time. Its platform was more than a dozen years old. Even as its search capabilities got faster, its platform held it back. Plus, it was designed for outmoded square monitors and failed to take advantage of the additional real estate offered by the wider aspect ratio of today's displays.
I was impressed by Fastcase 7 when I saw a preview of it a year ago and this beta release confirms my initial impression. Current users will be glad to know that this new version does not discard any of the functionality that was already available in Fastcase. Rather, it enhances that functionality in several respects — most notably with universal search — and does it through a faster, more intuitive interface that puts all the key resources and tools right in front of you.
I know that Fastcase spent a long time developing this new platform and put a lot of thought and work into it. From what I've seen so far of this beta version, the gamble paid off.