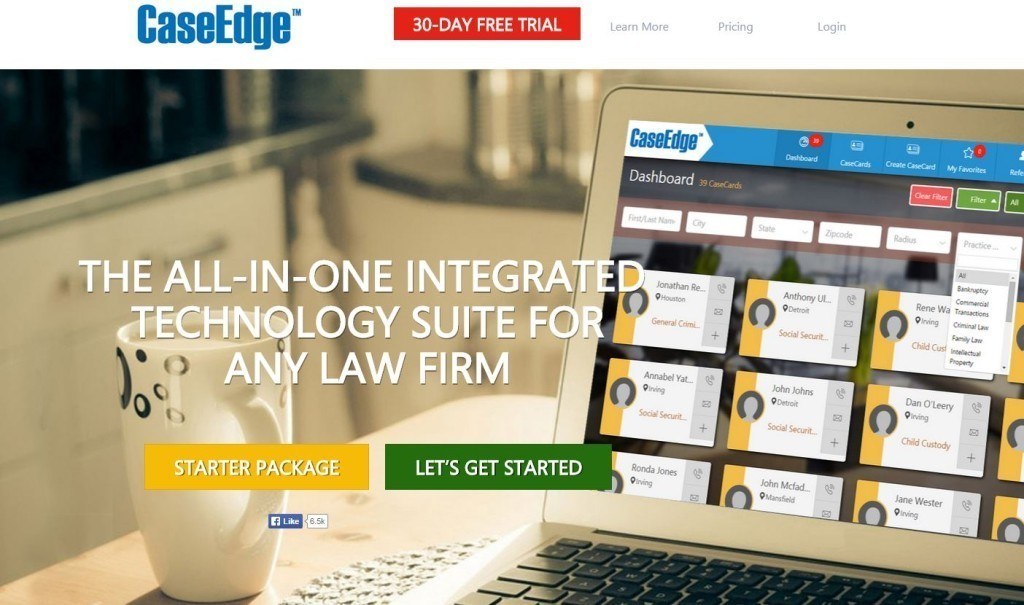 A new website has launched with an intriguing premise: Provide all the technology tools a lawyer needs in a single, integrated platform — from lead generation to legal research to case management and more. For the new site, called CaseEdge, that does not mean it plans to build every one of those tools. Rather, its approach is to find the best-in-breed technologies to partner with and then integrate them all within a single sign-on.
"Just as Salesforce.com created an all-in-one CRM marketplace for the sales and customer-relationship industry, we see a huge opportunity to create an all-in-one technology suite that any attorney can use," says Adah Ojile, the vice president in charge of developing the new platform on behalf of the company behind it, File & ServeXpress, the Texas-based e-filing company.
I was given a demonstration of the new service by Ojile and Paul Bernardini, VP of sales and business development. Both Ojile and Bernardini are former Thomson Reuters executives, and Ojile says it was his experience there that inspired CaseEdge.
"As Thomson Reuters grew, it grew through acquisitions," he explains. "But they weren't integrated. Customers had to talk to multiple reps, even log into multiple solutions. Our intent was to create an integrated solution with a single sign-on."
CaseEdge is about 75 percent complete in terms of the features Ojile plans to include, with additional features already in the development pipeline. Among the tools CaseEdge already offers are:
An extensive library of pleadings — the company claims it is the largest repository of lower-court pleadings available online — combined with a proprietary analytics tool that helps you vet and compare the pleadings most suited to your matter.
Easy sharing of lead and client information within a firm through CaseCards that allow quick review of related details, notes and documents.
Integrated e-signing through a partnership with DocuSign that lets you send documents for signing electronically and track their status.
File storage and sharing via CaseEdge's own Dropbox-like tool.
An integrated call-center service that will call leads that come to you through your website, verify them and then connect them to you for a live phone conversation.
Easy referral through an interface that lets you automatically transfer case notes and files to the referred attorney. Use it to transfer a single case or multiple cases.
Integration with Microsoft Exchange that organizes your email according to your cases and clients. Case-related email is automatically organized under tabs for Client, Opposing Counsel, Peers and other categories. The service also incorporates a chat function for chatting with others who are also on the CaseEdge platform.
Integration with Daubert Tracker (a service I first reviewed in 2003) to provide access to more than 50,000 expert witness records.
Ojile says the company is in a state of "perpetual build" to add additional features and refine those that are already there. Other features still to come include:
Integrated legal research using the Casemaker legal research service.
Case calendaring.
Integrated time and billing.
Integration with QuickBooks.
Integrated e-filing and e-service of legal pleadings.
Integrated email.
The site offers a 30-day free trial. The subscription price for all this is $79 per user per month. That price limits the number of expert witness profiles to 10. The calling-agent service charges an additional $24.99 per successful connection. As more features are rolled out, new pricing will be introduced that provides additional tiers of service.
The service can be used by firms of any size, Ojile says. Many of its initial users have been smaller firms but the company plans to market it across firm sizes and practice areas.
I have not yet directly used CaseEdge. I plan to in the near future and will provide a hands-on review at a later date.