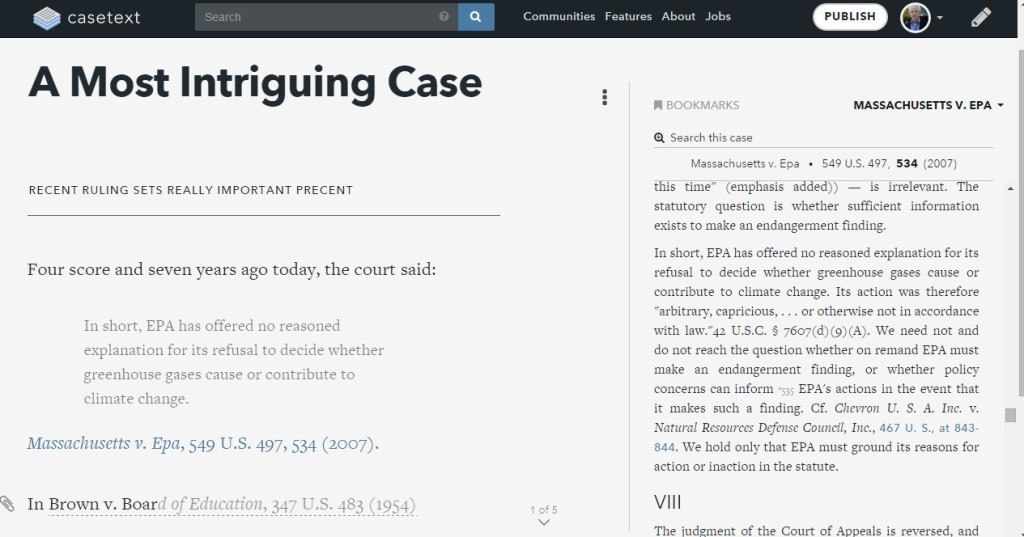 The legal research site Casetext is launching something today that could be a game-changer in how lawyers publish and share articles about the law. It is called LegalPad and the Casetext folks compare it to LinkedIn's publishing platform or to the Medium publishing platform, but for people who write about the law online.
LegalPad is an application within Casetext where users can draft articles. The articles get published to Casetext's communities and immediately shared with all the users who are members of those communities. The articles also become part of the Casetext database of legal commentary. If an article discusses a case, the article links directly to the case and the case links back to the article.
In a sense, it is an alternative to blogging. It is a place to publish legal analysis and commentary and have what you publish both be shared directly with others who are interested in the topic and be connected to the actual legal materials you discuss, so that when others read that case, they will also see your commentary connected to that case.
"It is a new way to read and write about the law," says Casetext founder Jake Heller.
I've written about Casetext several times. It launched in July 2013 as a free legal research site that used crowdsourcing to annotate its cases. The idea was that users would add descriptions and annotations to cases and eventually build up a substantive collection of editorial annotations similar to what you might find with a paid legal research service.
Last October, Casetext introduced new community pages — pages organized around practice areas and interests where lawyers could contribute analysis, meet others in their fields, and engage in discussions about current legal developments.
"Part of our move to communities was about refocusing on engaging people and helping them write and share commentary and hold discussions in a way that is more familiar, but that would still help us reach that ultimate vision of a legal database that is commented on and discussed and enhanced by the legal community," Heller says.
Put another way, Casetext wants to become not just a legal research site, but also a platform to build legal commentary, Heller says. It therefore made sense to build a tool designed specifically for legal writing and for writing about the law and legal commentary.
"So what we're trying to do is make it easier," Heller explains. "You don't need a blog or a WordPress installation. You don't need to worry about SEO. We have 350,000 readers every month. From day one, you can speak to a built-in audience."
As a legal writing tool, LegalPad is very cool.
Start typing, "Brown v. Boa" and it suggests the full case name. Accept its suggestion and it drops in the full name, in correct Bluebook citation form and hyperlinked to the full text of the case. If you want, you can then load the full case in a panel alongside the editing tool. Select text in the case and, with a click, insert it as a quote in your article.
OK, I wasn't supposed to tell you about that autocomplete feature, because Casetext is still working out some bugs with it. But it's there now. If you try LegalPad, you can see it for yourself.
Another cool feature: If you want to add an image to a post, you can search for images on the web from directly within the editor. When you find one you like, simply click it to insert it.
Adding PDFs is just as easy. Drag the file to the editor and it will embed the full PDF document within your post.
Also in the style of Medium.com, all posts will use the same fonts and formatting — a fairly basic but professional-looking format. Choosing styles such as bold or italics involves just highlighting text and a style bubble appears with those options.
Coming soon is the ability for multiple authors to work on an article simultaneously, similar to collaborating on Google Docs.
When you are ready to publish, LegalPad prompts you to select the Casetext communities you want your post to appear on. As you select communities, you see the numbers of people who will receive your post. Finish publishing to share your post to have it appear on those communities' pages.
If you wrote about a case or statute, then that case or statute within Casetext will include a link to your article. Eventually, if your article quoted any specific text in the case, that text will be highlighted and will link to your article. (This feature is not yet active.)
Casetext uses heatmaps to show the most cited and discussed parts of cases. These heatmaps will reflect the articles published through LegalPad. "The heatmap will show you that this aspect of the case has been talked about a lot," Heller says.
As a corollary to linking these articles to cases and statutes, Casetext will phase out the individual annotations that were a hallmark of its initial launch. "Users will still be able to highlight and bookmark language in case for themselves privately, but the act of writing the annotation will probably come to a close," Heller says.
"The big-picture goal is to match the incentives and interests of people who are excited to write about the law, to tap those interests, with what we think will be a really powerful research experience," he explains. "You can do a lot of things to make your reading and discussion of cases interesting. We want to make these discussions into data, to overlay the social layer with primary source documents."