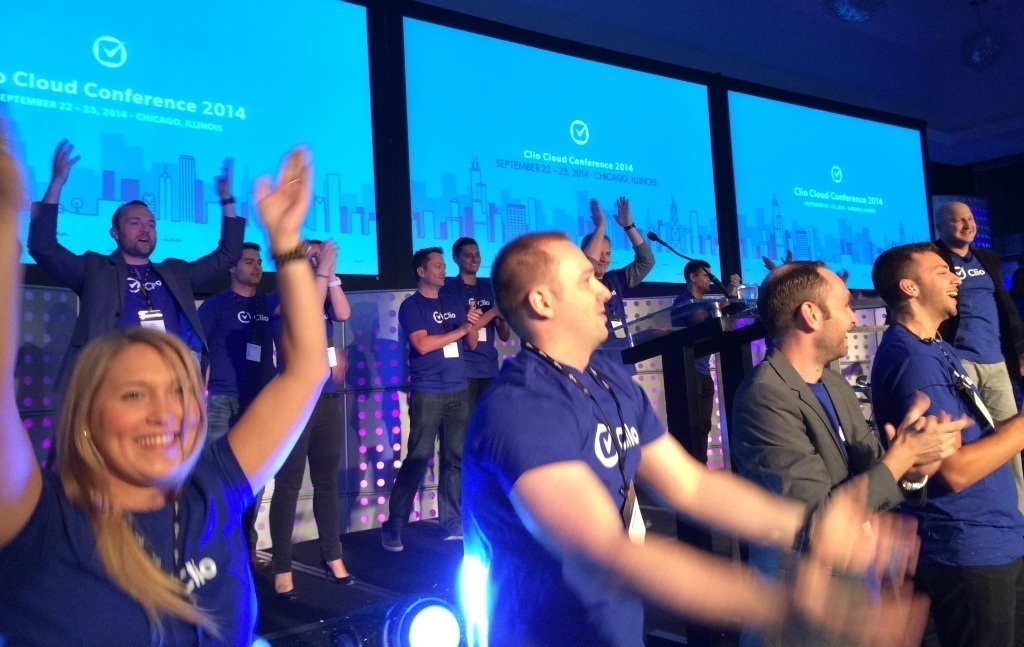 Listen. That roar you hear is thunderous acclaim for the Clio Cloud Conference held last week in Chicago. And where there is thunder, there is lightning, and the electricity at this conference produced an atmosphere that was highly charged.
This was Clio's second annual conference, and to this grizzled veteran of way too many legal tech conferences, this one stood out as one of the best. In its organization, content, speakers, venue and attendees, every aspect excelled.
Don't just take my word for it. Here's what Kevin O'Keefe, who spoke there, had to say:
I've been to a number of these "stale legal conferences." Admittedly, clearing the bar that is the standard for such events may not be difficult, but Clio soared over it. We may be seeing the beginnings of a huge legal conference a la Salesforce's Dreamforce.
And then there is this, from George Beaton, who traveled all the way from Australia to speak at the conference:
It was a striking – and telling – contrast for an observer. I had earlier in my trip to North America participated in another city in a meeting of large law firm leaders (LLFL). Clio 50% women to the eye; LLFL <10%. Clio average age perhaps 35 years; LLFL well over 45 years. Clio >90% Macs; LLFL two Macs and a few tablets. Clio had vibrant, at times defeating, audience participation. In the LLFL meeting the chair had almost forcibly to draw out audience comments and questions.
And this, from Andrew Cabasso, an attorney and cofounder of JurisPage:
It was by far the most impressive conference (legal or otherwise) that I've been to. I've been to legal technology conferences and startup conferences, and this event felt more like a startup hackathon, with attendees collaborating with the Clio team, sharing how they used Clio in their practice and what new features they'd like to see.
And this, from exhibitor Kahuna Accounting:
I don't know how many times I heard the phrase, "This is so different than any legal conference I've seen."

This is why. Because it wasn't a legal conference, it was an entrepreneurship conference.
You get the picture. If you need more proof that it was a great conference, search the hashtag #ClioCloud9 and scroll through the tweets.
The Difference: The People
With all that, I'll confess that it has taken me a week to write this post because I've been wrestling with what it was that made it so great. You could argue there was nothing tangibly different about this conference. Clearly, the difference was in something intangible. It felt like asking, "Why wasn't Woodstock just another rock concert?"
After mulling it over for several days, I have concluded that what made this conference so different was three things: the people, the people and the people. Let me explain:
The People No. 1: The Speakers. Clio brought in a line-up of speakers to this conference that was exceptional. I would like to say they weren't the usual suspects, but, frankly, some of them were. Take legal futurist Richard Susskind. I'm starting to feel as if I see him on the roster at every conference I go to. Yet even his talk — a variation on the same talk he's given many times — seemed imbued with fresh energy, as if he was drawing on the energy in the room.
One key way the speakers differed from those you see at some other conferences is that several of them were vendors. Some legal technology conferences do not permit vendors to appear as speakers. Yet it is often the vendors who know their turf better than anyone. People like Mark Britton, founder of Avvo, or the aforementioned Kevin O'Keefe, founder of LexBlog, weren't there to plug their companies. They were there to share what they know. And they have a lot of knowledge to share.
Another way that the speakers differed is that there were many fresh faces. At some legal technology conferences, it seems that the last generation of experts retains a choke hold on the podium. The speakers here — and I say this as a member of that last generation — represented an up-and-coming group of new technology leaders, with a fresh perspective and new energy.
The People No. 2: The Clio Staff. Clio had somewhere in the neighborhood of 50 employees in attendance at this conference. To a one, they were enthusiastic, cheerful and helpful. They legitimately seemed to love what they do and were eager to share their enthusiasm.
Wherever you were at this conference, a Clio staffer was there to help you and answer any questions you had. This was a conference where attendees made suggestions for improving the product and the Clio staff went and programmed those suggestions the same day! The staff wore T-shirts that said, "Ask me anything," and they were clearly prepared to answer.
The People No. 3: The Attendees. You might think that every lawyer here was a Clio user. To my surprise, that was not the case. A number of attendees I spoke to were there because they were investigating options and anxious to learn more about law office technology and management. Sure, the majority of them were Clio customers, but the conference somehow never felt like it was all about Clio.
The folks from Kahuna Accounting, the in the post I quoted above, best captured the vibe when they described this as "an entrepreneurship conference." The solo and small-firm lawyers at this conference (and I don't think there were any large-firm lawyers there) all seemed charged about their practices and their prospects. They seemed eager to take in new ideas and brought plenty of their own ideas. As much went on outside the seminar rooms as in them.
There are lessons here for those who organize other legal technology and management conferences. Mix it up. Welcome fresh faces and fresh ideas. Include vendors. Encourage interaction offline, outside the seminar rooms and formal events. Make it fun.
Meanwhile, for those of you who missed it, Clio has already scheduled next year's conference — to be held Oct. 19-20, 2015, same city (Chicago), same hotel (Radisson Blu Aqua) — and they are offering a "super early bird" registration price through Dec. 31 of $249.