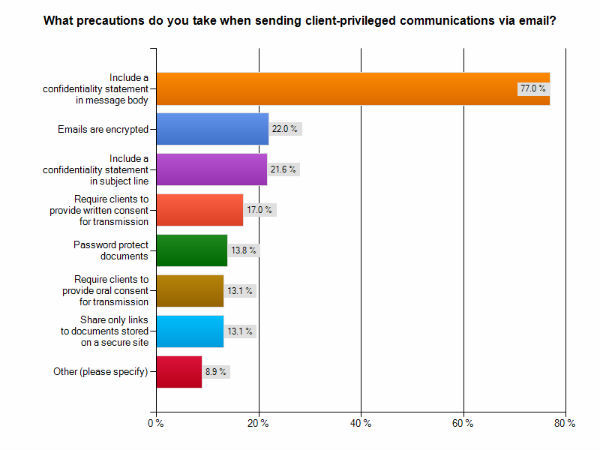 If I were to leave a document on a table entitled, "My Deepest, Darkest Secrets," under which I wrote, "Please do not read this unless you are someone I intended to read this," how securely would you think I'd protected myself?
That, effectively, is all the majority of lawyers do to protect confidential documents they share with clients and colleagues, according to a LexisNexis survey published this week.
The survey found that 89 percent of lawyers use email to collaborate with clients or privileged third parties. In the majority of uses, however, the only precaution lawyers take to protect their email is to include a confidentiality statement in the message body.
Asked what precautions they take when sending privileged communications via email, 77 percent said that they include the confidentiality statement. Only 22 percent said that they encrypt their privileged emails. Even fewer take other security precautions, such as password-protecting documents or sending only links to documents on secure websites.
The survey also found that just over half of lawyers, 52.5 percent, have used free consumer file sharing services such as Dropbox or Box to share privileged communications.
The survey was conducted March 5-19 of practicing attorneys and legal professionals. A total of 282 respondents from more than 15 practice areas, representing 40 states and two territories, participated.
A summary of the survey is available at the LexisNexis Business of Law Blog. A PDF of the full study findings can be downloaded from this page.