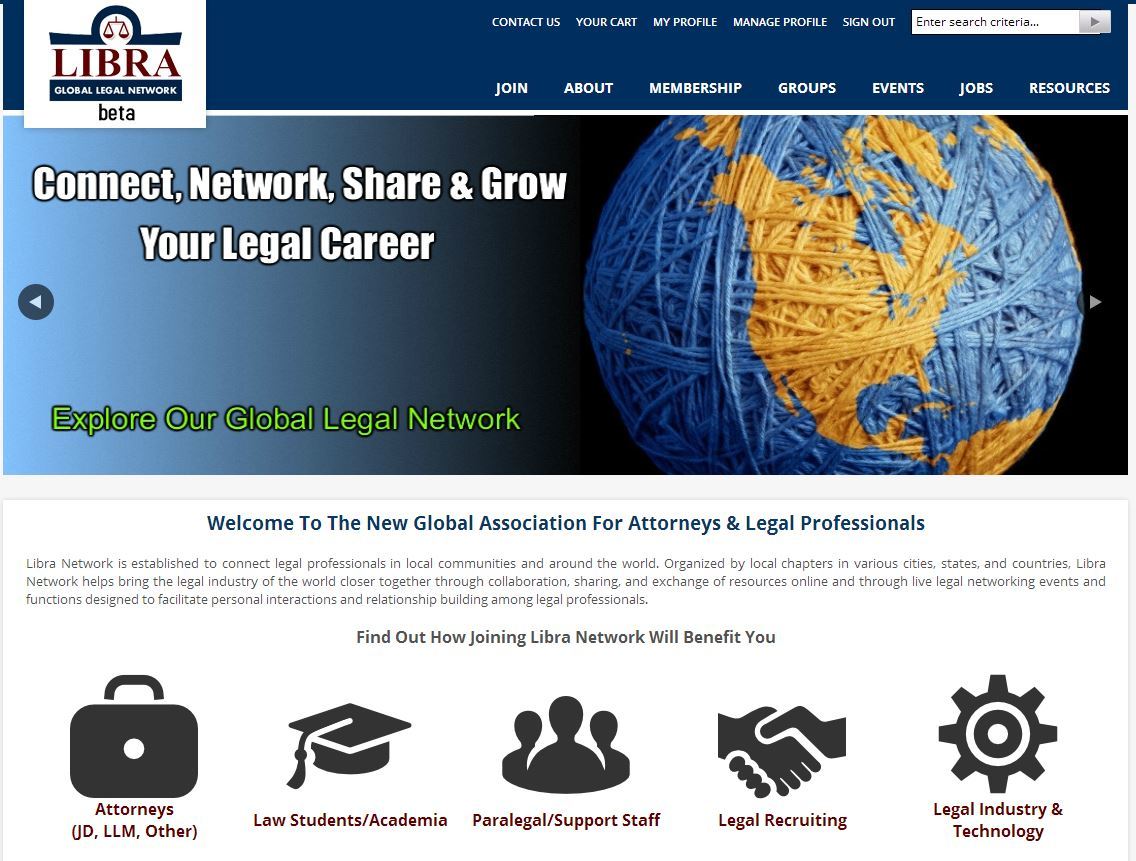 Today brings the official launch of the Libra Network, a site designed to serve lawyers and legal professionals by providing a global network that will foster personal connections and professional growth, while also delivering exclusive benefits such as job listings, vendor discounts, document sharing and more. The goal of its founders, at least in part, is to provide an alternative to the traditional bar association.
"As practicing attorneys, we felt that traditional bar associations fell short by rejecting legal professionals such as legal support staff, recruiters, and legal technology companies, who all play a vital role in the everyday practice of law and the future of the legal industry," explains founder Val Kleyman, a practicing lawyer in New York City. "Libra Network will promote collaboration of the entire legal field, have a global reach, and focus on delivery of real practical benefits to its members both online and offline."
If Kleyman's name sounds familiar, it may be as the founder of another legal networking site, Esqspot, which I wrote about in June 2013. Libra Network will replace Esqspot and will keep its 1,600 registered members as a base from which it hopes to grow substantially.
If you go back and read my post about Esqspot, you will see that I expressed skepticism, if only because time has not been kind to legal networking sites, many of which have come and gone. Esqspot sought to be different, by attempting to build "a real community" for lawyers online and also by using the site as a hub to facilitate in-person connections among lawyers through live legal networking events.
Now, Libra Network will pick up where Esqspot leaves off, Kleyman says, adding new features such as legal recruiting and legal industry and technology groups. It will also continue to host both online and live legal networking components. Membership will be open to legal professionals of all kinds, including support staff, recruiters and vendors.
Member Benefits
It will also provide member benefits similar to those a bar association might offer. According to Kleyman, they will include:
A new affiliated career site, LexJob.com, which is also launching today. It was developed through a partnership with jobs site CareerCast.
A membership rewards program offering discounts from national retailers and companies through a partnership with Abenity.
Discounted and trial offers from providers of products and services such as legal technology companies, website designers, and the like.
Groups organized by geographic location as well as by practice area and professional type.
Basic membership is free for lawyers and law students and $20 a month for all others. Lawyers who opt to purchase an advanced membership for $20 a month get additional benefits including free admission to live networking events.
"We want to build a new professional association to rival the ABA by utilizing the latest technology and focusing on delivering real practical benefits to members," Kleyman told me. "We are modern, communal and entrepreneurial, doing away with archaic boards of directors and other red tape."
For now, I am reserving judgment on Libra Network. I logged in ahead of today's launch and, predictably, there was not much going on yet. I've written several times expressing my skepticism about whether sites such as this can succeed. Let me be clear that my skepticism is not because I don't want them to succeed. To the contrary, I think a well-executed online network could — and someday will — become a viable alternative to the traditional bar association, which many see as archaic and irrelevant.
So far, however, the success rate has been zero. So I'll give Libra Network some time to gain traction and check back in later to see how it is doing. Meanwhile, I'd love to hear your thoughts on online networks for legal professionals.