Lawyers have an ethical obligation to protect the confidentiality and security of communications with their clients. The more we learn about NSA snooping, the more we realize what a challenge that can be.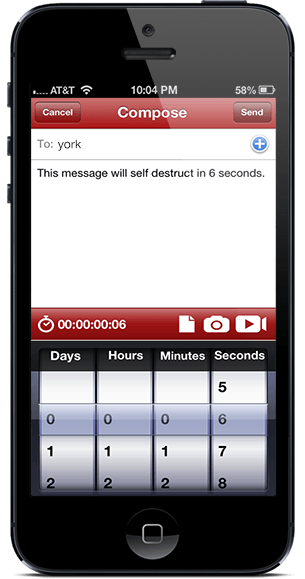 One option for secure communications is to skip the email and use the SMS messaging app Wickr, which is available for iOS and Android phones. Wickr lets you send text, picture, audio and video messages, as well as PDF documents, with military-grade encryption, so that only you and the recipient can read the message. Although your message travels through Wickr's servers, it is transmitted using cryptographic hashing that prevents anyone at Wickr from opening your message or revealing it to third parties yielding subpoenas.
In addition, you can set an expiration date for any message you send — anywhere from one second to five days. When the recipient opens the message, the timer begins counting down. Once the expiration time arrives, the message is deleted from the recipient's device. Your sent message will also self destruct, although not until 24 hours after the self-destruct time you set for the recipient. You can delete a message at any time.
Deleted messages are destroyed using file-shredding technology specifically designed for mobile devices. Typically, when you send an email or message to trash, it remains accessible if someone were to take your phone. When Wickr is running, its file shredder continuously shreds anything you put in the trash.
Wickr integrates with Box, Dropbox and Google Drive. That means that you can use Wickr to send a document securely from one of these services to a client or colleague.
Wickr has one of the strongest privacy policies you'll find anywhere. The following is taken directly from Wickr's policy:
We use military-grade encryption. Our encryption is based on 256-bit symmetric AES encryption, RSA 4096 encryption, ECDH521 encryption, transport layer security, and our proprietary algorithm.
We can't see information you give us. Your information is always disguised with multiple rounds of salted, cryptographic hashing before (if) it is transmitted to our servers. Because of this we don't know — and can't reveal — anything about you or how you use the Wickr App.
Deletion is forever. When you delete a message, or when a message expires, our "secure file shredder" technology uses forensic deletion techniques to ensure that your data can never be recovered by us or anyone else.
You own your data. We do not share or sell any data about our users. Period.
On top of that, the company promises that it will never collect any location information from your device or have access to the contents of any communications you send. After messages are deleted, "they are forensically deleted and are not retrievable by us or anyone else."
Wickr is free to use and the app is free to install. An added bonus for those who pay for text messaging is that messaging through Wickr is not only secure, it's free.